Some things we (meaning I) learned from Week 5:
* Thursday night games continue to be weird. How else do you explain the Bears scoring 40 points for the first time since 2020?
* The Bengals might not be DOA after all, and the AFC North is by far the most interesting division in football.
* Sean Payton was and remains a fraud.
* Jared Goff might be good. So might Brock Purdy (and not in a system way; like, legit good).
* The Ravens receivers should be fired into the sun.
* The Patriots would be the worst team in the NFL except for the Panthers (who forgot to play one of their WRs, who was their second-round pick in 2021).
GIF OF THE WEEK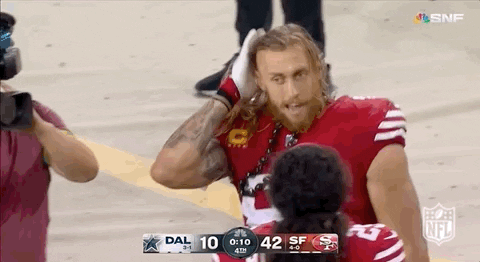 The Niners are terrifying.
Not a GIF but if you haven't seen the overhead video of ATL's Bijan Robinson, go watch it. Dude is special.
WEEK 6 SCHEDULE
Good lord what an uninspiring week. I have zero interest in watching the Broncos, Patriots or Giants except as a comedy bit, yet there they are in some prime viewing spots. Monday night will feature the Herbert Prescott Overhyped QB Bowl, but we've got a lot of crap to endure before that lone bright spot.
As for me, I'll be watching the sh!t out of some World Cup Rugby. I'll be vastly more entertained by the weekend's four knockout-round games than if I watch the Dolphins run through, past and around the Panthers. Fins are 14-point favorites; I'd go with Miami even if the line hits 21.
Thursday
Broncos at Chiefs (Prime)
Sunday morning
Ravens at Titans in New Jacksonville, 930a (NFL Network)
Sunday early
Commanders at Falcons
Vikings at Bears
Seahawks at Bengals
Niners at Browns
Saints at Texans
Colts at Jaguars
Still Winless Panthers at Dolphins
Sunday late
Patriots at Raiders (GOTW but why?!)
Lions at Bucs
Cardinals at Rams
Eagles at Jets (GOTW)
Sunday night
Giants at Bills (NBC)
Monday
Cowboys at Chargers (ABC, ESPN)
Off this week: Packers, Steelers, Manningcast
Maps (on Wed)