Here's a dad joke to start us off.
Boy: Dad! Dad! The kids at school say our family is a bunch of pyromaniacs! Are we, Dad? Are we?!
Dad: We are, son.
I was thinking of this joke Sunday afternoon because the Panthers' utter ineptitude (except for a 99-yard pick-six that ended with Kirk Cousins getting absolutely blown up; I liked that!) makes me want to burn down Charlotte and everything in it.
Did you know that the Panthers were the first team since the 2013 Bucs to start a season 0-4 despite leading in all four of those games? You do now!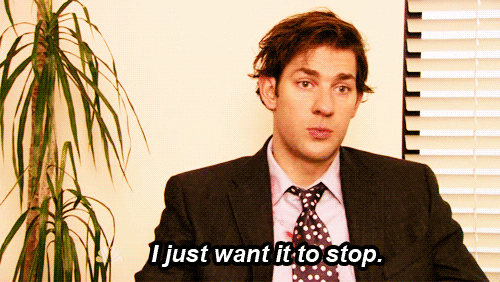 I'll be boycotting the Panthers until the end of the Rugby World Cup or until the Panthers win their first game, whichever comes first. RWC final is Oct 28; between now and then, the Panthers play Lions (L), Dolphins (L) and the bye week (also an L). Sigh.
GIF OF THE WEEK
The Jags are looking good on two continents and in two media formats: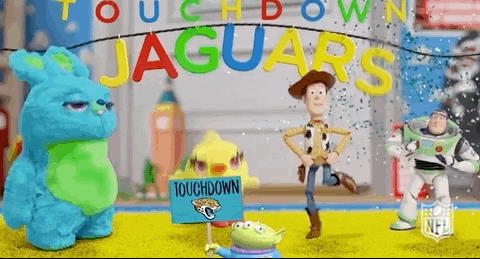 PS: The Falcons suck in real life and in all media. Also, Desmond Ridder is Sid, but with fewer redeeming qualities. Here's Ridder:
And here's Sid, the villain of the first "Toy Story" movie:
Uncanny!
GIF OF THE WEEK, PART 2
Colbert said it best: "At the game, Taylor drank some dranks, hung out with Blake Lively, while injured Jets quarterback Aaron Rodgers sat alone in the Sadness Box."
PIC OF THE WEEK THAT SHOULD HAVE BEEN A GIF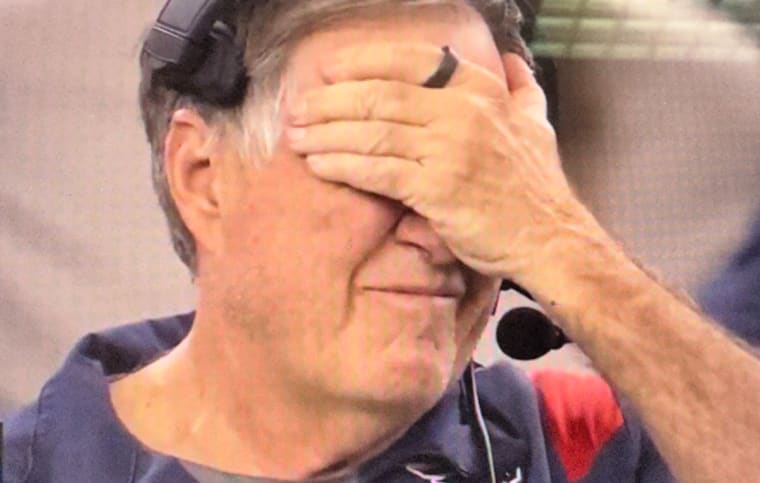 It's amazing that it took 29 years and 454 games for a Belichick-coached team to get its ass kicked by five TDs, but that's what happened Sunday against Dallas.
WEEK 5 SCHEDULE
We have a Sunday morning game and a great Sunday night game. Good week!
Thursday
Bears at Commanders (Prime)
Sunday morning
Jag-you-ares vs Bills in London, 930a (NFL Network)
Sunday early
Texans at Falcons
Winless Charlotte Road Kill at Lions
Titans at Colts
Giants at Dolphins
Saints at Patriots
Ravens at Steelers
Sunday late
Bengals at Cardinals
Eagles at Rams
Jets at Broncos
Chiefs at Vikings (GOTW bc Taylor Swift doesn't play for the Eagles)
Sunday night
*** Cowboys at Niners (NBC) ***
Monday
Packers at Raiders (ABC, ESPN, ManningCast)
Off this week: Browns, Chargers, Seahawks, Bucs
Maps will be here Wednesday.