Another brutal work week for me. Plus the NFL Hot Take Machine is in overdrive already. Who needs my microwaved leftovers anyway, right?
GIF OF THE WEEK Why is Taylor Swift hanging out with Jason Kelce's mom?!
(I saw this online somewhere; I take credit only for copy and pasting it.)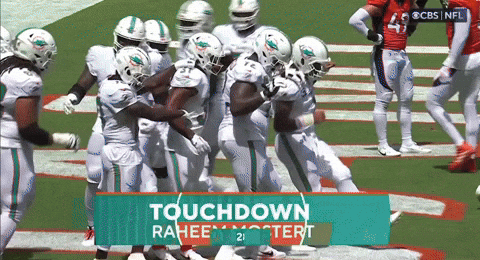 Looks like the Dolphins ran out of end zone celebrations long before they ran out of touchdowns.
Also, Sean Payton is a fraud, just like I've been saying all along. A FRAUD. Glad the rest of y'all are catching up.
PS: Dolphins 70, Broncos 20 was indeed a Scorigami. It would have been hilarious if Denver had squeezed out another TD because 70-27 would not have been.
WHO WILL WIN THE SUPER BOWL?
According to this deep-dive from The Ringer, fans of 28 teams might as well give up hope because one of only four teams — the Chiefs, Niners, Bills and Dolphins — have a chance of winning the Superb Owl. Eagles and Ravens are good enough to make the SB. But the SB probably won't happen for the Cowboys and Jags and definitely won't happen for the Browns and the Lions.
Everyone else? Done-zo, I guess. At least the Rugby World Cup has been interesting. Go back and watch South Africa-Ireland if you have Peacock or don't mind visiting some, ah, other websites.
WEEK 4 SCHEDULE
We have a decent Thursday night game, a Saturday morning game, an EPIC early-season clash and ... well, the first half of the week is pretty stout.
Thursday
Lions at Packers (Prime)
Sunday morning
Falcons at Jaguars in London (930a, ESPN+ and Disney+)
Sunday early
***** DOLPHINS AT BILLS *****
Vikings at Panthers (loser goes 0-4)
Broncos at Bears (loser also goes 0-4)
Ravens at Browns
Steelers at Texans
Rams at Colts
Bucs at Saints
Commanders at Eagles
Bengals at Titans
Sunday late
Raiders at Chargers
Patriots at Cowboys (national GOTW)
Cardinals at Niners
Sunday night
Chiefs at Jets (NBC)
Monday
Seahawks at Giants (ABC, ESPN and Manningcast)
Coverage maps will be posted in their usual spot Wednesday. Those of you who get Fins-Bills, take pity on those of us locked into local games featuring teams (air quotes) with a combined zero Ws, sigh.