I'm still bummed from the Panthers' nationally televised loss to [NAME REDACTED], and this week is kicking my ass harder than Jake Moody can kick a football. So this week's post will be short (yes) and sweet (eh, maybe not).
GIF OF THE WEEK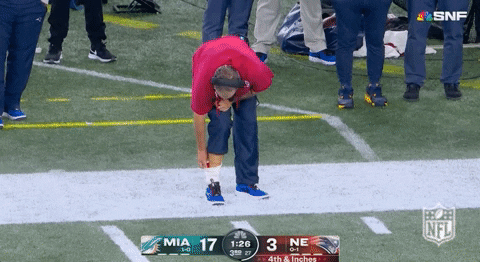 Hang it in Le Louvre Dot Fr, as they say.
Runner-up: Here's video evidence of Tiny Bryce Young lining up behind the wrong O-lineman. WHOOPS.
WEEK 3 SCHEDULE
A lot of meh -- and a lot of potentially lopsided wins. (49ers, Cowboys and Chiefs are 10-point favorites, and the Ravens, Jags and Dolphins are 7-pt or better favorites). But it's the NFL, so who knows?
Thursday
Giants at Niners (Prime)
Sunday early
Colts at Ravens (aka BATTLE OF BALTIMORE)
Titans at Browns
Falcons at Lions
Saints at Packers
Texans at Jaguars
Broncos at Dolphins
Chargers at Vikings
Patriots at Jets
Bills at Commanders
Sunday late
Panthers at Seahawks
Cowboys at Cardinals
Bears at Chiefs (national GOTW tho it's gonna suuuuuck)
Sunday night
Steelers at Raiders (NBC)
Monday
Eagles at Bucs, 715p (ABC and ESPN+)
Rams at Bengals, 815p (ESPN)
No ManningCast; will return in Week 4
Coverage maps will be here Wednesday.