*** As with last season's thread, we'll be talking freely about races without spoiler tags, so please beware if you watch races on a delay! ***
---
How to watch in the US:
- ESPN carries races live both on their various broadcast channels, but also on their various apps as long as you've got a TV provider login with the appropriate access to ESPN.
- F1TV is an official streaming service that offers two tiers. The "Pro" tier lets you stream races live for about $80 a year, but you can get on demand streams of all races for a much more reasonable $26 a year if you don't mind watching on a bit of a time delay, and don't care about some of the extra programming that's part of the pro tier. There are also month to month subscriptions available, and there might be promos available as we approach the start of the season.
- The official F1 YouTube channel doesn't offer full replays, but they do have great highlights packages for every practice, qualifying, and race session throughout the year, as well as good interview and analysis coverage throughout race weekends, and a variety of other miscellaneous interesting video clips in between.
---
Can I get a concise overview of where the sport stands at the start of the season?
Here's a link to the Official F1 season intro video (the embedded player is blocked on this one): https://www.youtube.com/watch?v=jYhq...
And here's the Shift F1 season primer episode in video form -- it assumes zero former knowledge of the sport, so it's a great place to start.
I'll update with any other good season overview videos if I encounter them.
---
When and where are the races?
I mean, who could really say?
This year the schedule should be a bit more predictable, but COVID still exists and who knows which authoritarian regime might be the next one to start a war that manages to be unpalatable enough for the west to actually care?
Anyway, the latest updates should always be available on the official website here: https://www.formula1.com/en/racing/2...
But here's how the schedule looks as of mid February: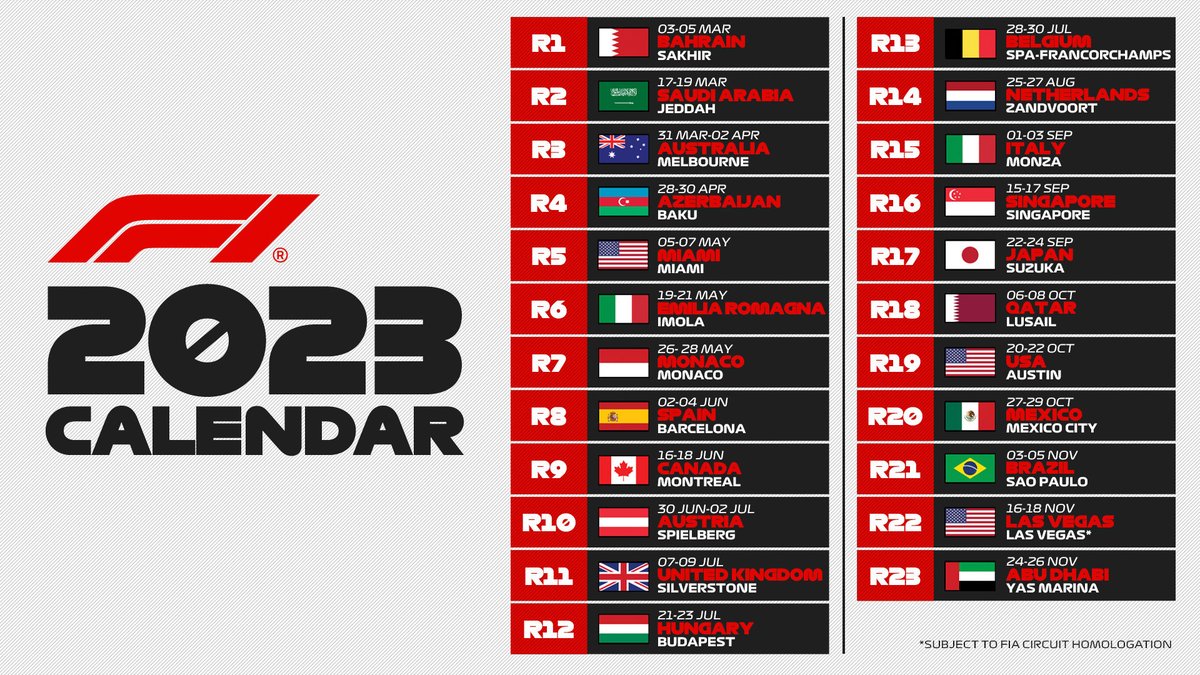 ---
Who are the teams?
Car launches are complete, so here's (mostly) what the grid will look like this year:

Of course, small changes may happen (sponsors drop out, teams decide they need to save a bit more weight by having less paint on the car, etc), but I doubt we'll see anything as dramatic as last years changeup with Haas dropping their relationship with Uralkali.
And, here's a nice infographic detailing driver lineup changes for 2023:
---
Other Useful Links:
Official Site
Drive to Survive, Netflix's excellent documentary series about the sport, an great way to introduce yourself to the sport. You'll learn all about the sport in general, meet the current drivers, and get an abridged recap of the 2018 through 2022 seasons of the sport.
Shift-F1, a podcast about F1 hosted by video game media personalities Drew Scanlon (Cloth Map, formerly of Giant Bomb), Danny O'Dwyer (No Clip), and Rob Zacny (Waypoint). (They are now also doing video versions of the show -- Youtube link below.)
Fantasy Formula 1
F1 Reddits: Formula 1 , Formula 1.5 , Formula 1 Posters, Inspector Seb
Good youtube fan channels:
Chain Bear
The F1 Word
Shift F1