Just five months ago, we were led to think that the Bills, Bucs and Rams were the cream of the NFL crop and that the Vikings, Seahawks, Lions (who should have made the playoffs because FUN), Jags and Giants would lurk among the bottom third of the league.
Eighteen weeks later, we've learned that most folks had the Bears, Falcons and Texans correctly pegged as trash but were wrong about a lot of other stuff. I mean, here's Peter King predicting that the Saints would win the NFC and that the Packers would be in the Super Bowl. (To his credit, he had the Packers losing to the Bills. But everyone had the Bills as their preseason No. 1.
So now it's Playoffs SZN. Let's get to it.
WILD CARD WEEKEND SCHEDULE
The big change this year: There's a Monday night game (and one less Saturday game). But the NFL didn't do much to keep TCU out of the playoffs; two of the six games are predicted to be blowouts, and a couple of others are leaning that way. Only one of these games (Chargers-Jags) actually seems compelling. But I'll watch the hell out of the it because football.
Here's the schedule (with the win probabilities from 538.com and game odds and over/unders from CBS Sports):
Saturday
4:30p: Seahawks at Niners
TV: Fox (Joe Davis, Daryl Johnston)
Favorite: Niners -10 (81% win probability); O/U 43
8:15p: Chargers at Jaguars (NBC)
TV: NBC (Al Michaels, Tony Dungy?!?)
Favorite: Chargers (Jags +1, 60%); O/U 47.5
Sunday
1p: Dolphins at Bills
TV: CBS (Nantz & Romo)
Favorite: Bills -10.5 (95%); O/U 43.5
4:30p: Giants at Vikings
TV: Fox (Kevin Burkhardt and Greg Olsen; a great duo)
Favorite: Vikings -3 (67%); O/U 48.5
8:15p: Ravens at Bengals (NBC)
TV: NBC (Tirico & Collinsworth)
Favorite: Bengals -6.5 (80%); O/U 43.5
Monday
8:15p: Cowboys at Bucs (ABC, ESPN and ManningCast)
TV: ABC, ESPN and ManningCast (Buck and Aikman)
Favorite: Cowboys (Bucs +3; Cowboys have a 60% win prob); O/U 45.5
PLAYOFF TIERS
Basically divided into Teams I Want to Watch and Team I Don't Want to Watch:
The favorites: Chiefs, Bills, Bengals, Niners, Eagles
Most likely, the Super Bowl winner will come from this group. (The NYTimes agrees with me; their cumulative Super Bowl winning probability is around 75%). These five teams have far and away been the best in the league this season. Which of these five will win? Search me. But it'll be hella entertaining if we get four of the five in the championship games and two in the Super Bowl.
Watch out for: Cowboys
You gotta respect a team with 12 wins, Dak at QB, Micah Parsons on defense and a team that, when it gets rolling, can drop 40+ on you (like they did against the Eagles, Colts, Vikings and Bears this season). But if the team that sh!t the bed against the Commanders in Week 18 shows up Monday night, they'll be out of the playoffs sooner than you can say "The Cowboys have won only three playoff games in 25 years, which is a true statement. PS: Monday's game is on grass, and the Cowboys suuuuuuck on grass.
Maximum chaos: Jags
The Jags are the only team in this year's playoffs who have never gone to the Super Bowl (and one of just four who haven't won it; the Bills, Vikings and Chargers are in the O-Fer Club). The Pride of Duval is a fun team that has a ton of upside, and it's hard not to root for them. Can't believe the Scheduling Gods paired them with the Chargers, who also have a good-haired big-armed QB and are almost as fun. DUUUUUVAL!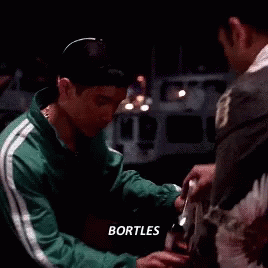 Still funny and true years later.
Overachievers: Giants and Seahawks
No one gave either team a chance at the start of the season. Hell, lots of folks thought the Seahawks would be historically bad. Now here we are. Probably not for long, but who knows, right? I'd be fine with the Giants winning (because the Vikings are frauds; keep reading) but not the Seahawks because I'd like Jimmy G to get a ring before he gets traded to Carolina.
Inscrutable: Vikings
The Vikings won 13 games yet managed to score 3 fewer points than they gave up. Worse, according to Football Outsiders, the Vikings finished the season 27th in DVOA (just ahead of the BEARDEDARNOLDS, of all teams). In weighted DVOA, which gives more weight to games later in the season to give you a sense of how a team is playing now, the Vikings are 28th, right between the Titans (who finished the season with Malik Willis and Josh Dobbs as their QBs) and the Cardinals (who willingly traded for Robby/ie Anderson, who caught 7 passes for 76 yards as a Cardinal). The Vikings also have the ninth lowest DVOA of any playoff team ever. They're historically bad, and I have no idea how they won 13 games when they played the Bears only twice.
Justin Jefferson is kinda good, tho. I hope he has a good game.
Underachievers: Chargers
I really really wanted the Chargers to be good this season. But they got hurt early (and a lot), and they never really seemed to jell. Also their offense is weird. They should be a lot better than 18th in DVOA. They might beat the Jags. Or they might sleep late and miss the game. Anything could happen!
Unwatchables: Ravens and Dolphins
Miami without Tua and Baltimore without Lamar are shells of themselves and honestly not worth watching. I plan on finding something else to do while they're playing Sunday.
Please go away: Bucaneers Bucs or Buccaneers or however you spell "please go away"
Tom Brady's best offensive performance of the season was Week 17 against the Panthers. Bad news for the Bucs: The Cowboys have signed neither Keith Taylor nor CJ Henderson, who are both still hospitalized for the third-degree burns they suffered in that game. (That's why 35-year-old former barista Josh Norman started in Week 18 despite not being anywhere close to game shape.) I have nothing against the Bucs or Brady, but they are no fun to watch except for maybe the last two minutes of the game. That said, I hope they beat the Cowboys.
DRAFT ORDER
For those of us whose teams will be sitting on the couch beside us this weekend:
Top 10: Bears, Texans, Cardinals, Colts, Seahawks (via the Broncos), Lions (via the Rams), Raiders, Falcons, Panthers and Eagles (via the Saints).
Next 8: Titans, Texans again (via the Br*wns), Jets, Patriots, Packers, Commanders, Steelers and Lions again.
19 to 32: Will be determined by playoff results.
Draft is April 27-29. Get it on your calendar!
FIRED!
Lastly, a look at the NFL coaches who have been sh!tcanned during or after the 2022 season:
Kliff Kingsbury, Cardinals (28-37-1 in four seasons; one playoff loss):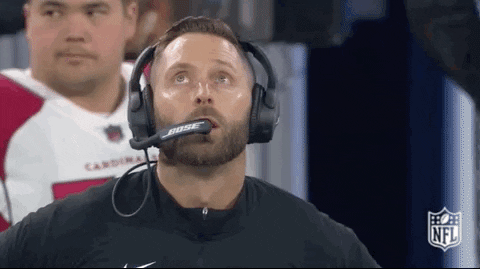 Lovie Smith, Texans (3-13-1 in one season; 92-100-1 all time; 3-3 in the playoffs):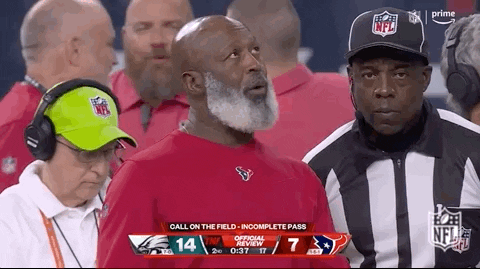 Nathanael Hackett, Broncos (4-11 in one partial disastrous season):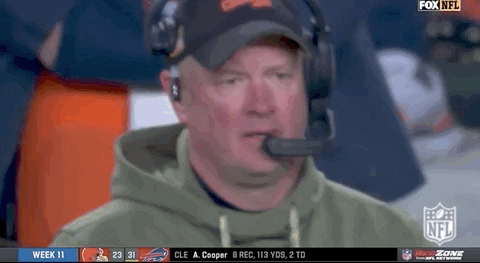 Frank Reich, Colts (3-5-1 this season; 40-33-1 in five season with Indy; 1-2 playoff record):
M--- R----, Panthers (fired after winning just 11 games over what felt like 11 seasons; 0-0 in the playoffs because this smock-wearing doofus couldn't find the postseason with a GPS):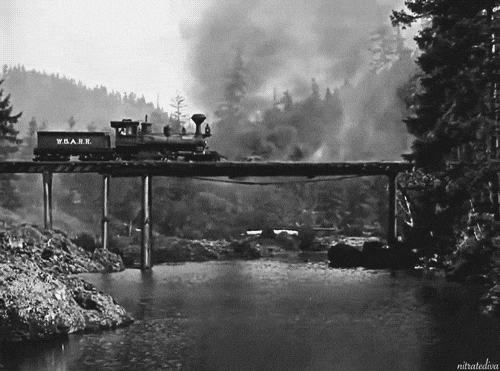 Strap in for the playoffs, y'all. It'll be wild.