Some random-ass thoughts about Week 13:
* The Saints can go straight to hell. All the Saints had to do was hold onto a 13-point 4th-quarter lead against a team with a geriatric QB and no offensive line and the Panthers (it's true!) would have controlled their own destiny. That's right: if the Bucs had lost, Carolina could have won out (vs the Seahawks, Steelers, Lions, Bucs and Saints), and the 9-8 Panthers would be hosting a home playoff game. Leave it to the GDMF Saints to ruin my control-their-own-destiny fantasy.
Meanwhile, here's Saints coach Dennis Allen demonstrating proper fourth-quarter tackling form: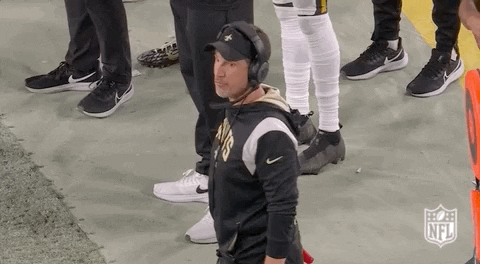 * I hope Baker Mayfield can get it together in LA. He wasn't a bad person or a bad teammate (just a little snarky) in Carolina; just a terrible QB. Maybe with some decent coaching he'll be OK? Dude has been coached by Freddie Kitchens and someone far less competent than Freddie Kitchens.
* Poor Jimmy G. A million-dollar face supported by a 10-cent foot. Let's hope Mr. Irrelevant Brock Purdy has bones made of something stronger than pipe cleaners.
* The Eagles, Cowboys, Bengals are really freakin' good right now. The 10-2 Vikings? Eh, I'm unconvinced as long as Kirk Cousins is their QB.
* Speaking of Dallas, we had our second Scorigami of the season: Cowboys 54, Colts 19. It's the 1,074th unique final score in NFL history.
* Also speaking of Dallas, the Cowboys became the first team in NINETY-SEVEN YEARS to score 33 points in the fourth quarter.
The Cowboys were the first team to hit 50 points in a game this season, and they did most of it in about 11 minutes of game time. The Colts were outscored by 33 points in the fourth quarter, which may be an NFL record, depending on how you feel about a certain football travesty that took place almost 100 years ago. In 1925, the Chicago Cardinals outscored the Milwaukee Badgers 33-0 in the fourth quarter of a 59-0 shutout—but that game was the result of one of the early NFL's biggest controversies. The Cardinals scheduled that game in a late-season attempt to play the flimsiest opponents possible to win the league's championship, but the winless Badgers had already given up on the season and sent many players back to their day jobs. To fill out the Milwaukee roster, a Chicago player recruited some local high schoolers and gave them fake names. The scandal nearly tore apart the NFL, which didn't have a foothold yet in American culture. The league's commissioner ordered the game stricken from the league's record books … but apparently they forgot to actually erase it. The game is still technically a part of NFL history, and is now tied with Colts-Cowboys for the most lopsided fourth quarter in league history.
Poor Dak was exhausted after watching so many points being scored: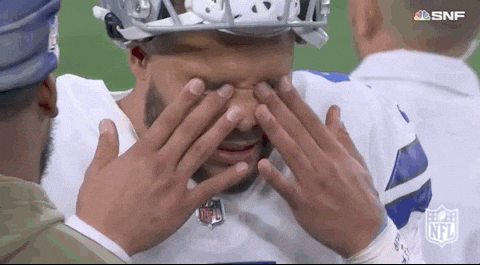 The Cowboys got their 33 via one passing TD, three rushing TDs and a fumble return TD. (Dallas missed an XP, then blew a 2-point conversion.)
The 1925 Cardinals scored their 33 points on two scoop-n-scores, two passing TDs and a rushing TD. But they missed two XPs; apparently their kicker was addicted to dance marathons, which I'm told was the Call of Duty Double XP Weekend of its day.
WEEK 14 SCHEDULE
Some decent games, though the Thursday and Monday night games blow clam chowdah chunks.
Thursday: Raiders-Rams (Prime)
Sunday early: *Jets-Bills*, Br*wns-Bengals, Texans-Cowboys, Vikings-Lions, *Eagles-Giants*, Ravens-Steelers, Jaguars-Titans
Sunday late: Chiefs-Broncos (flexed from Sunday night), Panthers-Seahawks, *Bucs-Niners*
Sunday night: *Dolphins-Chargers* (flexed to Sunday night, yay) (NBC)
Monday: Patriots-Cardinals (ESPN, plus ManningCast hooray!; I'm here to listen to Peyton talk sh!t about Belichick)
Byes: Falcons, Bears, Packers, Colts, Saints, Commanders; no more byes after this week!
Coverage maps are here; Bucs-Niners is your national GOTW because no one should be forced to watch games involving the Broncos or the Panthers.
POWER RANKINGS
From The Ringer this week:
Top 5: Eagles (1st last week), Bills (3rd), Chiefs (2nd), Cowboys (4th), Bengals (8th)
Biggest gainer: Steelers (+8 to 20th because Kenny Pickett has picked up his game)
Biggest loser: Saints (-6 to 26th, which isn't far enough for these jackholes)
Biggest surprise: Rams at 31st. Losers of six straight and with no Ws since mid-October (against the Panthers, natch), the Rams are on pace to have the worst season of any Super Bowl champion.
IF THE SEASON ENDED TODAY ...
According to NFL dot com:
AFC division leaders: Bills, Chiefs, Ravens, Titans
AFC wild cards: Bengals, Dolphins, Jets
Next: Patriots, Chargers
NFC division leaders: Eagles, Vikings, Niners, Bucs
NFC wild cards: Cowboys, Giants, Seahawks
Next: Commanders
Eliminated! The first two teams to go are the Texans and Bears, who as of right now will pick 1-2 in the 2023 draft.
That's all I got. Happy Week 14 to all who celebrate!