Scene: The White House, Monday
CHOCOLATE and CHIP are released from their cages on the South Lawn. It is clear that this pair of turkeys are the guests of honor at a ceremony. They are approached by the PRESIDENT.
PRESIDENT: The votes are in, they've been counted and verified, no ballot stuffing, no fowl play. The only red wave this season is if the Niners knock over the cranberry sauce and win the Super Bowl.
[muffled chuckling]
CHOCOLATE: That's funny, Mr. President.
PRESIDENT: Looks like we have another flock of turkeys hoping to come to Washington in — wait, you can talk?
CHIP: He sure can.
PRESIDENT: You too?!
CHOCOLATE: Yep. When we were chicks, the farmer who raised us put a TV on in the barn to keep us company.
CHIP: He's a big football fan, so we watched a lot of NFL games. Take Chocolate. Now here's a guy ...
CHOCOLATE: Stop. I'd rather hear your impression of Troy Aikman.
PRESIDENT: Don't tell me you're a Cowboys fan.
CHOCOLATE: Nope.
PRESIDENT: So you're like me and like the Eagles?
CHIP: No.
PRESIDENT: Seahawks? Cardinals? Ravens? ... Uh, help me out. Any more bird teams?
CHOCOLATE: The Falcons?
PRESIDENT: The 28-3 team?
[RAUCOUS LAUGHTER]
PRESIDENT: So who's your team?
CHIP: The Panthers.
PRESIDENT: Wait, really?
CHOCOLATE: Yep! We were raised in North Carolina, just like the White House Christmas tree, Texas Pete and the two best kinds of barbecue.
CHIP: Cam Newton used to wear feathers.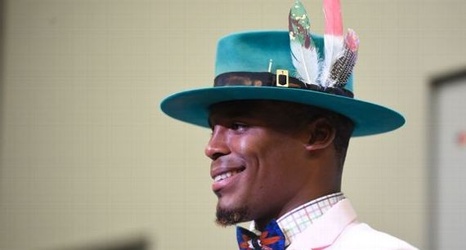 CHOCOLATE: And the team's former head coach — boy, what a turkey.
PRESIDENT: You got that right. See him on TV this week?
CHIP: Couldn't miss that fat stubbly head of his. He reeks of desperation — and 31 losses in three seasons.
CHOCOLATE: That guy is a Thanksgiving dinner where the only thing on the table is candied yams and green bean casserole.
PRESIDENT: You see that Sam Darnold will be your starting QB on Sunday?
[long awkward silence]
CHIP: Wait, really?
[CHOCOLATE whips out cell phone and frantically checks Twitter]
CHOCOLATE: Oh, god. You're right!
CHIP: No no no no no no NO!
[PRESIDENT turns to audience]
PRESIDENT: With the power invested in me by the Constitution of the United States, I pardon these two turkeys ...
CHOCOLATE: Stop!
CHIP: Please.
CHOCOLATE: We'd rather die than watch Sam Darnold play QB again.
CHIP: We'd rather watch reruns of the entire Chris Weinke and Jimmy Clausen seasons.
CHOCOLATE: Actually, I'd rather die.
CHIP: (pondering): Upon further review, yeah, chop off my head and cook me up Thursday.
PRESIDENT: You know, I've got an idea. How about I send you two fellas to a place where there's no football?
CHOCOLATE: Houston?
CHIP: Jacksonville?
CHOCOLATE: Minnesota?
PRESIDENT: I'm thinking right here in DC.
[PRESIDENT glances around him to see if anyone else is listening, then glances up at the snipers on the White House roof]
PRESIDENT: After the holidays, we're going to take out Dan Snyder and burn that entire franchise to the ground. Not even Jeff Bezos will want the team after that.
CHIP: Can you nuke the Panthers' former coach too?
PRESIDENT: I think that can be arranged. Now enjoy your pardons, boys. Go Eagles!
THINGS TO BE THANKFUL FOR
A short list:
* The wizardry of Patrick Mahomes
* ManningCast
* DrawPlay Dave
* This dumb little corner of the internet. Happy Day Before Turkey Day, y'all.
HAPPY ANNIVERSARY TO ...
... this work of art, as folks pointed out in the Week 11 thread.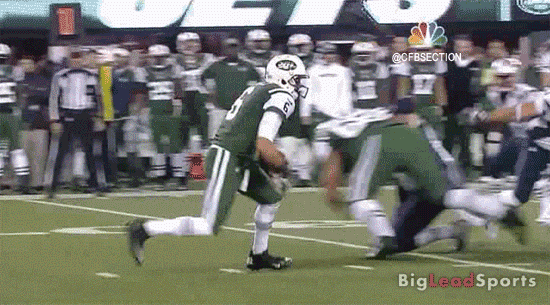 The Ringer looks back at the Butt Fumble and 12 years of Jets ineptitude. Go read it!
THIS GUY The Bills and their fans are something else, aren't they?
Congrats on the Bills for having to dig their way to Detroit, beating the Browns and not trashing Ford Field on their way home.
PS: If you're interested in the logistics involved of moving an NFL home game to another city after a blizzard, SI has you covered. Interesting-to-me side note: The Bills took the visitors' locker room Sunday (although they were the home team) because they'll be playing the Lions on Thursday and figured they'd keep most of their stuff there rather than schlepping it home.
POWER RANKINGS
A new No. 1 at NFL.com! It's the Chiefs (2nd last week), followed by the Eagles (1st), Cowboys (8th), Bills (5th) and Niners (7th).
Biggest movers: Cowboys +5 to 8th; Vikings -6 to 9th
Biggest laugh: Your defending Super Bowl champions LA Rams are 28th and living in a two-bedroom rental next door to the Colts and Jags.
According to 538, meanwhile, the Chiefs lead with a 23% chance to win the Super Bowl, followed by Cowboys (15%), Eagles (12%) and Bills (11%). Packers and Rams are down there with the <0.1 crowd that includes all the other sorry teams.
IF THE SEASON ENDED TODAY ...
Here are your top 7 seeds in each conference:
AFC: Chiefs, Dolphins (didn't see that coming in the preseason), Titans (same), Ravens (eh, especially after Sunday), Bills (oof), Patriots, Bengals
NFC: Eagles, Vikings, Niners (Jimmy G is now King of the NFC West), Bucs, Cowboys, Giants, Seahawks (w Prince Geno)
Eliminated: None yet
Top 5 draft picks (via Tankathon): Texans, Panthers, Bears, Raiders, Seahawks (via Broncos, ha)
WEEK 12 SCHEDULE
Wall-to-wall football this week, with maybe the best/most fun/most interesting T-giving lineup in a while:
Thursday: *Bills-Lions* (12:30p, CBS), *Giants-Cowboys* (430p, Fox), *Patriots-Vikings* (8:20p, NBC)
Sunday early: Broncos-Panthers, Bucs-Browns, Ravens-Jags, Texas-Dolphins, Bears-Jets, *Bengals-Titans*, Falcons-Commanders
Sunday late: Chargers-Cardinals, Raiders-Seahawks, Rams-Chiefs (national GOTW?), Saints-Niners
Sunday night: Packers-Eagles (NBC)
Monday: Steelers-Colts (ESPN; no ManningCast)
Byes: None this week!
Coverage maps will be here later this week.
Enjoy the games and your turkey hangovers.