Today's word: stolen.
Just like Justin Jefferson stole the ball out with one hand out of Cam Lewis' grasp. (Draw Play Dave has some thoughts on that catch, by the way.)
I mean, just look at this:
Just like the Vikings stole the game from the Bills. Go watch the highlights if you haven't seen 'em.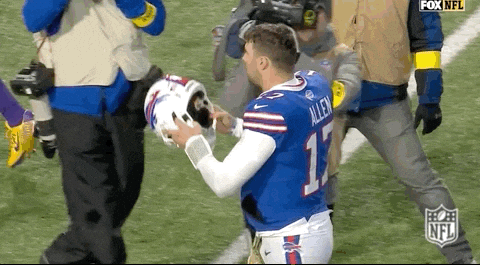 And then there's this episode of grand larceny from the Week 10 thread:
MilkmanDanimal wrote:
Mark Brunell: Stole mortgages.

Trevor Lawrence: Stole Crypto.

Jimmy G: Stole hearts.
*Legion* wrote:
Blaine Gabbert and Blake Bortles: Stole 8 years of my life.

Colin Kaepernick: Had his career stolen.
I'd also point out that the Niners stole CMC from the Panthers, but in all fairness the Panthers left the front door unlocked.
STATS OF THE WEEK
First: Jimmy G is 10-2 in games where he has thrown -0- TD passes.
Second: No teams in either the AFC East or NFC East has a losing record.
Third: The corpse of Matt Ryan had a career-long 39-yard run against the Raiders. That's a fireable offense!
Four: New Colts HC Jeff Saturday has as many wins as the former Panthers HC whose name rhymes with Fat Drool.
DIE EAGLES DIE
I can't believe y'all got your first L to a team QB'd by this doofus, one of several* ex-Panthers QBs still kicking around the league:
That's OK. The 0 had to go sometime. Better now than in the playoffs.
* Four, not counting Cam.
POWER RANKINGS
Via The Ringer this week:
Top 5: Eagles (1st last week), Chiefs (3rd), Bills (2nd), Vikings (5th) and Dolphins (7th).
Biggest movers: Commanders +6 to 24th; Broncos, Saints and Raiders -4 to 20th, 29th and 31st, respectively.
Meanwhile, the Chiefs are your new Super Bowl favorite (22%), according to 538. Bills (12%), Vikings (11%) and Eagles (11%) are your only other double-digit percentage teams.
IF THE SEASON ENDED TODAY ...
From the AFC (seeds 1-7): Chiefs, Dolphins, Titans, Ravens, Jets, Bills, Patriots
From the NFC: Eagles, Vikings, Seahawks, Bucs, Giants, Cowboys, Niners
Eliminated: None yet!
Draft order: Texans, Raiders, Panthers, Eagles (via Saints*), Jags (more)
* I had to look this up, but the Eagles and Saints swapped a bunch of picks before the 2022 draft. The Saints ended up with WR Chris Olave and OT Trevor Penning (who's hurt). The Eagles, meanwhile, ended up with WR AJ Brown and what could be a really, really good pick in 2023. Everyone wins!
WEEK 11 SCHEDULE
A pretty good week, especially because I get to watch Lamar Jackson during the early slot Sunday:
Thursday: Titans-Packers (Prime)
Sunday early: Bears-Falcons, Panthers-Ravens, Browns-Bills, Commanders-Texans, Eagles-Colts, *Jets-Patriots*, Rams-Saints, Lions-Giants
Sunday late: Raiders-Broncos, **Cowboys-Vikings** (national GOTW), Bengals-Steelers
Sunday night: *Chargers-Chiefs* (NBC)
Monday: Niners-Cardinals in Mexico City (ESPN; no ManningCast)
Byes: Jags, Dolphins, Seahawks, Bucs
Coverage maps are right here.