I'm here not to bury running backs but to praise them:
CMC, Niners: The former Panthers' star seems to have solved all of the Niners' issues at RB, WR *and* QB. On Sunday, he became just the fourth player since the 1970 AFL-NFL merger to score via run, catch and pass. The other three: RB LaDainian Tomlinson (Chargers) in 2005, WR David Patten (Patriots) in 2001 and RB Walter Payton (Bears) in 1979.
His Week 8 numbers: 18 carries for 94 yards and a TD; eight catches for 55 yards and a TD; 1 for 1 passing for 34 yards and a TD. CMC is the first player in the Super Bowl era to have 30+ passing / rushing / receiving yards in the same game.
Even better, CMC's TD pass was only the third Niners TD pass since 2020 that covered 30+ air yards. The other two such passes were thrown by Trey Lance and C.J. Beathard.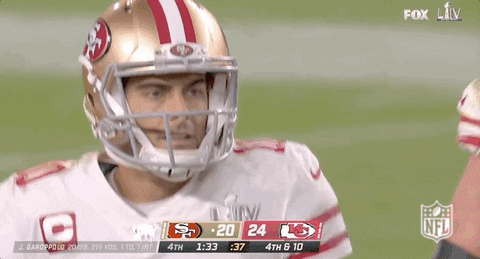 Derrick Henry, Titans: 32 carries, 219 yards (6.8 per carry) and 2 TDs against the Division III Texans. That's the first 200-yard rushing performance of the season and Henry's sixth career game with 200+ rushing hards and 2+ rushing TDs. Here's what that career games of 200+/2+ looks like since 1950:
Derrick Henry (6)
Derrick Henry vs Texans (4)
LaDainian Tomlinson (3)
Barry Sanders (3)
Jim Brown (3)
He's also tied with OJ Simpson and Adrian Peterson for most career 200-yard rushing games.
Henry also gets an apology from Football Outsiders. Here are highlights if you haven't seen them. Derrick Henry is a large and fast man.
The Cowboys' two-headed run monster: Tony Pollard (mostly Pollard) and Zeke Elliott combined for 19 carries, 165 yards and 4 TDs. Pollard (14-131-1) average a ridiculous 9.4 yards per carry against the Bears.
D'Onta Foreman, Panthers: 26 for 118 and 3 TDs. Almost makes me not miss CMC.
Latavius Murray, Broncos: Not a great game (14 for 46, 1 TD) against the Jags but a historic one, as he became the first person in human history to score TDs for two different NFL teams in London in the same season. In Week 4, he scored a rushing TD for the Saints. Four weeks later, he scores a rushing TD for the Broncos. The queen is dead; long live King Latavius I.
The seven guys who ran for 100+ yards this week: Derrick Henry, Travis Etienne Jr. (Jags; 156 yards and a 6.5 yard average), Aaron Jones (Packers; 143 yards, 7.2 average), Pollard, Foreman, Dalvin Cook (Vikings) and Nick Chubb (Browns).
For a little context, there were seven 100+ yard rushers in Week 7 and nine in both Weeks 4 and 5, so Week 8 doesn't really stand out from the cheap seats. But it's fun to see big dudes rip off some big runs. More, please!
POWER RANKINGS
From ESPN this week:
Your top 5: Bills, the undefeated Iggles, Chiefs, Howboutdemcowboys, Vikings
Your basement 5: Panthers, Jags, Steelers, Lions, Texans
Biggest movers: Seahawks (8th), Niners (9th) and Saints (21st) all gained five spots; Giants lost 7 and fell to 11th
IF THE PLAYOFFS STARTED TODAY
It would look like this (seeds 1-7):
AFC: Bills, Titans, Chiefs, Ravens, Jets, Dolphins, Chargers
NFC: Eagles, Vikings, Seahawks, Falcons, Cowboys, Giants, Niners
538's current Super Bowl predictions: Bills have a 27% chance to win it, followed by the Eagles (17%), Chiefs (14%) and Cowboys (12%). Twenty teams have less than a 1% chance at this point. BETTER LUCK NEXT YEAR Y'ALL!
AND NOW FOR SOMETHING COMPLETELY DIFFERENT
Here's a video of Jared Allen riding to his Vikings' Ring of Honor ceremony on a horse:
Week 8 was kinda weird and wild, you know.
WEEK 9 SCHEDULE
Another underwhelming week that will undoubtedly amaze and surprise in unexpected ways:
Thursday: Eagles-Texans (Prime)
Sunday early: Chargers-Falcons, Dolphins-Bears, Panthers-Bengals (CAT BOWL), Packers-Lions, Raiders-Jaguars, Colts-Patriots, Bills-Jets*, Vikings-Commanders
Sunday late: Seahawks-Cardinals (BIRD BOWL), Rams-Bucs (national GOTW but why??!!)
Sunday night: Titans-Chiefs* (NBC)
Monday: Ravens-Saints (ESPN, plus ManningCast)
Byes: Browns, Cowboys, Broncos, Giants, Steelers, Niners
Coverage maps are here. Note that most of the known world will get Bills-Jets at 1p Sunday. Also note that Alabama (bc Tua, I guess) will get the Dolphins game early.
* matchups between two teams with winning records
SEE YA!