Great news, folks! No longer do I have to think about or look at this miserable doofus: My reaction: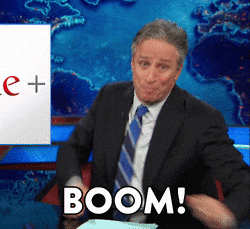 Man, I hated that guy. Dude looks like my neighbor who hasn't raked his front yard in going on five years now and climbs up on his roof at 10 p.m. with this leaf blower because who knows why? My neighbor is the human equivalent of complaining that the former pass-game coordinator you hired to be your offensive coordinator won't run the ball enough, of trading a third-round pick and a perfectly good pass-catching tight end for defensive pass interference in human form, of drafting a running back on the suggestion of your spouse, of drafting (and later cutting) a long snapper even though your current long snapper is literally your locker room leader, of lying about things both big and small from the moment he stepped foot in Charlotte, of trying to convince people that Sam Darnold is an actual NFL QB and not some sort of reanimated corpse with a Manning-esque sideways five-head.
His list of sins against football, Both Carolinas and me personally are long. And now, poof, he's gone, and good riddance. Here's his legacy, one that only the Lions, Browns and current Texans could be proud of. Since 2020, the Panthers are:
* 0-16 in game-winning drive opportunities
* 1-27 when allowing 17 or more points
* 0-24 when allowing more than 21 points
* 2-25 when not leading by at least 7 points at halftime
* 3-27 when not leading by double digits at halftime
Hard to imagine what sort of program he was going to build if he had stayed the full Jay Z-mandated seven years. Something like this, I imagine:
MY THOUGHTS EXACTLY
Saints Guy: You know you're last in the division, right? you ain't got no quarterback, no head coach. You got no defensive coordinator. That practice field ain't never gonna get done."
Panthers Fan: "Yup! And it feels great!"
BOW DOWN TO YOUR NEW GOD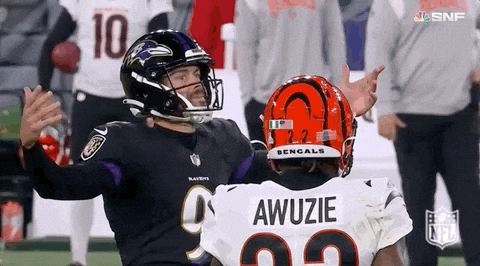 His game-winning kick the other night was so right down the middle that it would have been good had the uprights been only 18 inches apart.
Also this guy: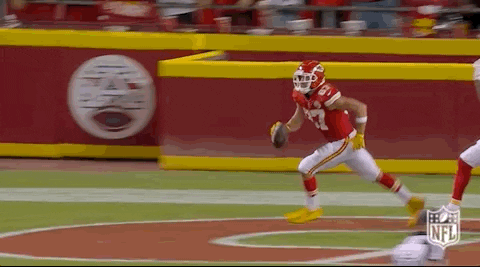 4 TDs on 25 yards receiving. Dang.
NOW I SAY SOMETHING GOOD ABOUT ... TAYSOM HILL?!
I'm in such a great mood (see the intro to this thread) that I'm willing to p .... p .... pr .... prai ... say good things about No 7 for the New Orleans Saints.
The stat line was bonkers: 9 carries for 112 yards, 3 rushing TDs (he hit 20 mph on his 60-yarder) and 1 passing TD on his lone pass. He averaged 23 yards on kick returns and, oh, recovered a special teams fumble.
His Week 5 numbers broke the collective brains of the brainiacs over at Football Outsiders.
Another confession: The Saints all-black uniforms are the best kit in the game, hands down.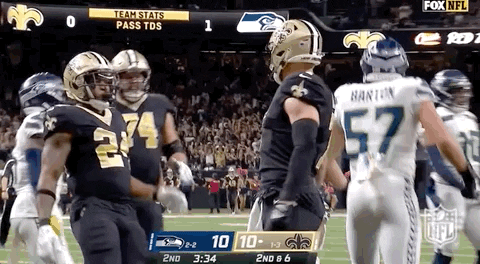 I used to say it was the Panthers all-blacks, but Carolina loses too much in those uniforms (and all other uniforms, let's be honest), so I think they're jinxed and need to be burned, along with most of the players wearing them.
DRAW PLAY DAVE HAS THOUGHTS
He goes team-by-team through the league. He had me at "The Panthers remain total garbage." Pithy and honest. Exactly what you want in a season-so-far summary.
HERE, HAVE A DENVER GIF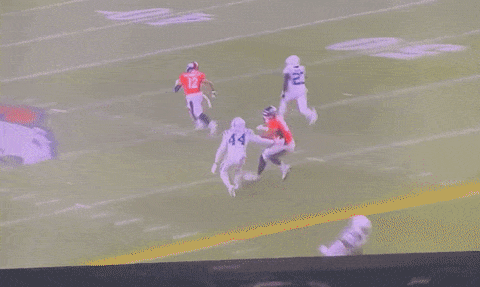 The Broncos problems go far beyond a cooked QB and a head coach who doesn't know what "time outs" are.
POWER RANKINGS
From ESPN this week:
Top 6: Chiefs (1st last week), Bills (2nd), Eagles (3rd), Vikings (7th), Cowboys (11th), Niners (12th).
Bottom 5: Bears (28th last week), Texans (32nd), Steelers (29th), Lions (25th, ouch), Commanders (30th).
Not ranked: Panthers
WEEK 6 SCHEDULE
A slow start to the week, but it picks up nicely toward the end/
Thursday: Commanders-Bears in a rematch of the 1940 NFL title game (Prime)
Sunday early: Niners-Falcons, Patriots-Browns, Jets-Packers, Jags-Colts, Vikings-Dolphins, Bengals-Saints, *Ravens-Giants*, Bucs-Steelers
Sunday late: Panthers-Rams, Cards-Seahawks in the BIRD BOWL, ***Bills-Chiefs (national GOTW)***
Sunday night: **Cowboys-Eagles**
Monday night: Broncos-Chargers (no ManningCast this week)
Byes: Lions, Texans, Raiders, Titans
Coverage maps are here.
BYE Y'ALL