Week 2 was:
(a) wacky
(b) bonkers
(c) maddening
(d) all of the above
Answer:
Spoiler:
(d), all of the above, durrr
Consider:
* We saw two 20-point comebacks on one day versus none all of last season (Dolphins and Cardinals)
* The TuAnon people might have been right:
(LJ8 might be pretty good, too. Can't believe the Ravens lost.)
* Kyler Murray did this*:
(*=this = ran for 84.85 yards over 21 seconds on a 2-pt conversion; Barnwell has the dots)
* Joe Flacco might be elite after all.
* Speaking of elite, Micah Parsons is out there wreckin' fools:
* The Eagles might be good?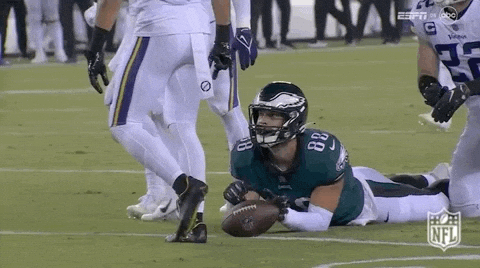 * And the Jags shut out the Colts?!
* Tom Brady got mad:
* Mike Evans and Marshon Lattimore got mad, too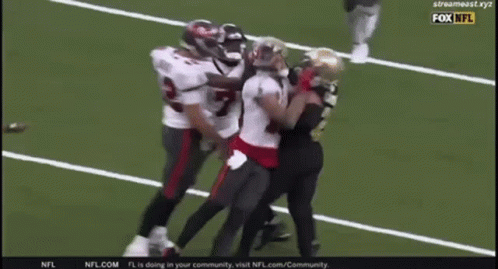 Evans to the refs afterward: "It's Tom Brady! What do you want me to do?!"
* The Lions? THE LIONS!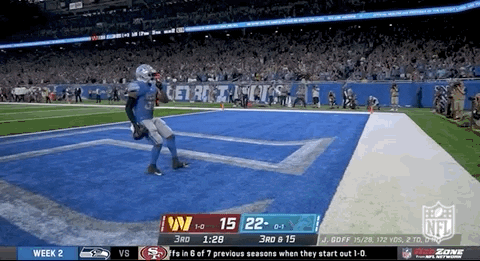 * The Browns had a 99% win probability ...
* The Panthers were about to sign a QB named Chad Powers until they found out he went to Penn State instead of Temple. ("Chad does it his way. Chad likes to throw deep!")
* Aaron Rodgers reacts to Week 2: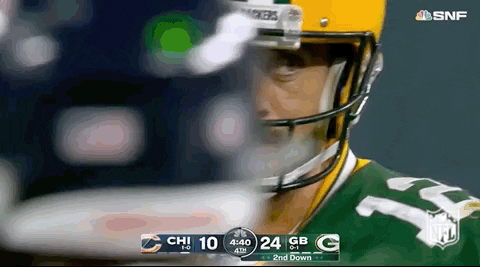 And so on. It was a wild week. Speaking of:
Ï'M ßÅÅÅÅÅÅÅÅÅÅÅÅÅÇK!!!!!!
No, not Cam. This cutie: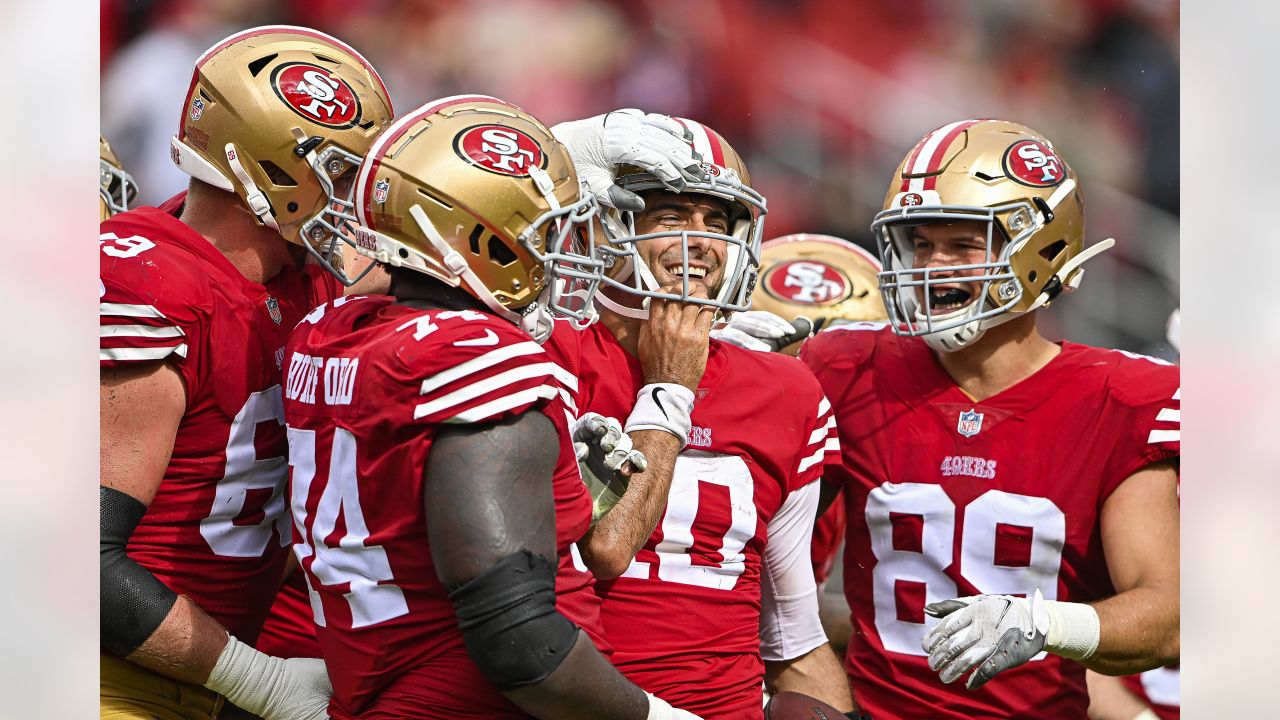 We missed you, Jimmy G!
QB RANKINGS
A new feature at The Ringer: QB rankings, updated weekly.
The top 5 (no surprises): Mahomes, QAaron, Herbert, Allen and Brady.
GET TO KNOW A GUY
If Justin Herbert and his busted-up ribs can't go, the Chargers will roll out backup ...
Chase Daniel!
* 5 starts and 71 appearances in 13 seasons for seven different teams
* Has thrown for almost 1,700 career yards, which equals a third of Herbert's 2021 season total
* USA Today's Chargerswire describes him earnestly as a QB with "an arm nowhere near the talent of Herbert"
* Was a undrafted free agent
* Has been in the league longer than Julio Jones and Von Miller
* Has been paid nearly $42 million in his career. Good work if you can get it!
WEEKLY POWER RANKINGS
From NFL.com this week. Top 5 are Bills (1st last week), Chiefs (2), Eagles (10!), Bucs (3) and Packers (8).
I'm not sure the Panthers are listed this week.
PANTHERS STATS OF THE WEEK THAT MAKE YOU GLAD YOU ROOT FOR ANY OTHER TEAM
During the Matt Rhule era (just two years and two games but feels like my entire life):
* the Panthers are 1-24 in games in which they have given up 17+ points (and 9-0 when they gave up 16 or fewer)
* the Panthers are 0-15 in 4th quarter/game-winning drive opportunities
* The Panthers are the first team in NFL history to lose in consecutive weeks on 56+-yard fourth-quarter FGs (source)
* Panthers lost in the fourth quarter on a field goal of 56 or more yards, something that had never happened before in consecutive weeks in NFL history.
Maybe the Panthers aren't properly motivated? I mean, here's video of Matt Rhule charging out of the tunnel ...
[watches video]
Actually, it's Rhule leading the team through the tunnel at a pace that would be considered too slow for both funerals and execution.
The good news is that the Panthers will be working on situational football because they have installed scoreboards at each end of their practice field. It's a trend around the league, right? Situational football, I mean ...
Sigh.
WEEK 3 SCHEDULE
Thursday: Steelers-Browns (Amazon)
Sunday early: Aints-Panthers, Texans-Browns, Chiefs-Colts, *Bills-Dolphins*, Lions-Vikings, Ravens-Patriots, Bengals-Jets, Raiders-Titans, Eagles-Commanders
Sunday late: Jags-Chargers, Rams-Cards, Birds-Birds (FaLOLcons-Seahawks), *Packers-Bucs* (national GOTW to absolutely no one's surprise)
Sunday night: Niners-Broncos (NBC)
Monday: Cowboys-Giants (ABC and ESPN, plus ManningCast, with a special guest appearance from Chad Powers)
Byes: None yet!
Coverage maps (and announcer pairings) are here.
PARTING SHOT
From the most recent Draw Play:
Congrats, Legion, you earned this one.