Preaseason's over, boys and girls! Time to strap on some pads and hit some fools!!!!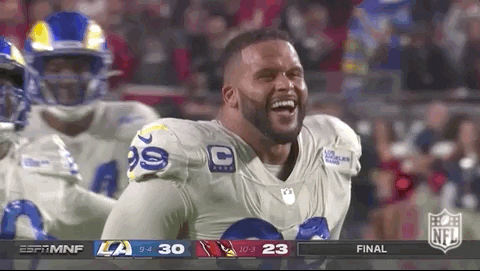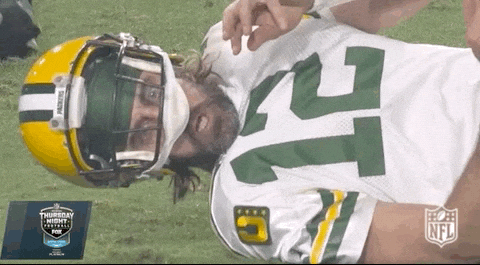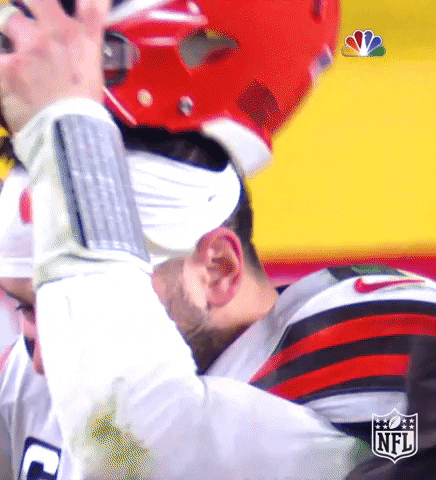 QAaron is back! And expect a lot of Baker Mayfield GIFs this season. You've been warned.
Speaking of, it's time for ...
NFL STORYLINES
Among the main ones this year:
* Can the Rams repeat? Eh, probably not. It's hard as hell to make it twice in a row (Chiefs 2019-20, Patriots 2016-18, Seahawks 2013-14, a few others), but we haven't seen a team go back to back since the Patriots in 2003-04.
* Lots of new QBS this year (but no Week 1 rookie starters since 2007, huh). Among the ones you should be watching: Russ in Denver, Lance in SF, Boring Matt Ryan in Indy, Baker in Carolina, plus Wentz, Trubisky, Mariota and a few other dudes I don't really care about.
* Two new announcer/network pairings: Al Michaels and Kirk Herbstreit on Thursday night, and Joe Buck and Troy Aikman on Monday night. Sunday night is Tircio (sted Michaels) and Collinsworth; Nantz and Romo are still the top CBS team.
* Which coach will get fired first? PleaseletitbeMattRhule, pleaseletitbeMattRhule. Then it's Rivera, Kingsbury and Mike McCarthy in that order. Lots of the bad teams (Texans, Bears, Jags, Giants) got new coaches this offseason, so none of them is in danger of getting sh!tcanned (probably).
* Whither GWJ Hearthrob/QB Trevor Lawrence? Will a new non-Urbs coaching regime propel him into the top 10 of NFL QBs? Or will he always be known as the guy who can't make the short/easy throws and be fast-tracked into clipboard-holding status?
* Your Super Bowl winner is ... the Bills? That seems to be the preseason consensus, with Josh Allen winning MVP. This sports book (that I can get through my home firewall) has it Bills, Bucs, Chiefs, Rams, Packers and Niners. Remember that no one picked the Bengals last year. Related, ESPN's Bill Barnwell charts the Super Bowl path of each team. It's paywalled, but holler and I'll post your team's capsule below.
* Your dark horse team: Dese guys!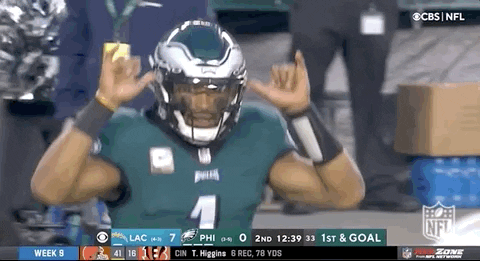 Lots of love out there for Jalen Hurts and the Eagles. I don't get it, but then again someone has to win the NFC East, and it better not be the Cowboys.
* The race for the No 1 overall pick: Texans, Falcons, Jets and Bears seem to be in the lead at the moment. Stay tuned to see who will win the Bryce Young / CJ Stroud sweepstakes!
Here are some others storylines (Tua, Lamar, the Chargers) courtesy of Warren Sharp (here and here).
PREDICTION CORNER
'Tis the season for Red Hot NFL Takes:
The Ringer picks Bills to win the Super Bowl, Justin Herbert wins MVP and the obsession over Tom Brady's will kick in around T-giving.
NFL.com's panel of experts goes with Bills, Chargers, Bucs and Ravens/Packers/Colts/Chiefs/Eagles
The math nerds (aka Legion's Peeps) over at 538 gives the Bills an 11% chance to win the Super Bowl. Next are the Bucs and Packers (9% each).
The Athletic (paywalled; holler and I'll free it) gives win totals for each team. Their top 5: Bills 11.6, Packers 11.4, Cowboys (!!) and Chiefs 10.6, Bucs 10.5.
Yahoo goes with Brady, the Bills and, oh yeah, the completely stacked AFC West.
ESPN's power rankings start with Bills, Bucs, Rams, Chiefs and Bengals at the top and Giants, Panthers (up from 32nd after the draft on a rocketship!), Jets, Texans and FaLOLcons at the bottom.
There's a million more pieces out there like this one. Go find one and share!
WEEK 1 SCHEDULE!!!!!!!!!!!!!!!
Thursday: Bills-Rams (NBC this week; remaining Thurs games will stream on Amazon)
Sunday early: Saints-Falcons, Browns-Panthers (BAKER BOWL), Niners-Bears, Steelers-Bengals, Eagles-Lions, Colts-Texans, Patriots-Dolphins, Ravens-Jets, Jags-Commandos
Sunday late: Giants-Titans, Chiefs-Cardinals (CBS national GOTW), Raiders-Chargers, Packers-Vikings (Fox national GOTW)
Sunday night: Bucs-Cowboys (NBC)
Monday night Broncos-Seahawks (RUSSELL WILSON REVENGE GAME) (ABC and ESPN, plus Manningcast*)
Byes: None till Week 6
Coverage map: It's here. Note the Baker Mayfield effect on the Panthers-Browns game: Charlotte, Cleveland and most of Oklahoma are getting that game.
* Manningcast is scheduled for Weeks 1, 3-4, 7-9, 13-15 and the Wild Card weekend.
BEFORE WE GO
If you're just waking up from a coma, here's how we left off the 2021 season. Yep, those are Super Bowl highlights.