Gamers know the value of numbers going up. We see it in game after game, even a whole "clicker" genre revolves around the single idea of higher numbers over time. This is the same, singular aim of millions of people, gamers and non-gamers alike, who play the stock market, hoping to see their money numbers go up.
With the caveat that no group is a monolith, money people tend to be a bit conservative in their approach to fiscal policy, often aligning with the US political party that is pro-world-ending (through their anti-environmental policy platform). This is mainly directed toward them.
What the End of the World Means For Your Portfolio
It would be bad.
I mean, you probably already guessed that. But the end of the world presents a few key issues for your financial portfolio:
In order for something to have value on the market, the market needs to exist. When the world ends, everyone will be dead, which means you won't be able to trade stocks. If you can't buy and sell, that's going to impact your liquidity.
The extinction of the human race will diminish demand for goods and services. You see, the goods and services provided by the companies in your portfolio depend entirely on there being a demand for them, and dead people don't tend to make purchases, which reduces demand. And much like the common housecat, even if you try to buy things for them, there's no guarantee that they'll appreciate the purchase. Case in point, I once purchased a laser pointer for my long deceased grandmother, and when I brought it to her grave and tried to get her to chase it, she just lay in the ground decomposing. I don't think she even noticed it.
You will be dead. Though some folks believe that you can take your material possessions with you when you die, financial portfolios are a bit more complicated. For one thing, stocks, bonds, ETFs, and mutual funds are more conceptual than physical. Plus, there is no guarantee that the strength of your portfolio will matter to you once you are dead, even if you've been scooping up those terrific, end-of-the-world stocks focused on water and agriculture that are likely to finish on a high note during all of the mass starvation and death. "Okay, that's a good point," you might be thinking, "but what if I leave it to my offspring." Ah, here's the problem there: the end of the world means that all of humanity will be dead. In normal times, inheritance makes a lot of sense. Pass your wealth on and let your children grow it for their children. The problem with the end of the world is that they will also be dead.
At this point you might be thinking, "Okay fine. What if we don't end the world?" The bad news is we're probably too late. However, there's an outside chance that instead of a climate disaster completely wiping out humanity, we can mitigate the heating of the Earth enough to eek out a few habitable corners and possibly even adapt to changing conditions. This scenario presents the most upside for your portfolio, as it creates a possibility that things will still matter in the future.
ESG Investing Is So Boring Though! What If I Want to Do Something Else?
Your portfolio might be thriving off of performances in the energy sector, or perhaps you have ideas about the efficacy of Environmental, Social, and Governance investing. Maybe the very thought of investing through an ESG lens makes you feel like Paul Rudd being asked to pick up a dish he just knocked over in Wet Hot American Summer.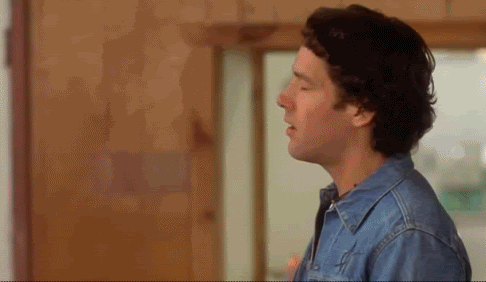 I'm not here to judge your portfolio, I'm just here to point out that if the world ends, it will be very bad for your portfolio. This isn't a push for you to move your money out of high emission sectors and into renewable energy (though that could help a tiny bit), just a gentle suggestion that you may want to consider what apocalypse will mean for your investments.
Once you've done that, you are likely to come to one of these conclusions.
Everything is awful and hopeless so why do anything? Nihilism and despair are often tempting, and a good excuse to not change habits or do the work of seeking out solutions. It's instant permission to not think about something, because what can you do? The thing is, there are things you can do. Doing some of these things might go against some long-established core patterns you have, but humor yourself. Think it through. Maybe you are more open to change than you realize?
Doing stuff looks like a lot of work, and I would prefer not to do that work. It'll be tempting to just try and make money hand over fist on the last gasp of humanity. Maybe you can get some prime climate change protected real estate in Norway or New Zealand and weather this whole thing out. The problem here is that everyone will still die. Put yourself in the position of someone who can't afford to upend their life and move to Norway. Imagine if you were them. Wouldn't you want to be saved, especially if it was possible? How mad would you be if you started drowning while a bunch of people with flotation devices were just staring at you and instead of helping you, and then they just up and flee to a different pool?
I'd like to do the work, but where do I even start? This is great! This is the best chance you—and your portfolio—have. Activists like Saint Andrew have lots of interesting thoughts here, and there are even podcasts centered on grappling with climate change with an eye toward concrete actions. But it could also be important to educate yourself on why climate action has stalled and then take steps to elect leaders who will do something about it, even if they don't necessarily align with you on other issues.
Because again, if climate change is not dealt with, everyone will be dead and your portfolio will likely tank.