Hard to believe I'm writing "the Week 18 thread" instead of "the Wild Card thread" or "the Playoffs thread." It feels weird and unnatural and downright icky, sort of like knowing that HEY DARNOLD will be your team's starting QB not just this week but next year as well.
PS: I probably should have put a trigger warning on the header pic. But if you watched Eagle fans nearly fall to their deaths at WFT's sewage-filled stadium or saw an obviously messed up Antonio Brown have a very public third-quarter meltdown, you can handle a photo of a proud city celebrating a two-time (ALLEGED!) rapist and an overall miserable pr!ck. Don't bash ol' Ben for being immature and making a few mistakes.
QAaron is a jackass, too. Oh, and AB is still on the Bucs' roster because the Bucs are deep into CYA mode over the whole thing.
Sometimes I wonder why I watch this f**king sport. I really do.
Anyway ...
PLAYOFF WATCH
This week's big ON THE FIELD story is the playoffs.
Who's in:
NFC: Packers*, Rams, Bucs*, Cowboys*, Cardinals and Eagles
AFC: Titans*, Chiefs*, Bengals*, Bills and Patriots
(* = clinched division title)
Lots of things still to be decided:
Two more AFC playoff teams: Colts are in if they beat the Jags, and the winner of the Chargers-Raiders game is in. The Steelers and Ravens also have a shot (but only if the Colts lose, I think; this sh!t is confusing).
The seventh NFC playoff team: Niners get in the playoffs if they beat the Rams OR if the Saints lose to the Falcons. The Saints get in if they win AND the Niners lose. (Go Niners! Go Falcons!)
AFC's home-field advantage: It's the Titans' to lose. If they beat the Texans, the Titans have home field throughout. If they lose, well, it gets complicated again and involves multiple good teams (Chiefs, Bengals, Patriots) all losing for the Titans to keep the top seed. The Packers already have bagged the NFC's home-field advantage.
NFC West: Rams win it if they beat the Niners OR if the Cardinals lose to the Seahawks. The Cards win it if they win AND the Rams lose.
AFC East: Bills win the division if they beat the Jets. If the Bills lose, the Patriots get it if they beat the Dolphins.
Click here if you want more who's in/who's out stuff.
Looking ahead, FiveThirtyEight's NFL prediction machine is forecasting a Packers-Chiefs Super Bowl and gives the Packers a 28 percent chance of winning the damn thing.
POWER RANKINGS
Via ESPN this week:
1. Packers (2 last week)
2. Chiefs (1)
3. Buccaneers (4)
4. Rams (5)
5. Titans (8)
Biggest gainers: Cards (8th) and Raiders (14th) are both +3 for the week.
Biggest loser: Colts (-6 to 12th)
IMAGE OF THE WEEK #1
Via Next Gen Stats, here's the animation of the Bengals' Ja'Marr Chase catching a 72-yard TD from Joe Burrow.
Chase is the dot with the ball. He's surrounded by 1, 2, 3, 4 .... 25! TWENTY-FIVE CHIEFS PLAYERS! AT LEAST!!! No shade on the Chiefs D, but Chase is unbelievable (and untouchable). Here's the animation, and here's a video compilation of Chase's monster day on Sunday.
IMAGE OF THE WEEK #2
Chill dude is chill:
More here, including video of the railing giving way right as Jalen Hurts strolls by.
STATS OF THE WEEK
1. According to Warren Sharp, the Giants are the only NFL team in the past five years to have not been above .500. It looks like they were 2-2 in 2019 but never managed to get into .501 or better territory.
Even the Panthers have had a winning record at some point in the past five years. That said, the Panthers lost to this sorry franchise this year by three touchdowns. I hate this game.
2. Speaking of the Giants, the Giants in Sunday's game had the lowest net passing yards THIS CENTURY.
The Giants managed just negative 10 passing yards in their 29-3 loss to the Bears. (24 passing yards minus 34 yards lost on sacks = minus 10 passing yards)
Your Giants QB in Sunday's game was none other than Mike Glennon, beloved for his neck and celebrated in this Hall of Fame GIF:
The low-water mark? It's held by the Chargers, who had minus 19 net passing yards in a 1998 game. Ryan Leaf (of course) went 1 for 15.
Speaking of Ryan Leaf, some have called him "easily the greatest quarterback of all time" who had fewer career incompletions, interceptions, sacks and lost fumbles than the guy picked ahead of him, Peyton something-or-other.
Here's video proof of Leaf's greatness, by god:
See if you can find the taunting penalty, the horse collar tackle and the baseball infield! The late 20th century was wild, y'all.
PANTHERS PLAY OF THE WEEK
Me on Sunday realizing the Panthers game is about to come on: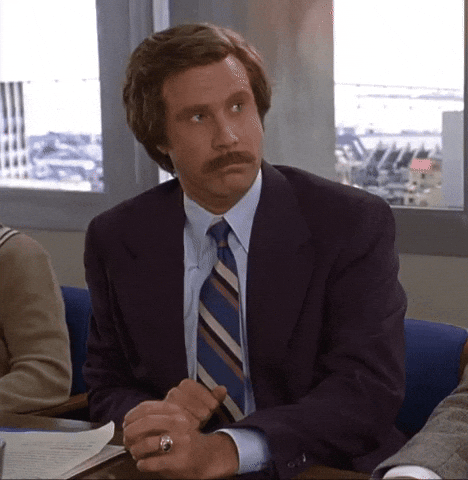 I skipped it. It's bad enough having to watch Taysom Hill. But watching Hill *and* a QB who hasn't scored a TD (by running or passing) for TWENTY ONE STRAIGHT QUARTERS? Hard pass (pun intended because it's hard to watch those two jerks try to pass the ball and life, like Drew Brees, is too short).
WEEK 18 SCHEDULE
(Click here for coverage maps)
Thursday night: No games!
Saturday: Chiefs at Broncos (4:30p, ESPN), Cowboys at Eagles (8:15p, ESPN)
Sunday early: Packers at Lions, Colts at Duuuuuuval (in the Clown Out Bowl), Footbrawlers at Giants, Bears at Vikings, Titans at Texans, *Steelers at Ravens*, Bengals at Browns (The No Baker No Burrow Bowl)
Sunday late: *Niners at Rams*, Panthers (boooooo) at Buccaneers, Seahawks at Cardinals,
Patriots at Dolphins, Saints at Falcons, Jets at Bills
Sunday night: **Chargers at Raiders** (NBC)
* end of the regular season! *
BONUS GAME: Alabama vs Georgia for the CFB championship, 8p Monday (ESPN)
... not technically an NFL game, but half these guys will be on NFL rosters within the next couple of years so it might as well be.
PS: This week's NFL schedule isn't filled with MAXIMUM DRAMA by accident. Chargers-Raiders got the Sunday night drama spot because it's the only game where both teams are playing a win-and-you're-in game. For more details on how the Week 18 games got slotted, check out this Sports Business Journal story.
BEFORE WE GO
The Delaware Clams, ladies and gentlemen!
"As coach of the Clams, I know it may take us a decade to get ready ..." ZING