What a bonkers week.
* We had football on Thursday, Saturday, Sunday, Monday AND Tuesday nights. Problem was, most of those games were terrible (except for Chargers-Chiefs a week ago).
* The Lions of all people beat the Cardinals, who were (check notes) 10-and-3 and in first place in the NFC West beforehand. Here's Dan Campbell gnawing on some post-game kneecaps:
* The Bucs got shut out AT HOME! By the Saints! Who started Taysom Hill!! (And who didn't score a TD.)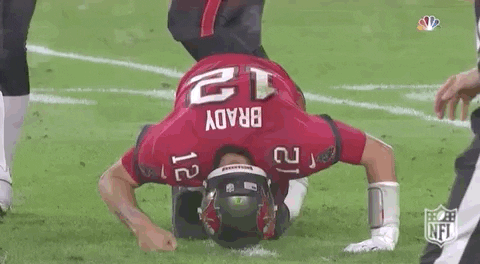 * The Chiefs won on this magnificent walk-off TD in OT:
The squealing and shaky video make this great. To see professional footage, try here.
* Meanwhile in Duuuuuuuuvaaaaaal, Trevor Lawrence was arrested for his poor play:
* We had a Big Man TD followed by The Worm: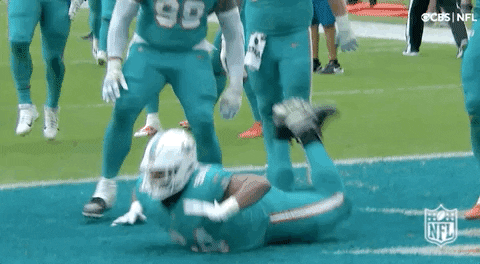 * The Ravens lost again on a failed two-point conversion: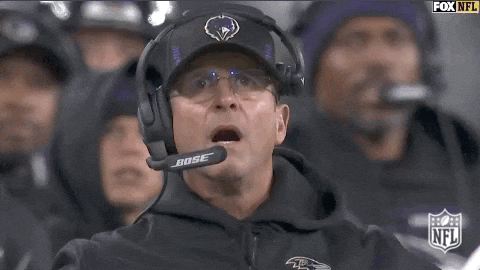 * For some reason Zach Wilson was wearing a Patriots uniform: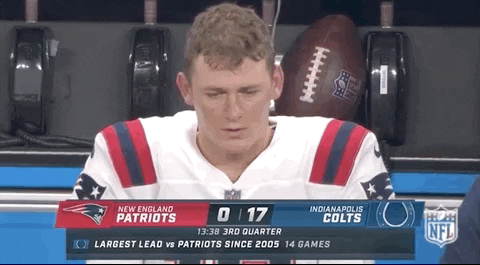 * And the soon-to-be-ex Bears coach got a flag thrown on him for an earlier tantrum (but surprisingly not for the tantrum shown here):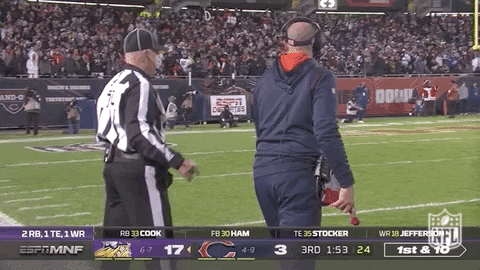 Embrace the chaos!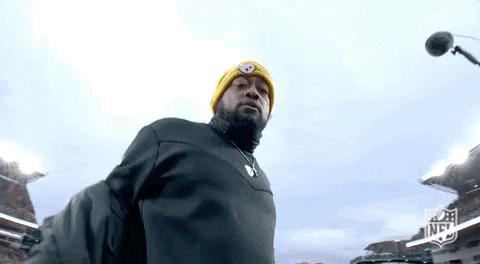 PLAYOFF WATCH
Congrats to the Packers, who became the first team to clinch a playoff spot (*). If the playoffs started today ...
AFC (top 7 seeds): Chiefs (10-4), Patriots (9-5), Titans (9-5), Bengals (8-6), Colts (8-6), Chargers (8-6), Bills (8-6)
AFC bubble teams: Ravens (8-6), Steelers (7-6-1), Raiders/Dolpins/Browns/Broncos (all 7-7)
NFC (top 7 seeds): Packers* (11-3), Cowboys (10-4), Bucs (10-4), Cardinals (10-4), Rams (10-4), Niners (8-6), Vikings (7-7).
NFC bubble teams: Eagles/Saints (both 7-7), Footballers/Falcons (6-8)
POWER RANKINGS
Via ESPN this week (with bonus how-hot-is-your-team-coaching-seat analysis):
1. Packers (3 last week)
2. Chiefs (4)
3. Bucs (1)
4. Cowboys (6)
5. Patriots (5)
Biggest gainer: Saints (+5 to 17th, which is ridiculous considering their offense)
Biggest loser: Cardinals (-5 to 7th, which is why no one's talking about Kliff Kingsbury as COTY).
MVP WATCH
I can't find anything written in the last day or two that gives MVP odds, but I suspect that most people who believe in the Best QB on the Best Team principle are figuring this guy's going to win it:
I wonder if the Bucs QB has something to say about it:
I'm pulling for this guy:
I mean, just look at these dots! 22 mph, baby. Zooooooom.
PANTHERS PICTURE OF THE WEEK
Here's Sir Purr, the Panthers' mascot, of "What's that bear doing?" fame.
Here he is Sunday, after Carolina's loss to Buffalo. Walking home. To Charlotte. From Buffalo. Can't say I blame him.
WEEK 16 SCHEDULE
Thursday night: *Niners at Titans* (NFL only; no Fox)
Saturday: Browns at Packers, 430p (Fox, Amazon, NFL); *Colts at Cardinals*, 815p (NFL only)
Sunday early: Giants at Eagles, Rams at Vikings, *Bills at Patriots*, Bucs at Panthers, Jags at Jets, Lions at Falcons, Chargers at Texans, *Ravens at Bengals*
Sunday late: Bears at Seahawks, Steelers at Chiefs (GOTW), Broncos at Raiders
Sunday night: Footballers at Cowboys (NBC)
Monday night: Dolphins at Saints (ESPN; ManningCast returns Jan 3)
BEFORE WE GO
Here's hoping Santa brings us a weekend of football that's tons better than last week's stocking o' coal. Merry Christmas, y'all.