Get it up for the Lions, who bit the kneecaps off the Vikings and won their first game of the season!!!!
Here's the game-winning walk-off play:
Memo to the Vikings: A TD scored at the front of the end zone counts exactly the same as a TD thrown to the back of the end zone.
Lots of folks excited about the win. There's this guy (aka your NFC Offensive Player of the Week):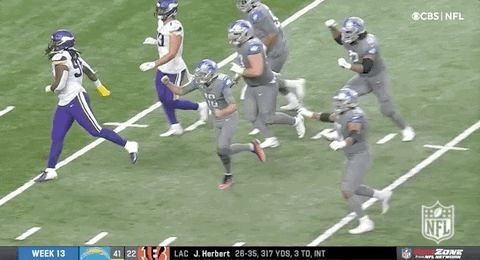 And these guys:
And this ... guy? That's not a Lion on his head.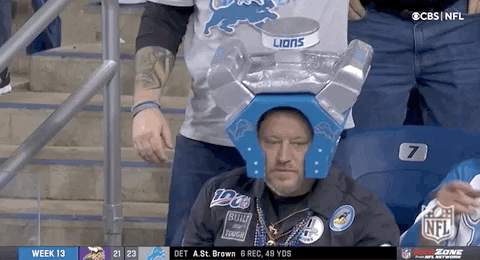 Meanwhile, four winless teams popped their champagne corks in anti-Dolphins fashion because they will not be welcoming a new member to their semi-exclusive club. Those teams: the 2017 Browns, the 2008 Lions, 1982 Colts and the 1976 Bucs. (Those are the four teams that went 0-fer during the Super Bowl era.
The Lions, meanwhile, are gunning for membership in the 1-Win Club of the Super Bowl Era. The current roster:
1980 New Orleans Saints
1989 Dallas Cowboys
1990 New England Patriots
1991 Indianapolis Colts
1996 New York Jets
2000 San Diego Chargers
2001 Carolina Panthers (in Matt Rhule's first stint as coach because everything is his damn fault)
2007 Miami Dolphins
2009 St. Louis Rams
2016 Cleveland Browns
2020 Jacksonville Jaguars
Hoo boy. That's a lot of terrible football teams. What's amazing is that the Jags (and Panthers and Jets and Browns) aren't on here more than once and the Lions aren't on this list at all. Go figure.
PS: To see the teams these teams beat to win their one lone game, click here.
PANTHERS PLAY OF THE WEEK
Never a dull moment in Charlotte. The Panthers were off Sunday but were very much in the news. Here's OC Joe Brady on Sunday: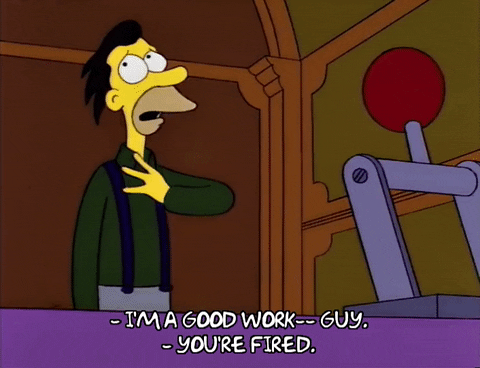 Yep, Brady was a "good work ... guy" who led an offense that ranks in the 20s in most offensive metrics and couldn't score a point in the third quarter if you put the ball on the opponent's 10 yard line and played 11-on-3.
That said, Brady didn't decide to shovel a lot of cash at Sam Darnold or cripple his offensive line or his best offensive player (CMC).
My favorite part of all of this? Matt Rhule said he planned to fire Brady a day earlier but for some reason Brady wasn't available Saturday. HOW DOES THIS HAPPEN? IN WHAT WORLD DOES THE OC GET A CALL FROM THE HC AND SAY, NAH, I'M NOT ANSWERING THIS?!! AND HOW DO YOU LOSE YOUR OC?! AND WHY DIDN'T YOU FIRE THE GUY A WEEK AGO AT THE START OF THE BYE WEEK?!!!?
"Head coach next" can't come fast enough.
GRAPHIC OF THE WEEK
It's the NFL Circle of Parity for 2021! Courtesy of Field Yates on Twitter:
How to read this: Start anywhere and go clockwise. For instance, the Eagles beat the Panthers 21-18; the Panthers (somehow!) beat the Cardinals 34-10; the Cards beat the Rams etc etc. TL,DR:
Any given Sunday, y'all.
STAT OF THE WEEK
Taysom Hill is the second QB in league history to run for 100 yards and throw four INTs in the same game!
The first: Norris Weese of the Broncos, who did it in 1976. Here's that story:
Football Outsiders wrote:
Weese didn't even start that Bears game, only coming in after Craig Penrose threw his own interception, a pick-six at that. Despite all those turnovers, the Broncos beat the Bears 28-14, mostly because their defense limited Chicago quarterback Bob Avellini to 2-of-17 passing on a wintry day at Soldier Field. 1970s football was wild, man.

Weese had a fascinating career but a tragically short life. He followed Archie Manning at Ole Miss, then played professionally in the World Football League for The Hawaiians. (Seriously, that was their whole name—"The Hawaiians.") He joined the Broncos for four years, coming off the bench to play most of the second half against Dallas in Super Bowl XII. He won the starting job from Craig Morton in 1979, but Morton won it back six games later (quarterback carousels were a common thing in ye olden days). Weese suffered a knee injury and never played again after that season.

There's not a lot of Weese to be found on YouTube—a pair of failed rallies against Minnesota and Pittsburgh; highlights from a game against Seattle, when Weese was benched and Morton turned a 34-10 deficit into 37-34 win (Weese still started the next week); and a pair of clips of Weese being hit really hard, including once on a lariat worthy of Stan Hansen. Sadly, Weese passed away due to bone cancer in 1995. He was only 43 years old.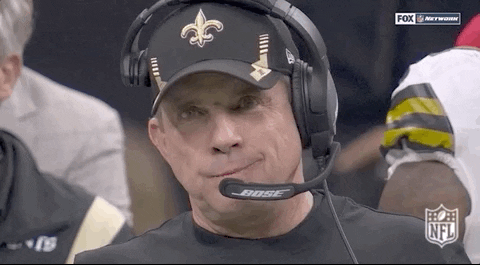 "Norris Weese, huh? I wonder if his family would let me dig him up for $10 million guaranteed ..."
VIDEO OF THE WEEK
The Niners-Seahawks game was bonkers. The first three minutes or so of the highlights include:
A fake punt that went for a TD
A fumble on a screen pass
A Jimmy G TD pass
A Jimmy G INT
An AP TD run
A George Kittle TD catch-n-run
A Russell Wilson TD pass
A fumble on a kickoff
An INT on a bobble
Jimmy G taking a safety
Oh, I should have probably put a trigger warning on it for Legion. Too late now!
POWER RANKINGS
1. Cardinals (1st last week)
2. Patriots (2nd)
3. Packers (3rd)
4. Buccaneers (4th)
5. Chiefs (6th)
Biggest gainer: Dolpins (+6 to 17th)
Biggest loser: Vikings (-7 to 22nd)
PLAYOFF WATCH
If the season ended today, here's who would be going to the playoffs (and here's who would barely miss out):
AFC division leaders: Patriots (9-4), Titans (8-4), Ravens (8-4), Chiefs (8-4)
AFC wild cards: Chargers (7-5), Bengals (7-5), Bills (7-5)
In the hunt: Steelers (6-5-1), Colts (7-6), Raiders (6-6), Browns (6-6), Broncos (6-6)
NFC division leaders: Cardinals (10-2), Packers (9-3), Bucs (9-3), Cowboys (8-4)
NFC wild cards: Rams (8-4), Footballers (6-6), Niners (6-6)
In the hunt: Eagles (6-7), four teams at 5-7 that I won't list here because they're all terrible and have no hope.
538, meanwhile, says the Patriots (45 percent) and Cardinals (44 percent) have the best chances to win the top seed in their conferences. Its picks to win the Super Bowl are the Cards (16 percent), Packers (15 percent), Patriots and Bucs (14 percent each).
COACH OF THE YEAR WATCH
It's gotta be Belichick, right? The Patriots have won nine games and hold the No. 1 seed in the AFC with a rookie QB named Michael McCorkle McPoyle Beauregard VIII who threw just three passes (and completed two!) Monday night.
Runners-up: Jim Harbaugh, Ravens (because they're winning despite playing third-stringers at every position except QB), Mike Tomlin, Steelers (because Pittsburgh has no business having six wins), Ron Rivera, Footballers (ditto) and Matt LeFleur, Packers (because he's going to win one of these eventually and why not now?)
No, Kliff Kingsbury is not COTY. I saw what his team did against my Panthers, and it's clear he got outcoached by a wet fart named Matt Rhule and the corpse of Joe Brady's career.
WEEK 14 SCHEDULE
Thursday night: Steelers at Vikings (Fox, NFL, Amazon)
Sunday early: *Cowboys at Footballers*, Jaguars at Titans, Seahawks at Texans, *Raiders at Chiefs*, Saints at Jets, Falcons at Panthers, *Ravens at Browns*
Sunday late: Giants at Chargers, Lions at Broncos, 49ers at Bengals, *Bills at Bucs* (GOTW)
Sunday night: Bears at Packers (NBC)
Monday night: *Rams at Cardinals* (ESPN)
Bye: Colts, Dolphins, Patriots, Eagles, ManningCast (I think; it's hard to find a reliable schedule)
(By the way, games with asterisks means I think they're more interesting than most, either because both teams have a winning record or it's a decent divisional matchup or both.)
BEFORE WE GO
New Gridion Heights!
ManningCast is the best.