No intro this week; I've been on the road dealing with personal nonsense all week. No, I'm not avoiding Sunday's Panthers-related foolishness. Yes, the Panthers now officially suck. No, Matt Rhule won't leave the Panthers for a college gig. Yes, we are stuck with him for at least one more season and probably longer. No, he won't ever draft an offensive lineman. Yes, he'll keep throwing draft picks at QBs.
Any more questions? No? Good. Let's get to it.
GIFS OF THE WEEK (AND A VIDEO)
Leonard Fournette, ladies and gentlemen. FOUR TDs!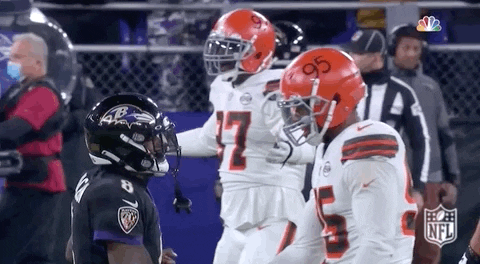 Man, what an ugly game. But what a sweet moment!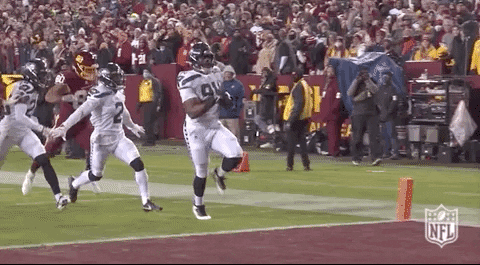 BIG GUY SCORE. Hard to believe a 280-pound man can block a kick AND return it for two points but there you go.
Deebo is good, y'all.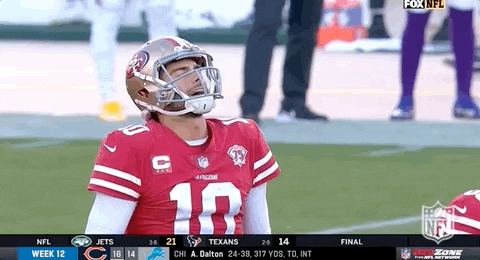 His QB? Not so much. Shanny fired up the bus and ran over Jimmy G in the post-game presser. Then a little birdie whispered into Ian Rapoport's ear that Legion's man crush might get traded. Here are three possible destinations. If Jimmy G's agent loves him, he'll keep him out of Charlotte, where QBs go to die.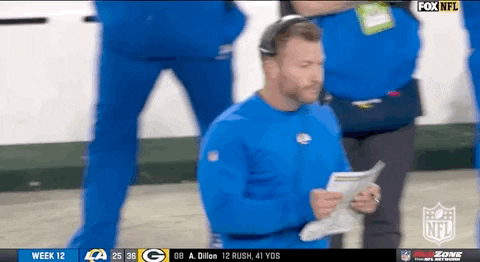 O-FOR-NOVEMBER!
Look! It's Eric Waddle waddling.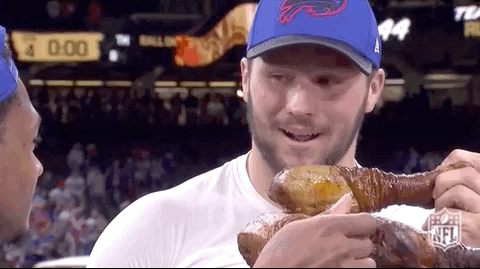 The Other/Better Josh Allen would have jammed the whole damn turkey leg into his mouth.
PICTURE OF THE WEEK
Kirk Cousins, ladies and gentlemen:
(Here's video evidence.)
On fourth down too! Cousins is a Butt Fumble in human form.
STAT OF THE WEEK
Let's get to it: Panther QB Cam Newton completed just 23.8 percent of his passes Sunday. That's terrible by any statistical measure. It's terrible in graphics form, too: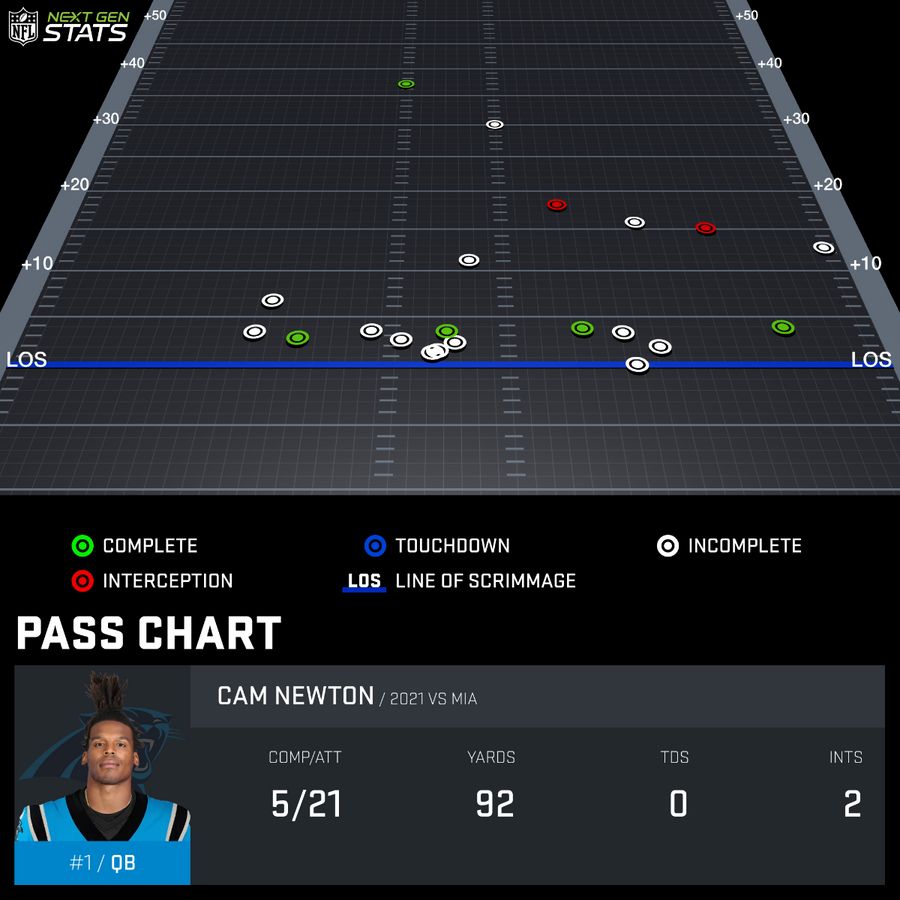 Why this qualifies as my stat of the week: It's the worst completion percentage for any NFL QB with 20+ throws in a game since 2004, when Joey Harrington of the Lions completed just 22.7 percent of his passes in a game against Green Bay.
Harrington's stat line: 5 for 22, 47 yards, 2 sacks, 29 yards rushing. His completed passes went to Roy Williams, Shawn Bryson, Az-Zahir Hakim, Tai Streets and Casey Fitzsimmons. Yikes.
Yes, that's right. I compared Cam Newton (No. 1 overall pick, former league MVP) to Joey Harrington (first-round draft pick, NOT a former MVP, probably best suited to be a middle school math teacher).
Ow this hurts. Can I stop now? Please??
HISTORICAL STAT OF THE WEEK
Here's something I noticed when I was looking up Joey Harrington's draft class (2002):
There's only one Hall of Fame player in that entire class, according to PFR. It's DB Ed Reed, taken 24th overall. One seems low, right? You think there would be more?
PS: It looks like there should be a couple more guys from that class to make it: DE Julius Peppers (retired in 2018) and DE Dwight Freeney (retired in 2017). Overall, though, the 2002 draft class seems weaker a Jets-Texans game.
PANTHERS GIF OF THE WEEK
My team's season is over. See ya in the playoffs.
POWER RANKINGS
Via NFL.com this week:
1. Packers (2 last week)
2. Cardinals (1)
3. Bucs (3)
4. Chiefs (4)
5. Jaguars (30)*
* Kidding! The Jags aren't even in the top 10. The Patriots are No. 5.
Biggest gainer: Bengals (+8 to 7th)
Biggest loser: THE AINTS!!!! (-7 TO 25th and above only the Seahawks, Bears, Falcons, Jets, Texans, Jags and Lions, sorry teams all).
PLAYOFF WATCH
AFC division leaders: Ravens (8-3), Patriots (8-4), Titans (8-4), Chiefs (7-4)
AFC wild cards: Bengals (7-4), Bills (7-4), Chargers (6-5)
AFC in the hunt: Broncos and Raiders (6-5), Colts and Browns (6-6)
NFC division leaders: Cardinals (9-2), Packers (9-3), Bucs (8-3), Cowboys (7-4)
NFC wild cards: Rams (7-4), Niners (6-5), Footballers (5-6)
NFC in the hunt: Vikings, Falcons, Saints (5-6)
MVP WATCH
Via ESPN:
Tom Brady, Lamar Jackson, Dak Prescott, Kyler Murray/Josh Allen the QB, Matthew "Matt" Stafford in that order.
I honestly don't think that's very creative -- or all that correct. Is Brady really having an MVP year? (The Bucs lost to WFT, FFS.) Is Dak overrated as usual? How can the corpse of Matt Stafford be in the MVP race if the Rams went 0-for-November? Is Josh Allen the QB really the best Josh Allen in the NFL? And what about Joe Burrow if he drags the Bengals into the playoffs? Or QAaron? (who's still a great QB despite *waves hands* everything)? Or LB Micah Parsons? Or Mike Evans and his 10 TDs? Or Deebo? Or Cooper Kupp? Or HEY DARNOLD?
Haha. Just seeing if you're paying attention there at the end. I think Brady has a pretty good case, especially if the Bucs stop losing to crappy teams and Leonard Fournette stops scoring all the touchdowns.
WEEK 13 SCHEDULE
Thursday night: Cowboys at Saints (Fox, NFL, Prime)
Sunday early: Giants at Dolphins, Colts at Texans, Vikings at Lions, Eagles at Jets, Cardinals at Bears, *Chargers at Bengals*, Bucs at Falcons
Sunday late: Jags at Rams, Footballers at Raiders, Ravens at Steelers (GOTW), Niners at Seahawks
Sunday night: Broncos at Chiefs (NBC)
Monday night: **Patriots at Bills** (ESPN + ManningCast)
Off: Panthers (THANK GOD), Browns, Packers, Titans
BEFORE WE GO
Speaking of Tom Brady:
"I think I can manage the offense!" LOL