It's that time of year when we say what we're thankful for.
[writes 5,000 words on ÇÅM'Š RĒTŪRÑ TØ ÇÅRØŁÏÑÅ]
I'm also thankful for the weirdness that is the 2021 season as well as the wackiness that is the GWJ NFL threads. I hope you and yours have a great Thanksgiving holiday.
And I hope the entire Washington Football Team gets lockjaw. I hate those guys.
A THANKSGIVING RANKINGS FEAST!
Football Outsiders put together this list of best all-time WR trios based on lots of math (specifically DYAR -- Defense-adjusted Yards Above Replacement -- and harmonic mean). I busted this out from behind the ESPN+ paywall as my Thanksgiving present to you all. It's long, hence the spoiler text.
Here goes:
Spoiler:
1. 2004 Indianapolis Colts
WRs: Reggie Wayne, Brandon Stokley, Marvin Harrison
QB: Peyton Manning
Notable: "Easily the best wide receiver trio of all time. This list is ordered by harmonic mean of DYAR between the three receivers; the gap between the 2004 Colts and the 2015 Cardinals at No. 2 is equal to the gap between No. 2 and the 2007 Patriots at No. 10."

2. 2015 Arizona Cardinals
WRs: Larry Fitzgerald, John Brown, Michael Floyd
QB: Carson Palmer
Notable: The Panthers smoked them in the NFC championship game.

3. 2012 Denver Broncos
WRs: Eric Decker, Demaryius Thomas, Brandon Stokley
QB: Peyton Manning

4. 2008 Arizona Cardinals
WRs: Larry Fitzgerald, Anquan Boldin, Steve Breaston
QB: Kurt Warner
Notable: One of four teams with three 1,000-yard receivers; others are 1989 Footballers, 1995 Falcons and 2004 Colts.

5. 2013 Denver Broncos
WRs: Demaryius Thomas, Eric Decker, Wes Welker
QB: Peyton Manning (again)
Notable: Thomas was No 1 in DYAR this season.

6. 1984 Miami Dolphins
WRs: Mark Clayton, Mark Duper, Nat Moore
QB: Dan Marino
Notable: This was my team back in the day; too bad they couldn't run the damn ball when they had to.

7. 2012 Green Bay Packers
WRs: Randall Cobb, James Jones, Jordy Nelson
QB: Pre-QAaron Aaron Rodgers
Notable: Nelson missed a bunch of games, and so did No. 4 Greg Jennings

8. 2021 Tampa Bay Buccaneers
WRs: Chris Godwin, Mike Evans, Antonio Brown
QB: Tom Brady
Notable: The season's still not over!

9. 2001 St. Louis Rams
WRs: Torry Holt, Isaac Bruce, Ricky Proehl
QB: Kurt Warner
Notable: Greatest Show on Turf

10. 2015 Seattle Seahawks
WRs: Doug Baldwin, Tyler Lockett, Jermaine Kearse
QB: Russell Wilson
Notable: All three receivers caught 70%+ of intended passes (one of only two trios to do so; other was 2016 Vikings)

11. 2007 New England Patriots
WRs: Randy Moss, Wes Welker, Donte' Stallworth
QB: Tom Brady
Notable: Moss' 568 DYAR is second-best all-time (after Michael Irvin in 1995)

12. 1990 Houston Oilers
WRs: Haywood Jeffires, Ernest Givens, Drew Hill
QB: Warren Moon
Notable: Year 1 of the Run and Shoot in Houston

Honorable mention:

1989 Washington: Gary Clark, Ricky Sanders, Art Monk

1998 San Francisco 49ers: Jerry Rice, Terrell Owens, J.J. Stokes

1999 Minnesota Vikings: Randy Moss, Cris Carter, Jake Reed

2009 Pittsburgh Steelers: Santonio Holmes, Hines Ward, Mike Wallace

2018 Los Angeles Rams: Robert Woods, Brandin Cooks, Cooper Kupp

Old school best (pre 1983):

1979 Buffalo Bills: Frank Lewis, Jerry Butler, Lou Piccone.
GIFS OF THE WEEK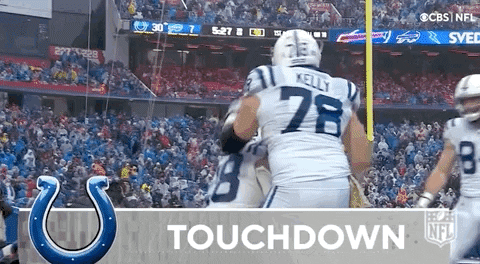 Jonathan Taylor, my goodness. 4 rushing TDs (and one receiving TD), 185 yards rushing. Against the Bills, too, and they used to be good.
Ekeler's pretty good, too. The Chargers are my favorite fun team to watch.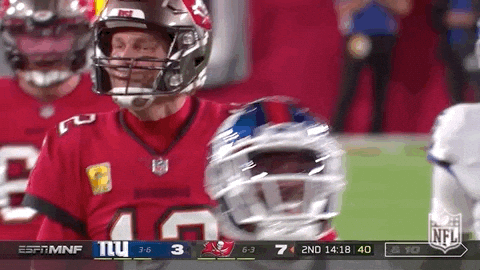 He's going to win another ring, isn't he.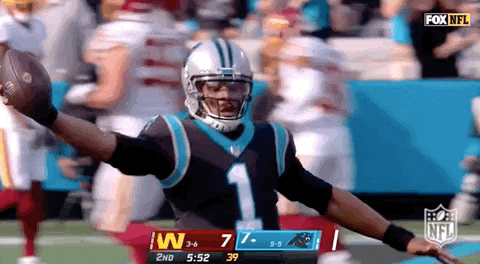 You knew I was going to include this one, right?
STAT OF THE WEEK
The FaLOLcons are the first team since 2000 to have three different QBs throw interceptions in the same game. Matt Ryan, Josh Rosen and Feleipe Franks completed passes to Patriots players last Thursday night. OOPS.
The Chargers were the last team to pull off this feat, with Moses Moreno, Ryan Leaf and Jim Harbaugh.
SCORIGAMI
We had another one this week! Colts 41, Bills 15.
That's No. 1,070 all time and either the third or fourth of the season.
POWER RANKINGS
1. Cardinals (4th last week)
2. Packers (1)
3. Buccaneers (6)
4. Chiefs (7)
5. Cowboys (3)
Biggest gainer: The Footballers (+5 to 21, never mind that they barely beat a team that's only one spot ahead of them in the power rankings, not that I'm f**king bitter about losing to the worst franchise in the history of professional sports)
Biggest losers: Bills -5 (to 7th) and Saints (-5 to 18th, and this was before extending Taysom Hill, who's a jack of all trades except being traded and a master of nothing except getting big-@ss contracts)
PLAYOFF WATCH
AFC division leaders: Patriots (7-4), Ravens (7-3), Titans (8-3), Chiefs (7-4)
AFC wild cards: Chargers, Bengals and Bills (all 6-4)
NFC division leaders: Cowboys (7-3), Packers (8-3), Bucs (7-3), Cardinals (9-2)
NFC wild cards: Rams (7-3), Vikings (5-5), Saints (5-5)
WEEK 12 SCHEDULE
With coverage maps.
Turkey Day: Bears at Lions (12:30p, Fox), Raiders at Cowboys (4:30p, CBS), Bills at Saints (8:20p, NBC)
Sunday early: *Bucs at Colts*, Jets at Texans (The Bad Bowl), Falcons at Jaguars (The Worse Bowl), Eagles at Giants, ₽ÅÑTHĒRŠ at Dolphins, *Titans at Patriots* (Vrabel v Belichick), Steelers at Bengals
Sunday late: Chargers at Broncos, *Rams at Packers* (GOTW), Vikings at Niners
Sunday night: *Browns at Ravens* (NBC)
Monday night: Seahawks at Footballers (ESPN; no ManningCast)
Bye: Cardinals, Chiefs