Yep, it's true. An unemployed cereal-eater who knows just two touchdowns worth of plays is back in the NFL. Here, let him tell you himself:
In case you had the sound turned down, let me transcribe the video:
Ï'M ßÅÅÅÅÅÅÅÇK! Ï'M ßÅÅÅÅÅÅÅÅÅÅÅÇK!!!
And if you prefer GIFs to videos:
And if you prefer still photos:
All that was from Cam's VERY FIRST REGULAR SEASON PLAY SINCE 2020! And on his next play, he threw for a TD!! And on his next play ... nah, let's not ruin it.
Here's me watching the game Sunday: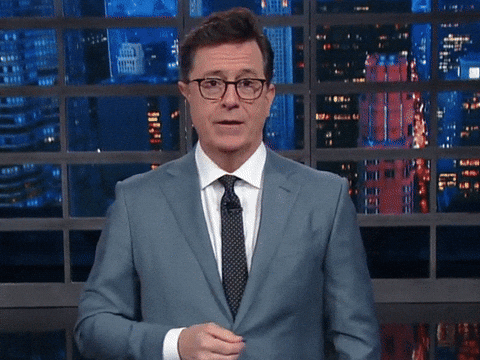 Sunday was glorious. There's no other word for it.
Meanwhile in Week 10:
* The Ravens got smoked by the two-win Dolphins.
* The Browns (weren't they good?) lost by 38 to Patriots and presumptive ROTY McCorkle (who looked merely mortal a week ago against Carolina).
* The Falcons (not good) lost by 40 (!!!) to the Cowboys. Lots of blowouts this week.
* Matthew "Matt" Stafford might be only the second-best thrower of things in his family).
* Mahomes can throw short after all, and the Chiefs aren't dead. In fact they're leading their division.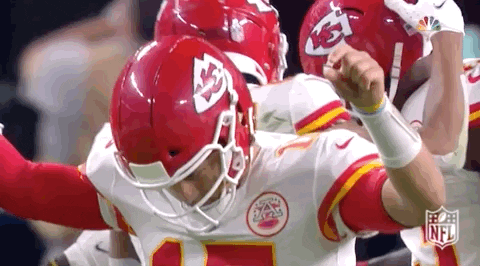 * The Browns (weren't they good?) lost by 38 to Patriots and presumptive ROTY McCorkle (who looked merely mortal a week ago against Carolina)
* The Seahawks got shut out?!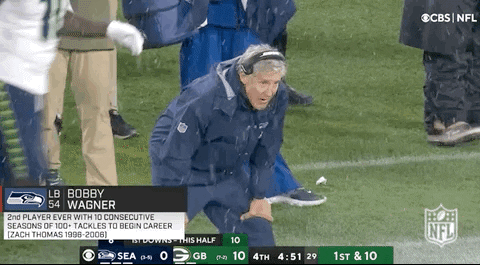 * Teddy Bridgewater cannot tackle.
* And the Lions remain on pace to become the first 0-16-1 team in NFL history because Mason Rudolph is about as sorry as Jared Goof.
What I'm trying to say is that Cam's two-TDs-in-two-plays thing might not have been the weirdest thing of Week 10.
GIF OF THE WEEK
What in the world is this old man doing?!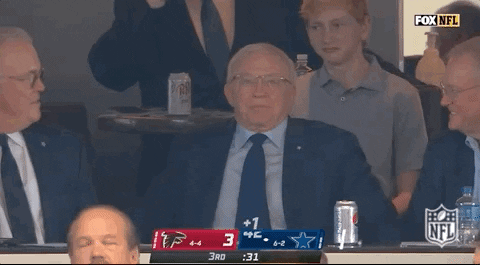 Wrong answers only.
DRAW PLAY COMIC PANEL OF THE WEEK
ÅÑD HĒRĒ ¥ØŪ ÅRĒ THÏÑKÏÑG Ï ₩ÅŠ DØÑĒ ₩ÏTH ÇÅM:
STAT OF THE WEEK
The QB who throws short of the sticks most often in the NFL is ... Teddy Bridgewater!
It's a very crude analysis: 3rd-down completion percentage (minus) 3rd-down conversation rate (equals) differential.
Higher differential says you complete a lot of third down throws but don't convert (ergo you're throwing short of the sticks). Lower differential says you're completing a lot of third down throws and converting the down (because you're throwing past the sticks or your receiver can make it to the 1st down line) OR you stink.
Teddy B completes 67.4% but converts just 32.6%. Davis Mills, Jared Goff, Ryan Tannehill and Kirk Cousins are 2 through 5 on this list.
At the bottom are Josh Allen (54.5% / 49.4%, with the low completion rate and high convert rate suggest he's throwing past the sticks on third down), Russell Wilson (40.6% / 31.3%), Stafford, Mahomes and Lawrence (at 42.4% / 29.4%).
The whole list is at the link. Like I said, it's not perfect but it gives you a pretty good idea of who's checking things down. Interesting stuff.
QAaron WATCH
Green Bay's starting QB was back on the field Sunday. The Packers won and are now tied with the Cardinals and Titans for the best record in the NFL. Not bad for a guy who could die any minute now!
POWER RANKINGS
From USA Today this week:
1. Packers (3rd last week)
2. Cowboys (6)
3. Titans (4)
4. Cardinals (1)
5. Buccaneers (2)
Biggest gainer: Panthers! (+9 to 17th)
Biggest loser: Raiders (-5 to 15th) and Broncos (-5 to 17th)
PLAYOFF WATCH
Approximately:
AFC division leaders: Bills (6-3), Ravens (6-3), Titans (8-2), Chiefs (6-4)
AFC wild cards: Steelers (5-3-1), Patriots (6-4), Bengals/Chargers/Raiders (5-4, but apparently the Chargers hold the tie-breaker)
NFC division leaders: Cowboys (7-2), Packers (8-2), Buccaneers (6-3), Cardinals (8-2)
NFC wild cards: Rams (7-3), Saints (5-4), Panthers (5-5)
WEEK 11 SCHEDULE
Your coverage maps, as always.
Thursday night: Patriots at Falcons (Fox, Amazon, NFL)
Sunday early: Saints at Eagles, Dolphins at Jets, Footballers at ₽ÅÑTHĒRŠ (CAM NEWTON/RON RIVERA REUNION BOWL), Colts at Bills, Lions at Browns, Niners at Jags (THE LEGION BOWL), Texans at Titans, Packers at Vikings, Ravens at Bears
Sunday late: Bengals at Raiders, Cardinals at Seahawks, *Cowboys at Chiefs* (GOTW)
Sunday night: Steelers at Chargers (NBC)
Monday night: Giants at Bucs (ESPN + Manningcast)
Bye: Broncos, Rams
BEFORE WE GO
Lest we forget Dolphins guard Robert Hunt almost scoring a TD (he did score; he just wasn't supposed to catch the ball), here's a reminder that Big Guys have been doing cool stuff with footballs for years now.
Here's nearly 8 minutes of Big Guys rumblin' stumblin' and bumblin'. Good stuff.
Till next week!