The Panthers-Giants game (and Patriots-Jets and Cardinals-Texans and ...) might have set back professional football by several decades. But there was plenty to like about Week 7:
Bengals WR Ja'Marr Chase: Remember when folks thought the Bengals should draft a LT? Remember in the preseason when Chase dropped everything thrown his way? Lots of eggs on lots of faces there. In Week 7 against the Ravens, Chase was the first rookie since 2004 to have 200+ receiving yards (sorry, Paleo), and he has had a TD catch or 75+ receiving yards in all seven games so far. Dude seems legit and gives us all a reason to watch the Bengals this season.
Raiders QB Derek Carr: He completed 91 percent of his passes this week. This number, and a rain-soaked Jimmy G, are Legion's fever dreams:
(Garoppolo was not something I liked about Week 7. Even in a bomb cyclone context, he was terrible.)
The Lions: Gotta love a 16-point underdog that YOLO's a surprise onside kick and two fake punts. The Lions will probably never win a game with Jared Goof as their QB but they're bitin' kneecaps this season. Fun!
Falcons pass-catcher Kyle Pitts: Is he a TE? Or a WR? Who tf cares? In the past two weeks*, Pitts has 16 catches, 282 yards and a TD. He's on pace for 1,300+ receiving yards, which would be the best ever for a rookie TE.
(* against the Jets and Dolphins, but still)
QBs who can catch passes and RBs who can throw them: I'm talking about Danny Dimes and Derrick Henry, respectively.
This guy's beard: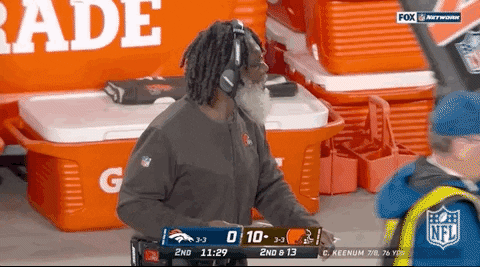 That's former Cardinals RB Stump Mitchell, who's now a RB coach with his fifth NFL team, if Wikipedia is to be believed. Mitchell played college ball at The Citadel, where I guarantee this sort of hirsute look was not regulation.
Tom Brady: The GOAT became the first human to throw 600 TD passes in his career. No. 2 all-time: Drew Brees with 571. No. 2 among active players: Aaron Rodgers with 427. It's probably safe to say that Brady's record will stand for a long, long time.
STAT OF THE WEEK
It's not your imagination: There were a lot of not-close games last week.
Only one of 11 games (Falcons-Fins) was decided by one possession. The last time that zero or one games were decided by just one score? Dec 21, 1975.
SCORIGAMI WATCH
That's two weeks in a row! Cardinals 31, Texans 5 is the 1,068th unique final score in NFL history.
PANTHERS PLAY OF THE WEEK
Like I said in last week's thread, the Panthers have gone from pretty good (3-0 and a potential playoff team, albeit in hindsight a mirage) to mediocre to lousy in just four fast weeks. Losing your best offensive (CMC) and defensive (Shaq Thompson) players can have that effect on a team, as can an O-line that starts random guys in random spots pretty much every week.
HEY DARNOLD hasn't worked out either, of course. Most games, he looks like he's standing in front of the meat counter at the grocery store wondering whether he's supposed to pick up ground chuck or pork loin or even if he's supposed to be at a grocery store at all or maybe he's supposed to be picking up the dry cleaning.
I mean, just look at this dope: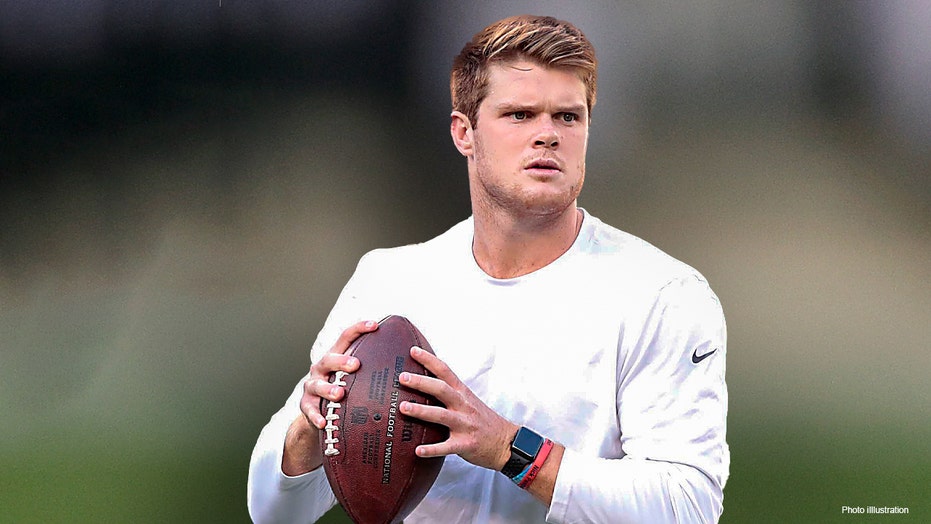 Remember, this is a guy who managed to move to Charlotte without a bed frame and half of a sectional sofa. If the Rooms to Go website is too complicated, there's no hope for his figuring out an NFL playbook.
Anyway, Sunday's embarrassment was a team effort. Here's a GIF of the Panthers offense, which managed just three points Sunday against the Giants: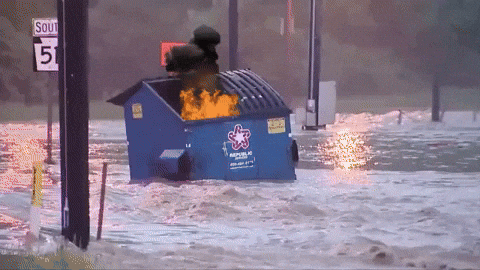 Darnold scored more points for the Giants (2) than he did for the Panthers (-0-). And former Panthers K Graham Gano scored 11 for the Giants all by himself.
Here's Carolina's defense trying to tackle Sunday: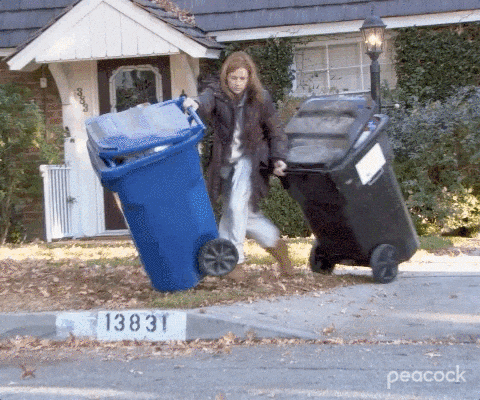 Here's Matt Rhule in the Panthers' locker room at halftime: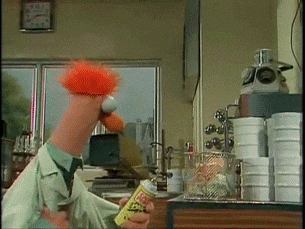 Here's PJ Walker going in at QB in the fourth quarter: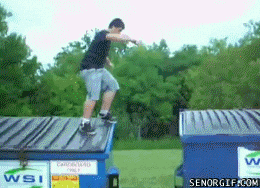 Finally, here's HEY DARNOLD after the game: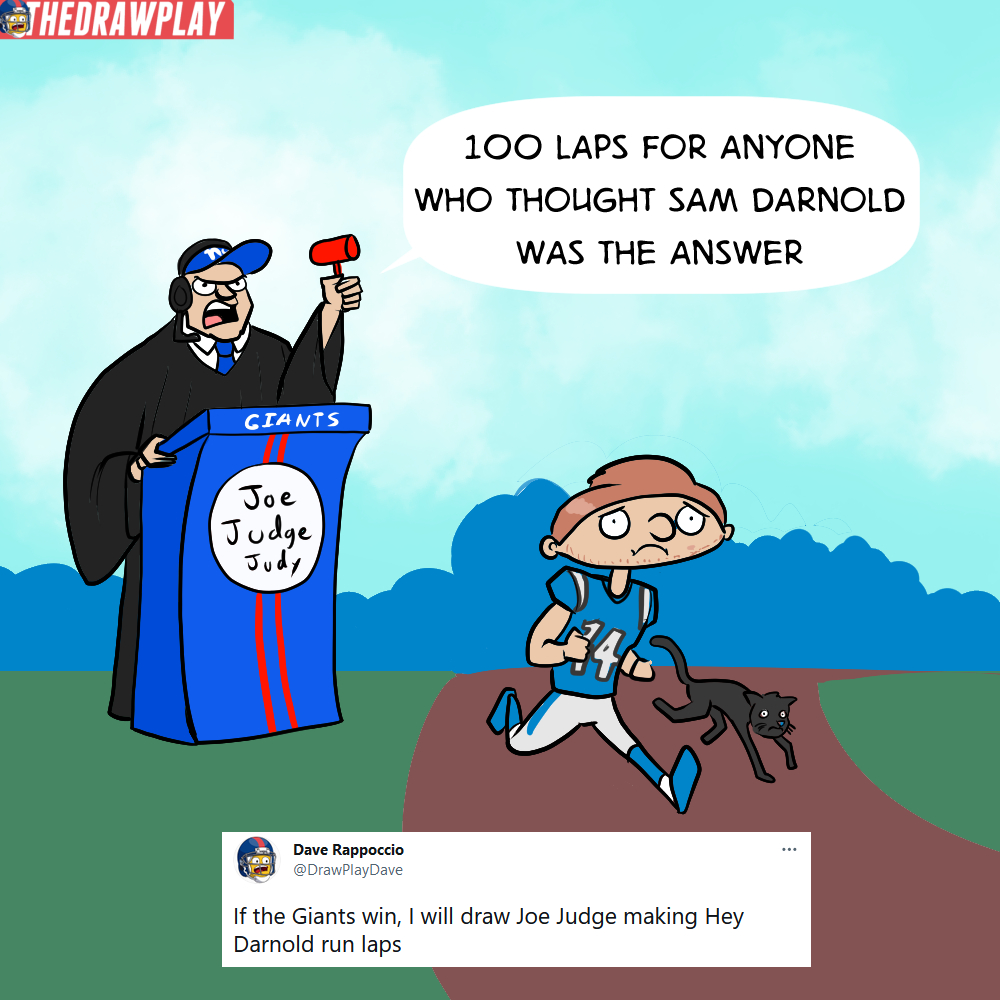 I'll be LOL-watching the Panthers from here on out. I won't expect them to win (though it'll be nice if they do) but they sure are funny. Here's Carolina's LT sacking Darnold on Sunday:
Like I said, funny!
POWER RANKINGS
Here's ESPN this week:
1. Ravens (1st last week)
2. Ravens (4)
3. Ravens (3)
4. Ravens (7)
5. Ravens (2)
Biggest gainer: Falcons +7 to 19
Biggest loser Chiefs -7 to 24
Spoiler:
(Haha. It's actually Cards, Bucs, Rams, Packers and Bills.)
PLAYOFF ODDS
I stumbled on Football Outsiders' playoff odds feature, and it's too good not to share. The big takeaway is that Conventional Wisdom is starting to shift and along with it the odds of making the playoffs.
Here are the biggest shifts in playoff chances after Week 7:
Plus
Bengals +20.1%
Saints +15.9%
Raiders +9.9%
Patriots +9.8%
Colts +9.0%
Minus
Chiefs -25.0%
Broncos -11.4%
49ers -11.1%
Ravens -9.4%
The one-week changes are a little misleading. The Ravens (83.8% chance of making the playoffs) are probably a playoff team. And the Patriots (39.9%) and Colts (48%) shouldn't be too excited yet. But the Chiefs are in real trouble -- 45.8% chance of making the playoffs, and they've got the Giants, Packers, Raiders and Cowboys coming up. Yikes.
WEEK 8 SCHEDULE
A few good games, plus a ManningCast, so it's not a horrible week by any stretch. Here are your coverage maps w announcer pairings:
Thursday night: *** Packers at Cardinals *** (Fox, NFL)
Sunday early: Bengals at Jets, Titans at Colts, Rams at Texans, Steelers at Browns, Eagles at Lions, Niners at Bears, Panthers at Falcons, Dolphins at Bills
Sunday late: Patriots at Chargers, Jaguars at Seahawks, Footballers at Broncos, Bucs at Saints (GOTW)
Sunday night: ** Cowboys at Vikings **, Tricks at Treats
Monday night: Giants at Chiefs (ESPN and ManningCast!)
Off: Ravens, Raiders
ON THIS DAY IN 1974 ...
Vikings QB Fran Tarkenton did this:
Tarkenton got ejected after scoring the go-ahead TD. Then the Patriots scored at the last second to win 17-14. Here's the boxscore, and a recap.
Here's that final play in all its 1974 low-res glory:
Good week, all.