GUESS WHO GOT OFF THE 20-GAME LOSING SCHNEID?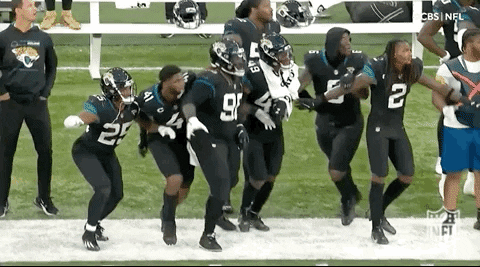 That's right, the North London Jacksonville Jaguars. Even better, the Jags kicked their first two field goals of the season -- one to tie and one to win -- and then cut their opening day kicker shortly after they got back to the States. Yep, the Jags brought two kickers to London in case a soccer game broke out? Who knows with that team.
SOME NEWS
While we all got distracted by the Jags win and the Urban Meyer thing and the Jon Gruden thing, other stuff was happening:
* We're going to have a Monday night Wild Card game for the next five seasons. The first one is this January.
* Brett Favre owes the state of Mississippi $828,000 for his ALLEGED role in a welfare fraud scheme. Favre's ALLEGED role was to skip out on speaking engagements and pocket the cash.
* I haven't followed this very carefully, but a lot of folks seem to think the NFL might be in big trouble because of the Rams' move to LA. St. Louis is arguing that the NFL failed to follow its own bylaws regarding franchise moves. Moreover, the city says the Rams didn't negotiate in good faith and the city wasted their time and money coming up with a new stadium plan while the Rams were already Mayflowering west.
Lots of things can happen here. Among them: The Rams and NFL have to disclose a lot of sensitive and potentially embarrassing materials; there's a long court trial (now scheduled to start Jan 10); the NFL offers the Rams a new franchise and then adds three more teams to balance things out.
STATS OF THE WEEK
We had a Scorigami last week! Rams 38, Giants 11. That was the first Scorigami of 2021 and the 1,067th unique final score in NFL history.
And meet the long-time owner of the Chicago Bears, this guy:
Since 2008, when Aaron Rodgers became the starting QB for the Packers, the Bears have had 16 different QBs. Here's that sad, sad list (source):
Kyle Orton (15 starts, 2008)
Rex Grossman (1, 2008)
Jay Cutler (102, 2009-16)
Todd Collins (1, 2010)
Caleb Hanie (4, 2011)
Josh McCown (7, 2011, 2013)
Jason Campbell (1, 2012)
Jimmy Clausen (2, 2014-15)
Matt Barkley (6, 2016)
Brian Hoyer (5, 2016)
Mitchell Trubisky (50, 2017-20)
Mike Glennon (4, 2017)
Chase Daniel (3, 2018-19)
Nick Foles (7, 2020)
Andy Dalton (2, 2021)
Justin Fields (4, 2021)
Only one NFL team has started more QBs since 2008: the Browns, who have their own commemorative jersey to celebrate their 21 different starting QBs.
DERRICK HENRY IS A BAD, BAD MAN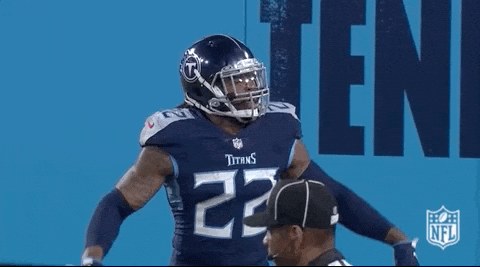 Dude hit 21.8 mph on his first TD run of Monday night's game. Here's the video evidence.
CORRECTED POWER RANKINGS BECAUSE SOME PEOPLE HAVE TO MAKE A THING ABOUT MY DERP
Via 538.com this week:
1. Bucs (97% chance to make the playoffs, 15% chance to win the Super Bowl)
2. Ravens (95% / 14%)
3. Bills (97% / 13%)
4. Cardinals (98% / 12%)
5. Rams (95% / 10%)
(edited for copy-n-paste derp)
Ravens and Cards are their favorites for first-round byes.
Six teams have a <10% chance of making the playoffs: Dolphins, Giants, Jets, Texans, Jaguars, Lions.
WEEK 7 SCHEDULE
Not a great week, tbh. Here are your coverage maps. And here is your weather forecast in case you'd care to spend your Sunday afternoon outside.
Thursday night: Broncos at Browns (Fox, Amazon, NFL)
... no Baker for the Browns, but Teddy B looks like he'll play
Sunday early: Panthers at Giants, Jets at Patriots, **Chiefs at Titans**, Footballers at Packers, Falcons at Dolphins, *Bengals at Ravens*
Sunday late: Lions at Rams (aka the Stafford-Goff Swap Bowl), Eagles at Raiders, Texans at Cardinals, Team Owned by Aaron Rodgers at Bucs (GOTW)
... speaking of the Bears-Bucs game, the Bucs' starting QB is literally twice as old as the Bears' starting QB. The 22-year age gap is apparently a record, and it broke the record of three weeks ago when Brady faced McCorkle, who's 23.
Sunday night: Colts at Niners (NBC)
Monday night: Saints at Seahawks (ESPN) (MANNINGCAST IS BACK!!)
Off: Bills, Cowboys, Jaguars, Chargers, Vikings, Steelers
BEFORE WE GO
I present you ... an NFL Films short on tearaway jerseys, starring Greg Pruitt of the Cleveland Browns.
This video has everything: awful artificial turf, gridirons with dirt baseball infields, two-bar facemasks, gi-normous shoulder pads and Earl Campbell spearing a guy in the chest. I hope that doesn't give Derrick Henry any ideas.