I don't have much to say about a wild Week 5 — the missed kicks, the frenzied finishes, the close games, the injuries, the Chiefs' collapse, all of that. The Gruden thing is profoundly sad to me because we hold these guys up (well, maybe not Mr. Spider 2 Y Banana; he was kinda of silly before he became a pariah) and then they disappoint us with their sheer awfulness. Almost. Every. Damn. Time. And as more of these emails come out, more of these jackholes will be exposed.
At the risk of slipping into cynicism and despair, I gotta say: Lamar Jackson balled out Monday night! Dude is a legit NFL passer, and I dare any of you mooks to say differently. I went to bed after the Colts scored late in the third and woke up to news of a miracle finish. That gives me some hope, right?
VIDEO OF THE WEEK
Back in 2019, the Ringer's Kevin Clark coined a phrase that has held up pretty well: "The Seahawks have literally never played in a normal game."
Take last Thursday's home loss to the Rams. A fan got attached by a giant bird of prey. Both starting QBs suffered finger injuries. There was a Geno Smith sighting! Troy Aikman said the word "buttcheek." And then there was this, the Double Punt:
(Here's a version with more angles overdubbed with postgame interviews.)
Maybe the most impressive thing about this play is the one-handed scoop of a spinning football.
By now y'all know that a double kick is legal. Here's the rule that spells it out.
STAT OF THE WEEK
The Browns became the first team in NFL history to score 40 points, not turn the ball over ... and lose! CONGRATS BROWNS
The Lions, meanwhile, became the first team to lose two games in one season on last-minute 50+ yard FGs. The Lions lost both of those games (to the Ravens in Week 3 and the Vikings last week) by identical 19-17 scores. Weird, right?
GIFS OF THE WEEK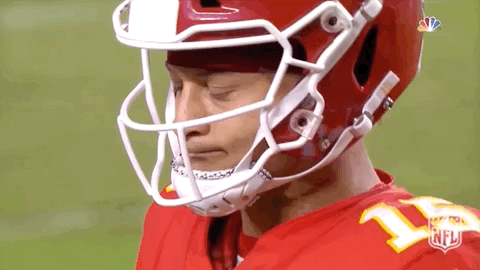 Sad Patrick Mahomes. No one figured the Chiefs would start the season be 2-3.
BrownsPullingChargersRBintotheEndZone.gif
Sorry, y'all. I tried to find this GIF but failed.
I know this guy doesn't believe me. I don't believe that he's an NFL head coach, so there.
PANTHERS GIF OF THE WEEK
I'm sure Jalen Hurts thought it would be cute to do Cam Newton's Superman shirt-rip after scoring against Carolina on Sunday. Problem is, almost no one on the current roster played with Cam. And half the fan base has (a) moved on from Cam or (b) was glad to see the Panthers move his ass out of Charlotte. (I'm in Camp C, as y'all know: The Panthers would be way more fun, and maybe not as sorry, with Cam at QB. But I digress.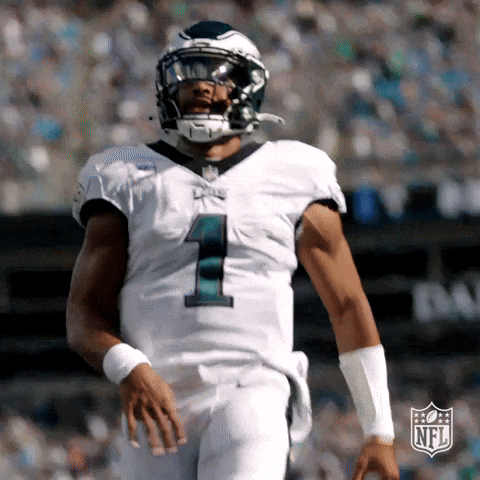 OK, this guy remembers:
Carolina Fan, ladies and gentlemen!
POWER RANKINGS
1. Bills (No. 3 last week)
2. Cardinals (1)
3. Bucs (2)
4. Cowboys (6)
5. Chargers (7)
32. Jags (30)
Biggest gainer: Saints (+8 to 11th)
Biggest loser: Raiders (-9 to 21st)
WEEK 6 SCHEDULE
Ooooof. What a week. Lots of bad matchups, especially in the prime-time slots, plus a Sunday morning game involving two teams that no one (not even Legion) wants to see. But we'll watch because we're suckers and because all sorts of weird sh!t might happen. Here are your coverage maps so you can see which crap game you get in your market.
Thursday night: Bucs at Eagles (Fox, Amazon, NFL)
Sunday morning: Dolphins at Jags (CBS)
Sunday early: Chiefs at Footballers, Rams at Giants, Texans at Colts, Bengals at Lions, Packers at Bears, Chargers at Ravens, Vikings at Panthers
Sunday late: Cardinals at Browns, Raiders at Broncos, Cowboys at Patriots (GOTW)
Sunday night: Seahawks at Steelers
Monday night: Bills at Titans
Off: Falcons, Saints, Jets, Niners
BEFORE WE GO
I was going to link to the latest Gridiron Heights that I missed last week, but it featured Derek Carr and his now-former coach, so needless to say it didn't age well. It's here if you want to be disappointed about stuff.