Here's how Week 4 went for a lot of teams (Patriots, Panthers, Rams, Jags, Saints, etc.):
DDDDDDDDDDDDDDDDDDDDDDDDDDDDDDNNNNNNNNNNNNNNNNNNN
That's gotta be the loudest doink I've ever heard. Or maybe to paraphrase Giants safety/coin-flip caller Jabrill Peppers, maybe that's more of a BOOM (NFSW/omg the language)
CONGRATS TO ...
... that old dude in the header pic. On Sunday Thomas Edward Patrick Brady Jr. beat his old team and became the fourth player (at least) to have Ws over all 32 NFL teams. (The other three, according to the interwebs: Drew Brees, Brett Favre and Peyton Manning.)
Even more impressively, the GOFOAT (Greatest Old F**ker Of All Time) now holds the NFL's all-time passing yardage record.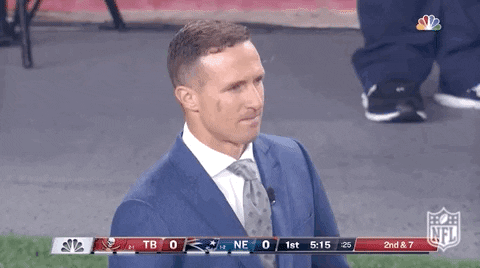 The dude who used to hold the record approves, I guess. Maybe the best part was that he was forced to watch it happen because of work LOL.
Anyway, there's a pretty good chance that Brady's record won't be broken anytime soon. Here's the all-time passing list with just active (loosely defined; see the guy at No. 10) players included.
1. Tom Brady — 80,560
2. Ben Roethlisberger — 61,381 (6th overall)
3. Matt Ryan — 56,757 (9th)
4. Aaron Rodgers — 52,142 (10th)
5. Matthew Stafford — 46,331 (14th)
6. Joe Flacco — 40,931 (19th)
7. Ryan Fitzpatrick — 34,990 (30th)
7. Russell Wilson — 34,990 (30th)
9. Andy Dalton — 34,026 (36th)
10. CAAAAAAAAM — 31,698 (46th)
My back-of-the-envelope math says that Ryan trails Brady by six seasons, Rodgers by seven and Stafford by eight. Maybe Stafford stays in the league until he's 41. But Brady's still playing, and there's a pretty decent chance he could have 90K yards by the time he's done. I wouldn't be against it. He's not the GOFOAT for nothing.
Congrats, also, to Andy Reid, who on Sunday became the first NFL coach to win 100 games for two different teams. Maybe the best part of this record is that he won No. 100 for the Chiefs ... against his old team, the Eagles. OH YEAH.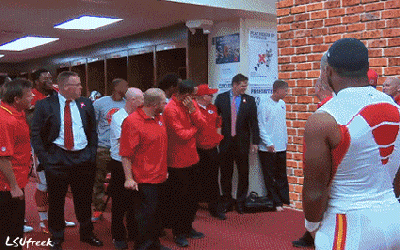 STREAKS
Here are a couple of streaks to watch in Week 5.
First: The Ravens, who have run for 100 or more yards in their past 43 games. They're now tied for the NFL record with the 1974-77 Pittsburgh Steelers (Franco Harris, Rocky Bleier).
Second: The Jags are poised to be the third team in NFL history to lose 20 straight. The Chicago Cardinals (1942-45) hold the record with 29 straight Ls; the expansion Bucs lost 26 from 1976-77.
VIDEO OF THE WEEK
Kyler Murray is a wizard — that's Aaron Donald he's faking out there — and the Cardinals are the last remaining undefeated team. Here are more Murray highlights from Week 4.
GIF OF THE WEEK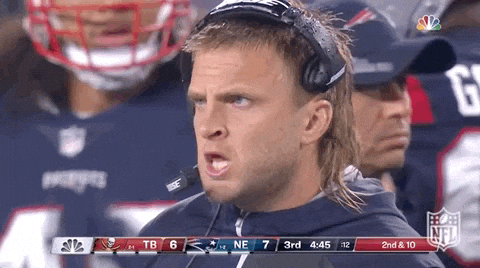 WTF is this?! My thoughts exactly.
PANTHERS GIF OF THE WEEK
This is what a derailed hype train looks like: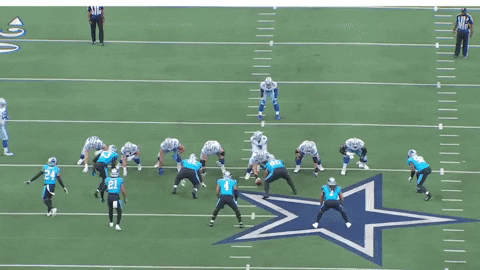 Watch the right side (your left) of the Cowboys O-line. Look at them push Derrick Brown (95) into Week 7. Watch 175-pound Brian Burns (53) get shoved into the 2022 season. Then watch the Dallas TE get off his block and push Jeremy Chinn (21) all the way to Fort Worth. (Chinn to his credit recovers and pushes Elliott out of bounds.) No. 24, btw, is former Jag AJ Bouye, which is probably why Carolina thought it prudent to trade for Stephon Gilmore.
Remember how I said that Zeke Elliott looked a lot slimmer on "Hard Knocks" this year? It shows on this play. Dude has some wheels.
And remember how the national media praised the Carolina D? It's easy to play run defense against the Jets, Saints and Texans when you're up by a couple of scores. Those featherweight DEs aren't doing Carolina any favors.
The Panthers' schedule, meanwhile, is very much in their favor. Their next seven games are Eagles, Vikings, Giants, Falcons, Patriots, Cardinals and WFT. Realistically that's five wins, maybe six. (I figure the Cards are a pretty sure L; Vikings and Patriots are tough outs.) So, yeah, Carolina could be 8-3 going into T-giving. That's right: Sam Darnold could be going to the playoffs this year. What a world.
WE'RE AT THE QUARTER POLE
PFF came out with its First-Quarter All-NFL Team this week. It's way too early to be thinking about MVP and crap like this, but it's a good list of players we should all be watching this season.
POWER RANKINGS
Checking in with PFT this week:
1. Bills (No. 3 last week)
2. Cardinals (6)
3. Bucs (2)
4. Ravens (4)
5. Rams (1)
32. Jags (31)
Biggest gainer: Seahawks (+6 to 14th)
Biggest loser: Dolphins (-7 to 28th)
WEEK 5 SCHEDULE
Interesting week. The Thursday night game is very watchable (and watchable on multiple channels). There's a Sunday morning game. Giants/Cowboys is the late Sunday national game of the week. And the Sunday night game foreshadows the playoffs. Oh, and here are your coverage maps.
Thursday night: Rams at Seahawks (Fox/Amazon/NFL Network)
Sunday morning: Jets vs Falcons in London (NFL Network if you care)
Sunday early: Lions at Vikings, Saints at Footballers, Patriots at Texas, Dolphins at Bucs, Packers at Bengals, Broncos at Steelers, Eagles at Panthers, Titans at Jaguars
Sunday late: Browns at Chargers, Bears at Raiders, Niners at Cardinals, Giants at Cowboys
... game of the week??
Sunday night: Bills at Chiefs
Monday night: Colts at Ravens (no ManningCast, boo)