Look who's back!
It's Smug Aaron Rodgers. Lord, we missed you in Week 1 (tho P!ssed Off Aaron Rodgers is fun, too).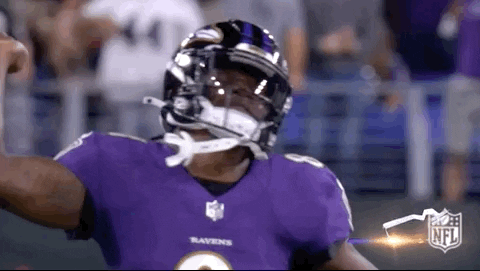 This guy, too. Winning Lamar is the best Lamar. (True confession: I have no particular love or hate for the Ravens, but Lamar Jackson doing Lamar Jackson things is one of my favorite things about pro football.)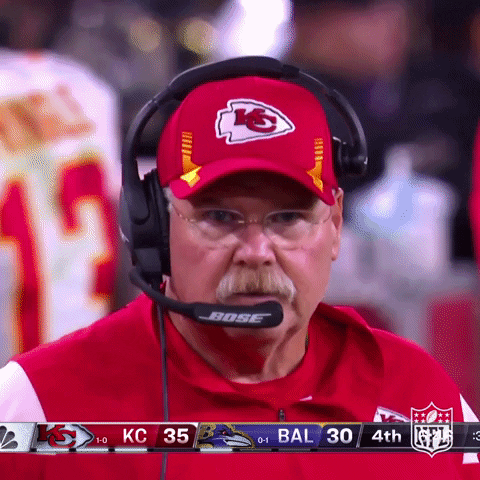 Andy Reid does not agree.
QB INJURIES
Lots of broken quarterbacks after Week 2.
Andy Dalton (knee) is out, so the Justin Fields Era begins Sunday.
Tua's out (ribs) for Miami. I have no idea who his backup is.
Wentz hurt both ankles in the same game. He's iffy for Sunday.
Tyrod (left hammie; pulled, not stabbed) is out for Thursday and someone called Davis Mills will start.
Roethlisberger (pec), Derek Carr (ankle) and Zach Wilson (groin, self-esteem) are all kind of banged-up too.
RANKING THE 2-0 TEAMS
Here's your reality check via The Ringer: The Bucs are the only legit team among the currently undefeated teams.
The Niners (bc Jimmy G) and the Rams (bc of their defense) are 50-50 prospects at best right now. The Raiders, Cardinals, Broncos and Panthers are mere pretenders.
Of the pretender crew, the Raiders are probably the most fun. Oh, and Kyler. That lil guy is awesome.
Speaking of ...
STAT OF THE WEEK NO. 1
Kyler Murray's TD pass to Rondale Moore is the shortest combined height of an NFL TD pass from QB to teammate since 1955. (source) (Murray is 5-10; Moore is 5-7; together they're 137 inches tall.) That tied the mark set by George Shaw (6-1) and Buddy Young (5-4) for the Baltimore Colts in 1955.
The Colts beat the Packers 24-20 at Milwaukee County Stadium thanks to two TD passes from Shaw (the Young TD covered 82 yards) and a TD run by Alan Ameche. Outside of that throw, Shaw was a robust 5-for-15 for 80 yards and 3 INTs. Jameis' Week 2 performance in that context isn't so bad, in other words.
George Shaw, by the way, remains on Legion's fantasy dynasty team.
STAT OF THE WEEK NO. 2
The QB who has attempted more throws of 20+ yards this season is none other than Captain Checkdown, Denver QB Teddy Bridgewater. (source)
New nicknames for Teddy B, according to Reddit: Teddy Two Guns, Teddy 20 Yard and (my fave) Theodore Throwsevelt
If current trends hold, we could see a Denver-Carolina rematch in the Super Bowl, which would be doubly funny because Carolina paid Bridgewater's $7M signing bonus when they traded him to Denver.
Teddy B, by the way, has a $17M cap hit for the Panthers this season, which is twice as big as any player currently and actually on Carolina's roster.
PANTHERS STAT OF THE WEEK
In Carolina's 26-7 ass-kicking of the Saints on Sunday, New Orleans gained just 128 yards on offense, which is the worst showing BY 48 YARDS by the Saints since Sean Payton started coaching the team in 2006. (source)
Other terrible Saints stats: The Saints got just six first down (worst ever for the Payton-era Saints) and averaged 2.98 yards per play (another Payton low). Alvin Kamara had just 30 scrimmage yards, and Jameis' 26.9 passer rating was his worst ever.
Take a bow, D.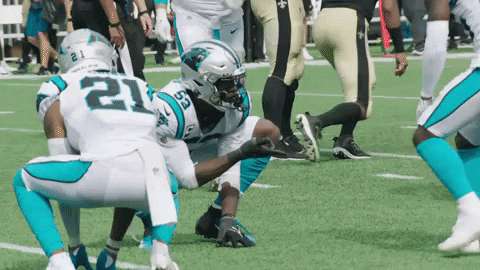 PANTHERS PLAY OF THE WEEK
I mean, just look at this.
It's late in the fourth, and Carolina's on defense. This vid shows LT Terron Armstead — one of the best LTs in the game — with RB Alvin Kamara behind him but no TE on that side. S Jeremy Chinn is to Armstead's right on the inside. DE Brian Burns is to Armstead's left.
In theory, it's a 2-on-2 play. Armstead picks up Burns, and Kamara (who's a pretty good pass blocker) would take Chinn. (Or vice-versa; I know nothing about O-line plays.) But Kamara runs to the left like Jameis is going to see him out there. Chinn goes inside past Armstead and Burns goes outside. Armstead decides to block Burns but then changes his mind and goes after Chinn but it doesn't really matter because the two Panthers defenders meet on top of Jameis' corpse.
I won't lie: That was fun to watch.
POWER RANKINGS
Let's go with NFL dot com this week:
1. Bucs (1st last week)
2. Chiefs (2)
3. Ravens (7)
4. Rams (3)
5. Bills (6)
32. Jags (32)
Biggest gainers: +7 for both Raiders (11th) and Panthers (18th)
Biggest losers: -9 for both Saints (19th) and Dolphins (22nd)
WEEK 3 SCHEDULE
A so-so week. I get my required viewing out of the way early (Panthers play on Thursday).
The early games are mildly interesting (Chargers-Chiefs; Washington-Buffalo is the Former Panthers Bowl).
But the Sunday late and Sunday night games should be fun. Monday night could be amusing because last Thursday's WFT-Giants game wasn't much on paper but turned out to be quite entertaining.
Week 3 coverage maps are here.
Thursday night: Panthers at Texans
Sunday early: Colts at Titans, Falcons at Giants, Chargers at Chiefs, Bengals at Steelers, Bears at Browns, Ravens at Lions, Saints at Patriots, Cardinals at Jaguars, Washington at Bills
Sunday late: Jets at Broncos, Dolphins at Raiders, Seahawks at Vikings, Bucs at Rams (national game)
Sunday night: Packers at 49ers
Monday night: Eagles at Cowboys; don't forget to watch the Manning Mega Cast
BEFORE WE GO
This week's edition of "Gridiron Heights":
"We have to prove we're not just dumb linemen with hands!"
Thanks to whoever posted about this recently. I didn't know it existed, and now I'm obsessed. I suggest turning on CC and looking carefully at what's in the background.
"If there is writer's block," must there be "writer's catch"? Something to ponder as Brian Burns smashes Davis Mill into mid-November.