What a weird week. The Packers, Bills, Ravens and Titans lost. The Chiefs almost lost but didn't because the Browns punter panicked. The Texans won by 16! The Eagles won by 28!! Chandler Jones had 5!!! sacks. Matt Stafford looked great as a Ram (156.1 passer rating). Tom Brady threw the ball 50 damn times.
The biggest surprise of the week was obviously the Saints' 38-3 beatdown of the Packers in which Jameis Winston threw for 148 yards and 5 TDs, something which apparently had never happened before. (No, not the Saints winning or Jameis throwing a TD pass; I mean no QB had ever thrown 5 TDs on less than 150 passing yards before Sunday afternoon.)
Weirder still, the Saints a year ago beat a good team by the same 38-3 score. That team was ... the Tampa Bay Bucs. Whatever happened to them?
Also, this happened: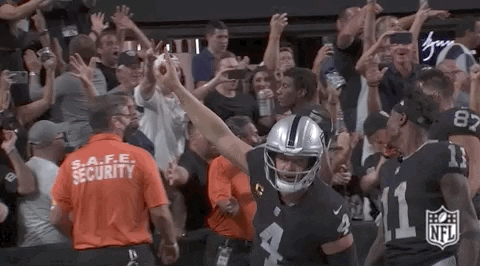 Don't panic, in other words. Week 1 is always weird.
STATS OF THE WEEK
* AFC West and NFC West teams are all 1-0, which apparently is the first time this has happened since the AFL/NFL merger in 1970. (No source; just something I think I saw.)
* Packers are the first team in the DVOA era (ie since 1983) to finish a season first in offensive DVOA and start the next season dead last in offensive DVOA.
* Here are the Raiders' five first-round draft picks in 2019 and 2020 (source):
= DE Clelin Ferrell (healthy scratch on Sun)
= CB Damon Arnette (the Raiders' No. 4 cornerback)
= S Johnathan Abram (PFF's worst-graded safety last year)
= WR Henry Ruggs (2 catches last night, 26 in 2020)
= RB Josh Jacobs (he's OK, I guess)
That's some terrible drafting.
GIF OF THE WEEK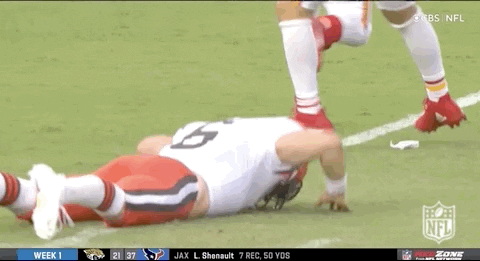 Poor Baker. The Browns (and Mayfield) actually looked pretty good! Shame that someone had to lose that game, but it's never going to be Mahomes, apparently.
PANTHERS PLAY OF THE WEEK
You'll have to hit this Twitter link to see it, but that is 585 pounds of DT Derrick Brown and DE Yetor Gross-Matos squashing Zach Wilson flat. I didn't think D-linemen were allowed to do that these days, but Wilson was four quarters into his first game, so I guess the refs just missed it. WELCOME TO THE NFL ROOK!
Zach Wilson also looks like he's only 14 years old. I'm a little bothered by that.
POWER RANKINGS
Let's go with ESPN this week.
Top 5: Chiefs and Bucs remain 1-2. Seahawks jump five spots to No. 3. Then Rams at 4 (up one) and Bills at 5 (down 2).
Biggest riser: Saints (+10 to No. 9) (see? I told you they might be good)
Biggest fallers: Titans (-9 to No. 18), Packers (-7 to No. 11), Vikings (-7 to No. 25)
WEEK 2 SCHEDULE
Not a lot of games I'm excited about, to be honest, except for Sunday night. Lots of get-right games for teams that lost in Week 1.
Thursday: Giants at WFT (NFL Network, boo)
Sunday early: Patriots at Jets, Broncos at Jaguars, Bills at Dolphins, 49ers at Eagles, Rams at Colts, Raiders at Steelers, Bengals at Bears, Texans at Browns, Saints at Panthers.
Sunday late: Vikings at Cardinals, Falcons at Bucs, Titans at Seahawks, Cowboys at Chargers; Boys-Bolts will be the national game because Nantz & Romo will be there.
... game maps aren't out yet (they'll be posted here Wed).
Sunday night: Chiefs at Ravens
Monday night: Lions at Packers
Also Monday night: The MNF Manning Megacast will be back for Weeks 2 and 3, according to the interwebs. Those two dorks are scheduled to do 10 games total this season. Watch 'em on ESPN2 (if you're old and have cable) and ESPN+ (if you have ESPN's streaming package, which honestly is worth it for some of the non-NFL programming).
OK, that's it. Somebody say something so this isn't awkward.