Well, well, well. Here we are again — that time of the NFL season when we all pretend to know something about pro football but really don't understand a damn thing.
A year ago, all the Football Knowers picked the Chiefs to be in the Super Bowl because, well, Mahomes, who's as predictable as a sunrise. But no one predicted the Chiefs would start a couple of human turnstiles at tackle and get blown out of the stadium.
And absolutely no one saw the Bucs coming. This guy had the Chiefs losing to the Cowboys in the Super Bowl. These guys collectively had the Chiefs, Ravens and Saints winning the Super Bowl. These folks had Chiefs over Saints. This collection of experts (/s) picked the Ravens, Chiefs, Seahawks, Chiefs (over Bucs; at least someone guessed right), Chiefs, Titans, Colts over Eagles (woof) and Chiefs. Only half of those folks even had the Bucs in the playoffs because a year ago everyone knew for sure the Eagles were gonna be good.
Which is why I went with this header pick of an LA Chargers QB. No, that's not Justin Herbert, who as we now know (but didn't a year ago) is a pretty good QB! The guy in the header is Easton Stick, who none of us know. And for all we know, he might be pretty good too!
Who am I kidding. We all know he's sorry.
Speaking of sorry, here are some preseason predictions from some (air quotes) experts. Bookmark this page and come back in a year to see how little these football knowers actually know.
ESPN power index: Chiefs (19% chance to win the SB), Bucs (14%), Bills (9%), Ravens (6%), Browns (!!!) (5%)
NFL.com power rankings: Bucs, Chiefs, Bills, Packers
Sporting News power rankings: Bucs, Chiefs, Bills, Browns
https://www.sportingnews.com/us/nfl/...
SI power rankings: Bucs, Chiefs, Ravens, Bills
PFT power rankings: Bucs, Chiefs, Bills, Packers
Peter King: Rams over Bills in the Super Bowl
USA Today power rankings: Bucs, Chiefs, Browns, Packers
538: Bucs (13% chance of winning the SB), Chiefs (12%), Bills (9%), Packers (8%), Ravens (7%)
Super Bowl odds (via FanDuel): Chiefs +500, Buccaneers +650, Bills +1200, Packers +1200, Ravens +1400, 49ers +1400, Rams +1500, Browns +1600 (and everyone else is +2000; Texans are last at +25,000)
WEEK 1 SCHEDULE
Thursday (NBC): Cowboys-Bucs
Sunday early: Jags-Texans, Chargers-WFT/WTF, Seahawks-Colts, Jets-Panthers (aka the SAM DARNOLD REVENGE BOWL), Vikings-Bengals, Cards-Titans, Niners-Lions, Steelers-Bills, Eagles-Falcons (aka the BIRD BOWL)
Sunday late: Browns-Chiefs (CBS), Packers-Saints (Fox), Broncos-Giants, Dolphins-Patriots
Sunday night (NBC): Bears-Rams
Monday night (ESPN): Ravens-Raiders
What a great week of football! Bucs and Brady on Thursday night, Mahomes and Rodgers on Sunday afternoon, Stafford and his new team (and maybe Justin Fields if Andy Dalton is hit by a battery in warmups) and Lamar on Monday night.
Note that there's no late Monday night game. Our consolation prize appears to be early AND late games on both CBS and Fox in all markets Sunday. I'll take it.
PS: 506 Sports TV coverage maps will be posted here Wednesday if you're wondering which early games you'll get.
STAT OF THE WEEK
QBs named Steve (DeBerg, Young, McNair, etc) have thrown for more yards than QBs named Jim, Joe, Matt and John. Joe is your rushing leader, and Mike is your receiving leader. (source)
2021 PREVIEW
Here's something y'all all can do; GIFs optional. Use the same format (or not) and make your own bold prediction(s) for the team you follow.
I'll start with my Carolina Panthers.
2020: Started a respectable 3-2, then finished strong (/s) with two wins (over the Lions and Football Team) in their last 11. I blame bad talent, bad coaching, bad defense, Bad Teddy and an injured Christian McCaffrey in that order.
Offense: CMC is back (HOORAY), and the WRs (DJ Moore, Robby Anderson, rookie Terrace Marshall) are in the good-to-great range. But the O-line is a disaster, and maybe you heard that this guy is the QB now?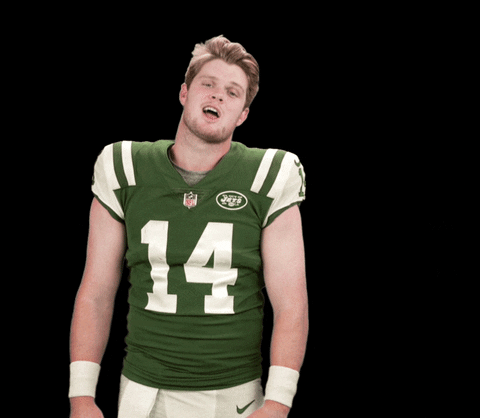 My worst nightmare. Please, someone make it stop.
Defense: DE Brian Burns and S (formerly LB) Jeremy Chinn are two very good pieces of a I'm-not-sure-what-to-expect defense. Jaycee Horn (rookie 1st-round pick) is equal parts shutdown corner/pass interference factory. The D-line and secondary look a little better than a year ago, while the LBs seem about the same. Carolina's D has the potential of being in the OK-to-not-bad range this year.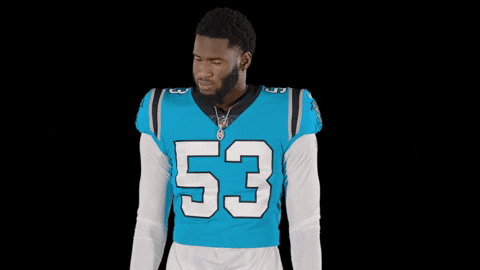 (Brian Burns does not agree with my assessment of Carolina's D. He thinks they're going to be good-to-great.)
Everything else: Carolina has a new kicker (who's big enough to play DE or TE), no kick returner on the active roster and a head coach who's a doofus. The Panthers are the second-youngest team in the league, No. 2 in dead-cap money and No. 3 in cap space. In short, the Panthers are a cheap high school team whose best players are still on the payroll but not actually on the field. Sigh.
Best case: Darnold surprisingly doesn't suck, CMC stays healthy, the O-line plays OK, Brian Burns has 15+ sacks and the D can get off the field when it has to. Carolina takes advantage of a soft-ish early schedule, wins 9-10 games and hangs around the playoff race till about Week 16 or so.
Worst case: Darold darnolds, a lot of guys get hurt (which is a problem bc the Panthers have no depth) and the D is just Burns, Chinn and A Bunch of Guys. That's how a third straight 5-win season happens.
Prediction: Vegas has Carolina's over/under win totals at around 7.5 I'm hoping for better but taking the under.