*** As with last season's thread, we'll be talking freely about races without spoiler tags, so please beware if you watch races on a delay! ***
---
How to watch in the US:
- ESPN carries races live both on their various broadcast channels, but also on their various apps as long as you've got a TV provider login with the appropriate access to ESPN.
- F1TV is an official streaming service that offers two tiers. The "Pro" tier lets you stream races live for about $80 a year, but you can get on demand streams of all races for a much more reasonable $26 a year if you don't fancy waking up at 5 AM or something for like 2/3rds of the races.
There are also month to month subscriptions available, and there might be promos available as we approach the start of the season.
- The official F1 YouTube channel doesn't offer full replays, but they do have great highlights packages for every practice, qualifying, and race session throughout the year, as well as great interview an analysis coverage throughout race weekends, and a variety of other miscellaneous interesting video clips in between.
---
When are the races?
I mean, who could really say?
For now, this is what the tentative schedule looks like.
Despite recent concerns that Portugal's COVID situation wouldn't allow it to happen, improvements in that arena are making it look quite likely that the TBC slot will be Portimau. If not, we might get the alternate Bahrain track again as a second race, with Imola moving back to the third race of the season.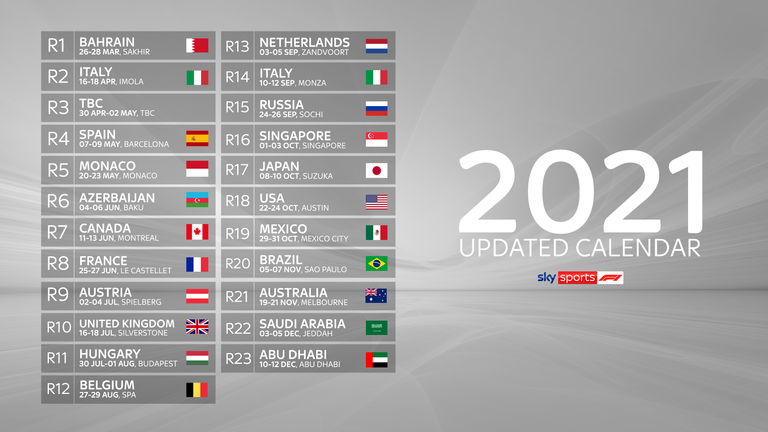 ---
Who are the teams?
To be updated after official team launches happen for the 2021 season. For now, here's a quick summary of the driver and team changes for the season.
---
Other Useful Links:
GWJ F1 Fantasy League: https://fantasy.formula1.com/league/...
The invite code to join is: bc10216117
Official Site
Drive to Survive, Netflix's excellent documentary series about the sport, an EXCELLENT way to introduced yourself to the sport. You'll learn all about the sport in general, meet the current drivers, and get a full recap of the 2018, 2019, and (once the third season is available at the end of February or start of March) 2020 seasons of the sport.
Shift-F1, a podcast about F1 hosted by video game media personalities Drew Scanlon (Cloth Map, formerly of Giant Bomb), Danny O'Dwyer (No Clip), and Rob Zacny (Waypoint).
Fantasy Formula 1
F1 Reddits: Formula 1 , Formula 1.5 , Formula 1 Posters, Inspector Seb
Once we get closer to the season I'll update the main post with a bit more information, but since the final driver contracts are now in place and we're getting close to the first car launches, why not get the thread started.