Zork Nemesis (1996)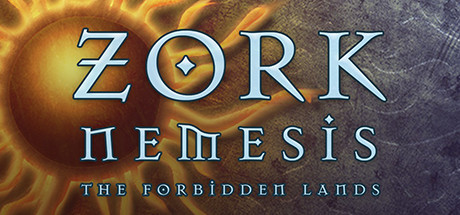 This graphic adventure game developed by Zombie LLC and published by Activision is a strong departure from the usual levity and humor in the Zork franchise. The first Zork title not to be marketed under the Infocom label, this installment is darker and has the player investigating the sudden disappearance of four prominent figures in Zorkian society, as well as the desolation which now pervades the Forbidden Lands. You can still expect FMVs, though!
I strongly recommend taking a quick look at the manual (which features a useful map with symbols) and giving Bivotar's Journal a more thorough read. Bivotar is the agent who was sent before you, the player, were dispatched to the Forbidden Lands, and only his journal was found... (it's one of those gorgeous feelies we used to get back in the day, and I've still hung on to mine after all these years). The journal is very interesting, sets the tone, provides many hints to the game and background info. It's not a prerequisite but it adds a lot of flavor to the game. There's a subtitle patch which might be useful for some sections which are quieter.
You can find the wikipedia page here, usual spoiler warning apply. How Long to Beat estimates about 6 to 7 hours to completion, but if you're "speed running" (ie, if you know the game like the back of your hand, it'll only take two
). Available platforms are
Windows 95, MS-DOS and Macintosh apparently. It's currently on sale in the Steam store for less than 4€ but can be found elsewhere.
CONTENT WARNING:
Sexual content, murder and some mild pixelated gore, body horror.
The main thread is right this way. We'll be playing Zork Nemesis in January 2021, with an extra month for wiggle room.