Man, Week 14. What a great week of football, amirite?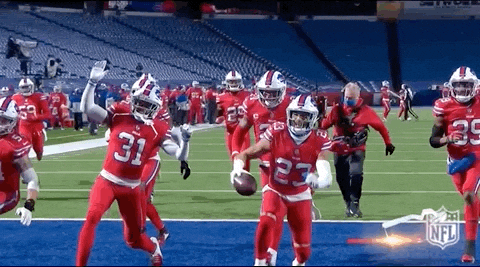 Whooooooo! And look at this guy. Dropped a deuce in the locker room, then dropped dimes on the Browns.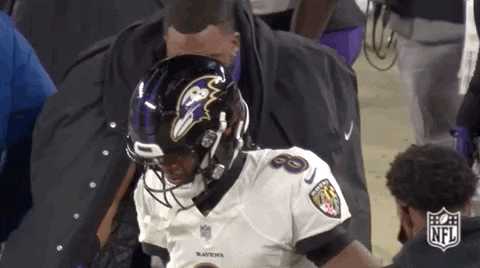 The Ringer devoted a whole column on cramps vs. poop. Conclusion: He pooped.
That's right, Baker. He took a crap. And then the Ravens crapped all over the Browns in what turned out to be a very entertaining game. More games like that, please.
THE PLAYOFF PICTURE
(with percentages from the New York Times' Playoff Picture feature, which is very addictive. YOU HAVE BEEN WARNED)
AFC
Who's in: Chiefs (clincheD AFC West) and Steelers; Chiefs have an 88 percent chance of getting the top seed (and a first-round bye)
Contenders: Bills (99 percent chance of making the playoffs), Titans (94 percent), Browns (84 percent), Colts (82 percent), Ravens (74 percent), Dolphins (43 percent), Raiders (20 percent)
Movers: The Ravens' Scorigami over the Browns increased their playoff chances from 53 to 74 percent ... Browns fell from 91 percent to 84 percent with the L.
NFC
Who's in: Packers (clinched NFC North) and Saints; Packers (52 percent) and Saints (35 percent) have the best chance of getting the bye
Contenders: Rams (>99 percent), Seahawks (99 percent), Bucs (94 percent), Football Team (62 percent), Cardinals (50 percent), Giants (25 percent), Vikings (24 percent), Bears (20 percent), Eagles (12 percent), Niners (just 9 percent, making them the Nine-ers, GET IT)
Movers: Eagles were at a 6 percent chance of making the playoffs before Jalen Hurts started the game ... Giants were at 57 percent before losing to the Cards ...
WEEK 15 SCHEDULE
(with your coverage maps)
No byes this week, but lots of meh. Chiefs-Saints (Sunday's GOTW on CBS) is by far best matchup, even though only one of those teams has an actual QB, and a lot of the games have seeding/wild card implications. There's not much here that screams MUST WATCH.
Good news for Week 15: Two Saturday games. Bad news: They're on NFL Network. Arrrrrrrrrr.
The betting lines seem to agree with my not-much-to-see-here assessment. I count six games with spreads of a TD or more and four (four!) with spreads of 10+ points. Miami-New England is the only game at less than two points. There are a lot of potentially lopsided games this week, in other words.
Here's the lineup:
Thursday: Chargers-Raiders
Saturday: Bills-Broncos (4:30 p.m.) and Panthers-Packers (8:15 p.m.)
Sunday early: Niners-Cowboys, Seahawks-Football Team, Bears-Vikings, Patriots-Dolphins, Jaguars-Ravens, Bucs-Falcons, Lions-Titans, Texans-Colts
Sunday late: **Chiefs-Saints** (which will be on in literally every market except Arizona), Jets-Rams, Birds-Birds (Eagles-Cards)
Sunday night: Browns-Giants
Monday: Steelers-Bengals