The Secret of Monkey Island (1990)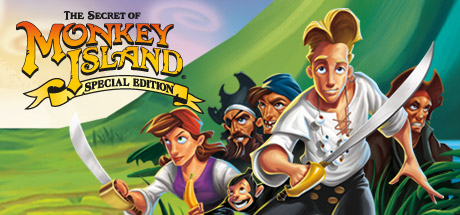 This classic needs no introduction. But I'm gonna do one anyway! This game was initially released in October 1990. Yup, it's twenty - years - old. Old enough to vote and drink in most countries that aren't the States. (Spoiler: it's actually 30 years old, I can't count and I'm a lot older than I think I am!)
Ron Gilbert originally came up with the idea of an adventure game featuring a pirate, but he soon teamed up with Tim Schafer and Dave Grossman. The rest, as they say, is history. The trio brainstormed at Lucasfilm Games, using movies starring Errol Flynn to birth the insult sword fighting mechanics and deliberately designing a game where you couldn't die or paint yourself into a no win scenario (unlike Sierra's games).
The result is an absolutely charming game of swashbuckling adventure on the high seas!
You can find the wikipedia page here, usual spoiler warning apply. How Long to Beat estimates about 7 hours to completion. Available platforms are (deep breath!) Amiga, Atari ST, CDTV, FM Towns, Classic Mac OS, MS-DOS, Sega CD, iOS, Microsoft Windows, OS X, PlayStation 3 aaaand Xbox 360. Phew. Gosh, I don't even know what some of these are.
You can find hints over at the Universal Hint System. Or just ask here!
The main thread is right this way. We'll be playing The Secret of Monkey Island in October 2020, with an extra month for wiggle room.