Day of the Tentacle (1993)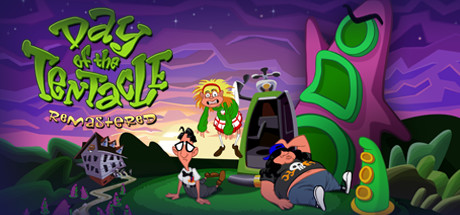 This classic 1993 point and click adventure game is the brainchild of Dave Grossman and Tim Schafer. Set in a peculiar mansion, the game allows to control Bernard Bernoulli and his friends Hoagie and Laverne as they travel through time in an attempt to stop the evil Purple Tentacle from taking over the world!
You can find the wikipedia page here, usual spoiler warning apply. How Long to Beat estimates about 6 hours to completion. Available on Mac OS, MS-DOS, Microsoft Windows, OS X, PlayStation 4, PlayStation Vita, iOS, Linux, Xbox One!!
If you get stuck, you can check out the Universal Hint System, or just ask here!
You can find the main thread over this way. We'll be playing Day of the Tentacle in June 2020, with an extra month if need be.