Tales from the Borderlands (2014)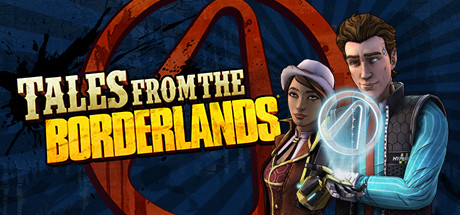 In this episodic point-and-click graphic adventure game (which takes place after Borderlands 2), you play as both Rhys and Fiona. Rhys has cybernetic parts and works for a large corporation (Hyperion), and Fiona is a con-artist equipped with a single-shot pistol which can be upgraded with elemental damage. Thrown together by circumstances, they end up gathering a motley crew to fend off the evil corporation and reach one of Pandora's famed vaults.
In addition to a smashin' soundtrack, the game boasts some true star quality when it comes to voice acting: Troy Baker, Laura Bailey, Chris Hardwick, Erin Yvette, Patrick Warburton, Nolan North,... Yes, Claptrap's in the game, and the game is hilarious.
You can find the wikipedia page here, the usual spoiler warning applies. How Long to Beat estimates about 10 hours to completion (five episodes, roughly two hours each). Available on Microsoft Windows, PlayStation 3, PlayStation 4, Xbox One, OS X, Xbox 360, iOS, and Android!
You can find the main thread over this way. We'll be playing Tales from the Borderlands through May 2020, with an extra month for stragglers.
I have very strong memories of this game, and I'm really looking forward to replaying it. Here's a little taste: