Night in the Woods (2017)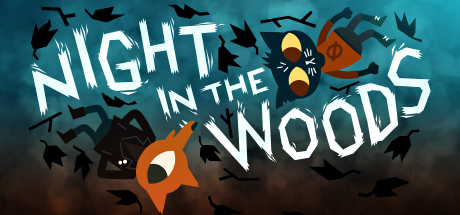 C-c-c-combo breaker! No, my pick will not be the game of the month for the fifth time in the row, the game for August 2019 shall be Night in the Woods.
Young woman cat catwoman Mae has dropped out of college and is now returning to her hometown of Possum Springs. Her parents are of course concerned for her, their only child. As Mae lives in their attic, she reconnects with old friends, and explores Possum Springs anew. The town has suffered in the past couple of years, and Mae uncovers some secrets that perhaps would've been better off left undisturbed...
I will throw a trigger warning up here, the game does deal with mental health issues (which I'm willing to delve more into in a spoiler if need be), so be aware of that going in, and don't feel bad if you need to sit this one out, folks. Self care is important!
You can find the wikipedia page here, usual spoiler warning apply. How Long to Beat estimates about 12 hours to completion, and there is some replayability since there are some either/or chapters.
Available on Microsoft Windows, OS X, Linux, Android, iOS, Nintendo Switch, PS4 and XBox One.
You can find the main thread over this way. We'll be playing Night in the Woods in August 2019, with an extra month if needed.