Blackwell Unbound (2007)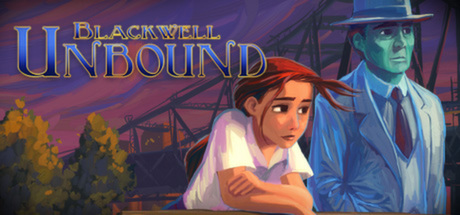 This is another historical first, folks. From the second time in a row, one of my "picks" has been chosen, and it's the second game in the Blackwell saga. The sequel is actually a prequel. Instead of Rosangela Blackwell, the main character is her aunt, Lauren Blackwell. Taking place in the 70s, Lauren and Joey do what they do best, which is to guide lost spirits to their final rest. But New York is the city that never sleeps for a reason...
I'm thrilled that we get to play these back to back. I adored Rosa, but her aunt Lauren is also very likeable and relatable. Her deadpan, razor sharp wit will endear her to you, but you'll also find that she struggles with some very familiar issues. Everything that made Blackwell Legacy special is still there: the city of New York, a compelling story, great music, delightful pixel art... Unbound builds on everything that was already there, and sets the stage for even more in the series. It was actually supposed to be just a flashback in Convergence but it grew and grew until it became its own thing, and I'm very glad it did.
You can find the wikipedia page here, though the usual warning for spoilers should apply. How Long to Beat estimates about 3 hours to completion, which feels about right, even if you want to talk to everyone and see everything.
Available on Microsoft Windows, macOS, iOS, Linux and Android.
Please be mindful of your fellow goodjers and spoiler any discussion of plot points.
You can find the main thread over this way. We'll be playing Blackwell Unbound in May 2019, with an extra month for stragglers.
Have at it!