Time played: I haven't figured out how to look up my playtime on a Switch yet.
Sponsored By: This one was on the house.
Grilled Review
The goose hen that laid the golden eggs bombs.
Fried Review
Did you ever see a game title and think "I need to play that?" That's exactly what happened when I saw Bomb Chicken in the Nintendo eShop. I mean, how could I resist? A name like that tells you everything you need to know.
Well, no, that's not actually true at all. It tells you virtually nothing about the game, but it does get your attention. Bomb Chicken? What could that possibly mean?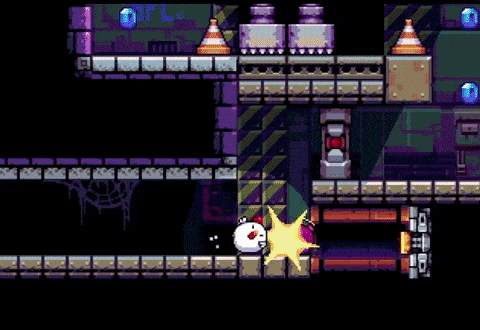 It means you play as a chicken that lays bombs instead of eggs, of course. Never mind the whys or hows; the game doesn't really care, and frankly, neither do I. The point is, it's a whole game built around a chicken that births bombs.
"How does that work?" you might ask. I'm glad you might ask, because I might answer. It works by being a puzzle platformer. You play as the eponymous Bomb Chicken, who is too big to jump. Now, you might think being unable to jump in a platformer would make for a very short game, but that's where the bombs come in. The Bomb Chicken can lay as many bombs as she wants, and they appear where you would most expect. The object is to stack as many bombs as you need to climb to the platforms you need to access. Be quick about it, though, because the bombs are laid with lit fuses, and if you're caught in the blast radius, you're roasted.
Sometimes, you'll face enemies, which is where having an infinite supply of bombs comes in handy. You can either lay-and-leave, so enemies walk right into your explosive offspring, or you can kick your fiery progeny across the screen, where they'll explode on impact.
Conceptually, that's it. You use stacks of timebombs to avoid and overcome obstacles between where you are and where you want to be. The depth comes in the puzzle design, which is excellent. Every screen is a blend of planning and execution, which is exactly what you want from a puzzle platformer and an area where a lot of the more recent additions to the genre have fallen short. I loved Little Nightmares and Unraveled, but their puzzles skewed more heavily on the planning side, kind of like slightly more interactive point-and-click adventure games.
In Bomb Chicken, it's abundantly clear what your character's capabilities are, and since you're given a bit of leeway in the execution, you can solve puzzles in unexpected ways. Your lives are limited, though, so wanton experimentation is not encouraged, but by the later levels, you'll have so many lives in reserve, it won't bother you too much. Your lives replenish after every level, too, so don't fret about squeaking through a given set of screens on your last life.
The real joy of Bomb Chicken, however, is the presentation. The pixely graphics are cartoony and vibrant, and they ooze personality from every orifice (that's probably how the bomb-thing works, but never mind). The chicken's idling animation alone is worth watching a few times because it's a long loop full of character. Likewise, enemies and bosses are charming and just goofy enough without going overboard, though I'll admit, I have no idea what "overboard" would look like in a game about exploding henfruit.
If the game has a fault, it's in the slightly uneven difficulty ramp. Some levels feel like a light breeze ruffling your hair and others like a cement mixer massaging your back. Then again, this is the first puzzle game I've played in a long time that didn't have me grumbling "glad I never have to do that again" after a difficult section, so maybe it's just me. Regardless, as complaints go, this one is mild. And I only mentioned it to make it sound like I was casting a critical eye on the game.
In short, if you're looking for something to play on the Nintendo Switch, this one is worth your coin. It's got everything I look for in a pick-up-and-play game: explosions, comedy, and explosions.
So many explosions.
Will I lay on?
Bomb Chicken neatly occupies that space in my gaming library that exists for when I have fifteen minutes to play something and don't want to spend seven of them watching loading screens. It's quick to start, the levels are broken into perfect bite-sized chunks, and it's easy to remember how the controls work. I will be playing this one for a long time to come.
Is it a fowl imitation of Dark Souls?
There's plenty of challenge to be had, especially if you try for all of the collectible gems hidden throughout the levels, and as I mentioned, some screens are trickier than others. Difficulty never feels like the point of the game, but I've noticed that developers who think difficulty is the point of Dark Souls make terrible Souls-likes. Kind of like wannabe motorheads who think the lack of a muffler is what makes classic muscle cars powerful, so they cut the baffles out of a 1992 Civic, but all they've done is make a '92 Civic that keeps the neighbors awake.
Bomb Chicken isn't exactly Dark Souls, but I'll call it the Duck Souls of its kind, because I just realized I didn't put enough bird puns into a review of a game with a chicken as the main protagonist.