Your former-and-probably-for-a-while-soon-to-be Thursday NFL thread poster put something interesting up in last week's thread; it's a screenshot from PFF showing Greg Robinson's rating for the year, which is inexplicably 36.6 out of 100.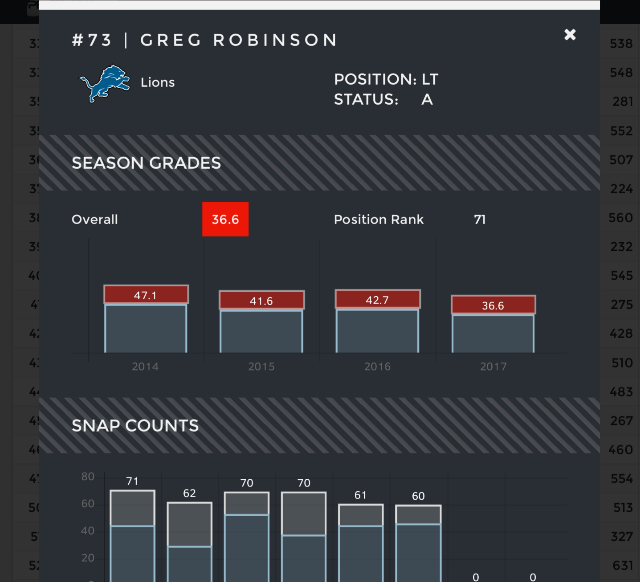 This made no sense to me, as Greg Robinson is, well, Greg Robinson, and how could somebody conceivably be as bad as Greg Robinson as still be 36.6% above the potentially lowest value? How does this work?
Well, fellow NFL threaders (Threadees? Threadinators? Threadlings?), I have a sacred responsibility to the truth, so, with extensive research, I managed to reverse-engineer PFF's proprietary stats, and figured out how they managed to award G-Rob 36.6 points.
0.7 Biped.
1.1 Saved every Little Sister.
0.2 Matthew Stafford? Not dead.
7.9 Played for Jeff Fisher.
0.8 Once nicely asked DE to not hit QB; Stafford still sacked, but politeness always appreciated.
1.3 Faces correct direction on the line of scrimmage at least 85% of the time.
1.5 Makes Ereck Flowers, T.J. Clemmings, and Chaz Green feel pretty darn good about themselves.
0.5 Replaced actual pass blocking ability with Genuine Folgers' Crystals.
1.6 Doesn't think of it as "failing at blocking", thinks of it as "speedrunning offensive possessions".
3.4 Named second team all-conference for Central Cal War Angels.
2.0 Not drafted by Cleveland.
2.1 Actually better career than fellow top 10 pick Justin Gilbert. So, you know, there's that.
2.5 Does not have smallpox.
0.6 Never killed a guy. Well, except for Trevor, and nobody liked Trevor.
2.6 Has pictures of the PFF guys in compromising positions with farm animals.
0.8 Completed Los Angeles-Miami and Vancouver-Seattle in the same game.
0.4 Knows how to spell "NFL".
0.1 Mains Hanzo.
1.0 Not Roger Goodell.
1.1 Not Jerry Jones.
0.9 Not Hitler.
0.7 Used to be a decent lineman, but then he took an arrow to the knee.
2.4 PFF is drunk.
So, again, I'm likely going to be out of it for a couple weeks; I have set myself up a power recliner to sleep in with a TV, Xbox, laptop, and a split keyboard so I can theoretically type, so there's some vague chance I'm going to try to continue the threads so they'll actually be funny in some way that doesn't involve spending 37 hours researching the history of kickers, because even on heavy narcotics I'll have better ways to spend my time. If not, well, enjoy your late Thursday afternoon NFL thread for a week or two.
This week's random thoughts:
Ryan Fitzpatrick and Josh McCown played a "game" last weekend where the two "QBs" led "offenses" (ouch fingers hurt from making sarcastic air quotes aren't I hurt enough already) averaged a bit over six yards per pass attempt, and less than three yards per rush. Even I didn't watch it.
Even the Giants' players at their "OH GOD PLEASE FIRE MCADOO"-iest couldn't try to lose a game any more than the Chargers do on a completely average day.
I will never stop hating Jerry Jones for making me actively root for Roger Goodell.
I watched Adrian Clayborn for several years, and it's very clear he's one of those guys who's just half a step too slow to be an effective pass rusher; he frequently would get into the backfield, be somewhat disruptive, and never be quite quick enough to get to the QB on his own. He has had more than six sacks in one of the seasons of his career, and had six last Sunday. Why? Chaz Green is bad at football, and Jason Garrett is apparently bad enough at coaching that he refused to recognize that.
The latter part of the above sentence is why Belichick is a great coach on a very basic level; when he sees something isn't working, he tries something different.
Joe Flacco has completed more passes f6r negative yards this year than he has for 20+ yards, which is this year's "Wait, how the hell did that happen" QB stat, following last year's "Blake Bortles has more pic-sixes than victories" stat. Which has been ruined be a real defense.
The Bills this week benched Tyrod Taylor for fifth-round rookie Nathan Peterman. Tyrod Taylor has been utterly awful at stuffing the run, and failed to tackle Mark Ingram or Alvin Kamara on ONE SINGLE PLAY last week. That sort of lack of effort is a clear and obvious justification for him being benched, and I'm still annoyed with Taylor for missing all those FGs for Tampa earlier in the year. Good job by the Bills on really focusing on the important issues here.
And now, for the games . . .
MAKE YOUR WEEKLY GAME PICKS HERE
Tampa Bay Buccaneers at Miami Dolphins: Last week was Ryan Fitzpatrick vs. Josh McCown. This week, it's Ryan Fitzpatrick vs. Jay Cutler. That Papa John's dickwad better be expecting a sales drop in south Florida.
Los Angeles Rams at Minnesota Vikings: Hardest pick of the week for me, but the Vikings duo of 6th round Stefon Diggs and UDFA Adam Thielen shows all you really need to succeed is luck into two really talented cheap guys at critical positions. More teams should try doing that.
New England Patriots at Oakland Raiders: I can't be the only one wondering if Belichick has been ordering his team to play badly in the first part of the season just so he can have them annihilate everybody starting now, can I?
Philadelphia Eagles at Dallas Cowboys: If Adrian Clayborn can get six sacks against the crap LTs of the Cowboys, then whoever plays DE for the Eagles can get that many sacks even if they're just as much of a guy as Adrian Clayborn is. Or, you know, the Cowboys could rotate a TE over there, chip with a back . . . nah, let's just get Prescott killed again.
Atlanta Falcons at Seattle Seahawks: Richard Sherman is out for the year, but Julio Jones . . . he's injured again, right? I can't keep track. He and Gronkowski should hang out. Even the Seahawks line isn't bad enough to make Clayborn look that good.
Week 10 Results
kaostheory: 4-1
PorkSmoothie89: 4-1
cube: 4-1
Rat Boy: 4-1
tboon: 3-2
ballnchained: 3-2
Torq: 3-2
MilkmanDanimal: 3-2
karmajay: 3-2
Zaque: 3-2
iaintgotnopants: 3-2
*Legion*: 3-2
Oddsmakers: 3-2
Abu5217: 2-3
LeapingGnome: 2-3
Infyrnos: 2-3
oldmanscene24: 2-3
Vector: 2-3
Jayhawker: 2-3
garion333: 2-3
Season to Date
ballnchained: 35-15
*Legion*: 34-16
oldmanscene24: 31-19
PorkSmoothie89: 31-19
Oddsmakers: 31-19
TheGameGuru: 30-20
tboon: 30-20
MilkmanDanimal: 28-22
Vector: 28-22
Jayhawker: 27-23
Infyrnos: 27-23
Rat Boy: 27-23
Torq: 27-23
cube: 26-24
garion333: 26-19
iaintgotnopants: 25-25
LeapingGnome: 24-26
karmajay: 24-26
Zaque: 24-26
UpToIsomorphism: 24-21
kaostheory: 24-16
sr_malo: 23-22
EvilDead: 22-23
Abu5217: 20-25
Kush15: 15-20
Jowner: 5-5
Nomad: 4-1
Minase: 4-1