Random Thoughts:
Through three games, Tampa has one sack. One. It was against Mike Glennon, which I'm not sure even counts.
Continuing the less-than-surprising Buccaneers focus, you can make a pretty reasonable argument the Bucs have the best 1-2 punch at 4-3 LB in the league with Lavonte David and Kwon Alexander (Thomas Davis is 900 years old, shut up, Enix). Neither is going to play this week against the Patriots, meaning the middle of the field will be probably wide open for all of Brady's favorite horizontal and/or seam routes. Gronk is going to have 300 yards receiving alone.
Jared Goff, Jeff Fisher Edition: 54.6% completion, 2.4% TD, 3.4% INT, 5.3 yards/attempt, 9.7 yards/completion.
Jared Goff, Sean McVay Edition: 66.7% completion, 6.0% TD, 0.9% INT, 9.2 yards/attempt, 13.7 yards/completion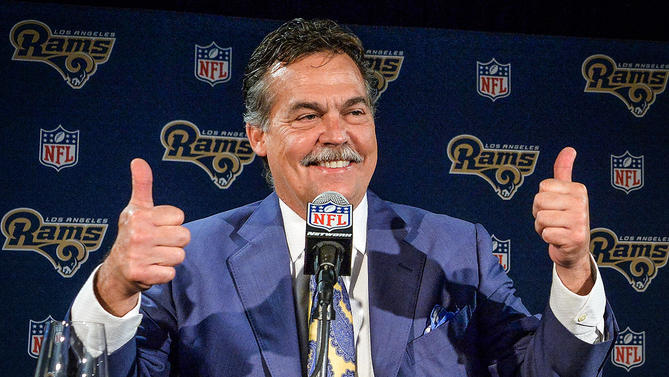 Dalvin Cook, in the middle of a close division game, made a nifty move to get through the line and potentially pick up big yardage, and then collapsed without being touched, blowing his ACL. This is basically a perfect encapsulation of what it's like being a Vikings fan. Anticipation, excitement, despair. Fan-wise, it's worse than being a Browns fan, because Browns fans at least never have anything vaguely resembling hope. Vikings fans? There's hope, and then they get crushed. It SUCKS for Vikings fans. The good news is the Vikings are building their new headquarters in my suburb, so I look forward to all of Eagan randomly burning down at some point in the future. Irrelevant trivia; Eagan High School won a football game the other night, the first time since November of 2015 they had done so. So, way to really step into a successfully environment, Vikings.
Deshaun Watson, wow. That being said, if he continues with pitches and options, I can't help but wonder if he's going to go the way of Marcus Mariota and wind up eternally injured.
The Dolphins scored zero points. Against the Saints. THE SAINTS.
The Chiefs won a highly entertaining game against the Washington Football Team, and Kirk Cousins is still playing well even with the loss of Pierre Garcon and Desean Jackson. Kirk Cousins is going to get PAID this offseason.
GAME PICKS:
I was hoping for Full Dumpster Fire Week, but could really only find four games that really managed to fit the criteria. Sure, some other less-than-ideal matchups, but, well, there were only four, uh, "good" options to match the theme.
This week's games:
New York Jets at Cleveland Browns: JOSH MCCOWN VS. DESHONE KIZER! Other people, I guess! I mean, Kizer got benched, but I think he's still the starter. I could check, but, well, it's a Cleveland QB. Anyways, picking Cleveland. Whatever. It's at home, I refuse to believe in this Jets team in any way after last week's utterly comic explosion of incompetence barely managed to beat Jacksonville's utterly comic explosion of incompetence. Also, there is nothing better than the Jets as overtly trying to tank the season, and winding up 2-2. Josh McCown has delivered the #1, #2, and #1 overall pick the prior three years in a row, and he's WINNING.
San Francisco 49ers at Indianapolis Colts: BRIAN HOYER VS. JACOBY BRISSETT! Brissett looks like somebody who's maybe ready to be a long-term backup after a few years' more experience, and Brian Hoyer looks like Brian Hoyer, who has basically spent the better part of the last five years being the King of Marginal QBs. He's the patron saint of guys like Ryan Fitzpatrick, Josh McCown, Case Keenum, and all those other QBs who are just good enough to start a game or two and just bad enough to get you fired when they wind up having to start anything more than that.
Functionally Homeless Chargers at New York Giants: He's a football team moved to a new city with about as zero a fanbase as you could possibly have and a predilection for losing games in bizarre ways, she's a football team with plenty of good players but the offensive line is so bad they keep losing. Together, they fight crime. And are a combined 0-8.
Tennessee Titans at Miami Dolphins: It's Matt Cassel vs. Jay Cutler, and it's one injury away from Brandon Weeden vs. Jay Cutler. It is not, however, [EXPERIENCED QB WHO PLAYS A SIMILAR STYLE TO MARIOTA NAME IS REDACTED] vs. Jay Cutler, because 'MURICA. Matt Cassel last week went 4/10 for 21 yards, 2 sacks, 2 INTs, and a fumble. That's almost inconceivably awful, like he's so immobile in the pocket there's something wrong with his legs, like he can't bend at the knees so has to basically stand at attention before and during games. That's totally the kind of thing that makes you a viable player in the NFL, though. Also, Jay Cutler sucks.
Green Bay Packers at Dallas Cowboys: A tragically good game, with actual real players. My general take is the Cowboys put up 30 on what appears to be a genuinely good Rams defense, and, even with Rodgers being able to put points up, it's probably not enough to overcome Dallas.
GAME PICKS:
MAKE YOUR WEEKLY GAME PICS HERE. Reminder, your two worst weeks are dropped.
Week 4 Results
*Legion*: 5-0
Infyrnos: 4-1
Abu5217: 4-1
Vector: 4-1
sr_malo: 4-1
Rat Boy: 4-1
TheGameGuru: 4-1
garion333: 4-1
cube: 4-1
oldmanscene24: 3-2
PorkSmoothie89: 3-2
MilkmanDanimal: 3-2
UpToIsomorphism: 3-2
Zaque: 3-2
ballnchained: 3-2
karmajay: 2-3
tboon: 2-3
Jayhawker: 2-3
Oddsmakers: 2-3
Kush15: 1-4
Torq: 1-4
LeapingGnome: 1-4
Season to Date
ballnchained: 15-5
oldmanscene24: 14-6
UpToIsomorphism: 14-6
*Legion*: 14-6
MilkmanDanimal: 14-6
TheGameGuru: 14-6
Infyrnos: 12-8
Rat Boy: 12-8
Vector: 11-9
karmajay: 11-9
sr_malo: 11-9
PorkSmoothie89: 11-9
garion333: 11-4
Abu5217: 10-10
Jayhawker: 10-10
Oddsmakers: 10-10
tboon: 9-11
LeapingGnome: 9-11
Zaque: 9-11
cube: 9-11
Torq: 9-11
kaostheory: 7-8
EvilDead: 7-8
iaintgotnopants: 7-13
Kush15: 5-10
Nomad: 4-1
Minase: 4-1
Jowner: 4-1