The doors are open and things are happening here in San Antonio.
Sunday; 3:30pm
--------------------
Some results are in. The two winners of the Wrestlemania 2000 tourney gave the signed tickets they won to a girl (whose 13th birthday is today) and her brother (both of whom competed)! One of the seats is #13, too.
Expo Hall is still going strong, and the developers inside aren't just focused on what's going on inside. Vlambeer is donating all proceeds from sales of Nuclear Throne to the ACLU today. If you're onsite and are interested in an awesome top-down shooter, go take a look at Booth #10278.
The Final Round of the Omegathon is coming up soon, and no one knows what the last game is going to be. Watch for it at 5:30 in Main Theater, or at https://www.twitch.tv/pax.
Sunday; 11:30am
---------------------
Hold the presses! Are you a wrestling fan? Head down to Classic Console! You can win a Royal Rumble ticket signed by @XavierWoodsPhD in a Wrestlemania 2K tourney. Signups started at 10, but even if you can't get in your can cheer every chair smash.
Sunday; 10am
--------------------
Good Morning! I hope you didn't party so much last night you're too tired for today. There's lots to do!
First things first, we had a quick photo-op this morning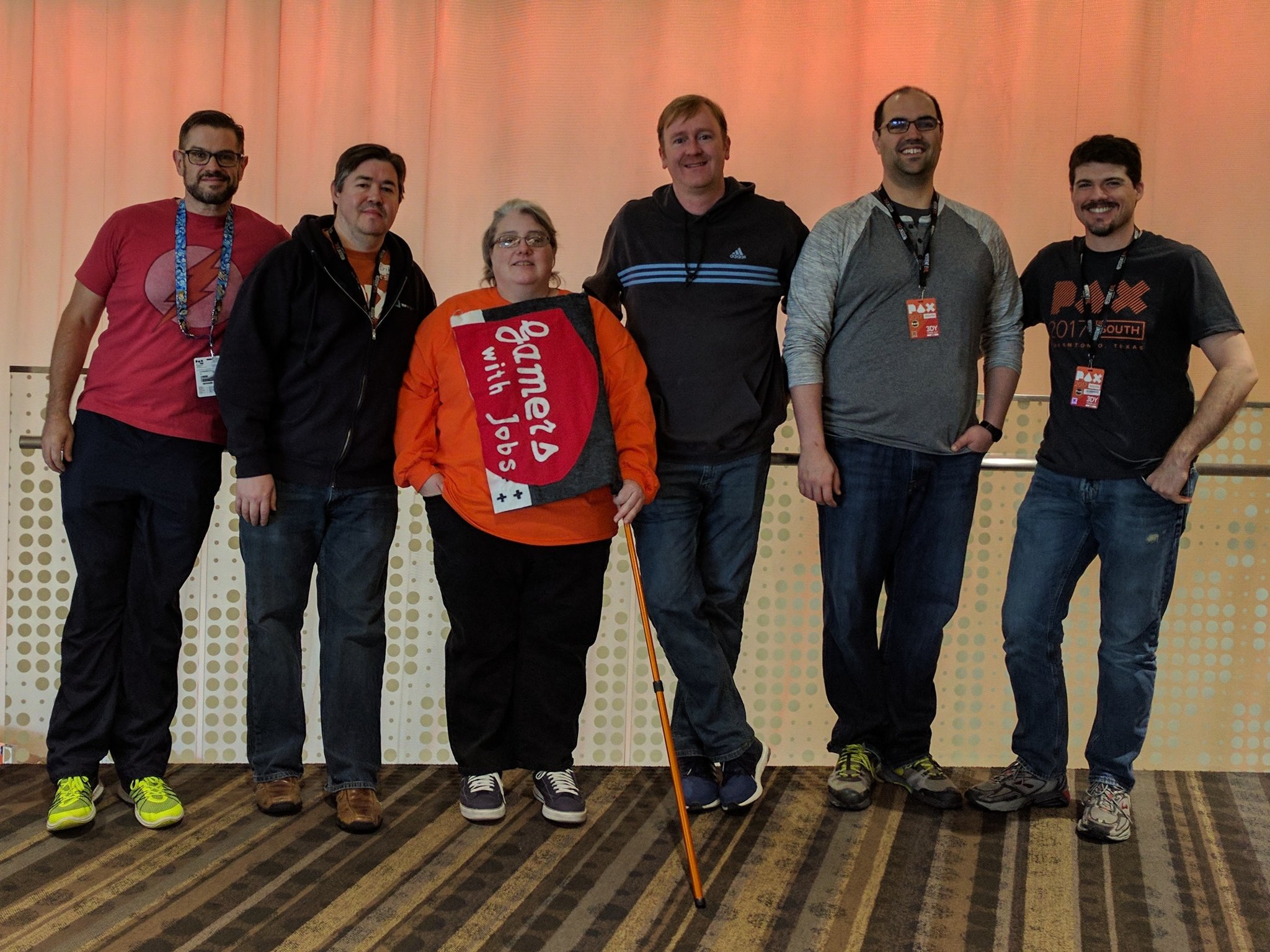 Competitions are an important part of PAX, and today is the culmination of lots of it over this weekend.
There are VR tournaments today for both Cowbots and Aliens as well as Blazerush. Signups are in the VR Area near PC and Tabletop.
The PAX Arena has the TeSPA Collegiate Hearthstone Championship tournament finals starting at 11am in the PAX Arena, and on https://www.twitch.tv/paxarena.
The Omegathon is moving towards tonight's final countdown at it's usual break-neck pace.
PAX can be overwhelming in it's own right; the events of last night and today out in the real world are added on top of that. If you need help coping, the AFK Room is open in 221AB.
Saturday; 9pm
--------------------
We upheld several Saturday night traditions this year.
Tonight's concert lineup is The Oneups, Viking Guitar, and Bit Brigade. Rawk out in the Main Theater, or on the main Twitch stream. And if you like what you hear, you can also listen to Bit Brigade's recent MAGFest concert at the link.
Saturday Night Showdown, another Saturday Night PAX tradition, is also under way down in Tabletop Tourney. The game each year is a mystery, but it all stars with 64 players and goes down to one winner by the end of the night!
And me and some Enforcer friends went for our traditional dinner at Lucianos on the Riverwalk. We started going there every year, and if the delicate texture of the gnocchi I had continues to have anything to say about it we'll be going back every year.
I hope you're all out there having good fun and keeping safe. I'm watching you, Wazowski... always watching....
Saturday; Noon
--------------------
A familiar-looking booklet crossed my desk. I did some digging around, and it looks like I've found treasure. The Tunnels and Trolls solo adventuring system has been around since the 70's, but it's stepping out into the future as the first part of an adventure-generator called MetaArcade.
They're having everyone who demos the Adventure Creator add their own room to their PAX South MegaAdventure. They want to build the biggest adventure they can, so head on down to booth 10232 in the Expo Hall and show off your best.
Saturday; 10am
---------------------
Saturday is always where everyone really lets the geek flag fly high, and today looks like it's off to a great start.
This is usually the big day for cosplay, and this one looks like it's no exception. Before the Expo Hall opened I looked down from the balcony in front of my station over the main lobby and I saw a Payday robber, two pink anime girls I didn't recognize, one goth loli I didn't recognize, a cool Charizard kigurumi, an awesome group cosplay of Mario and Fallout mashed up, and an evilly awesome Dr. Robotnik with a stuffed Sonic. I couldn't get pics of all as of yet, but I'll keep at them over the course of the day.
James Deering got a much better picture of the Fallout/Mario gang than I did, so I'll link to it here: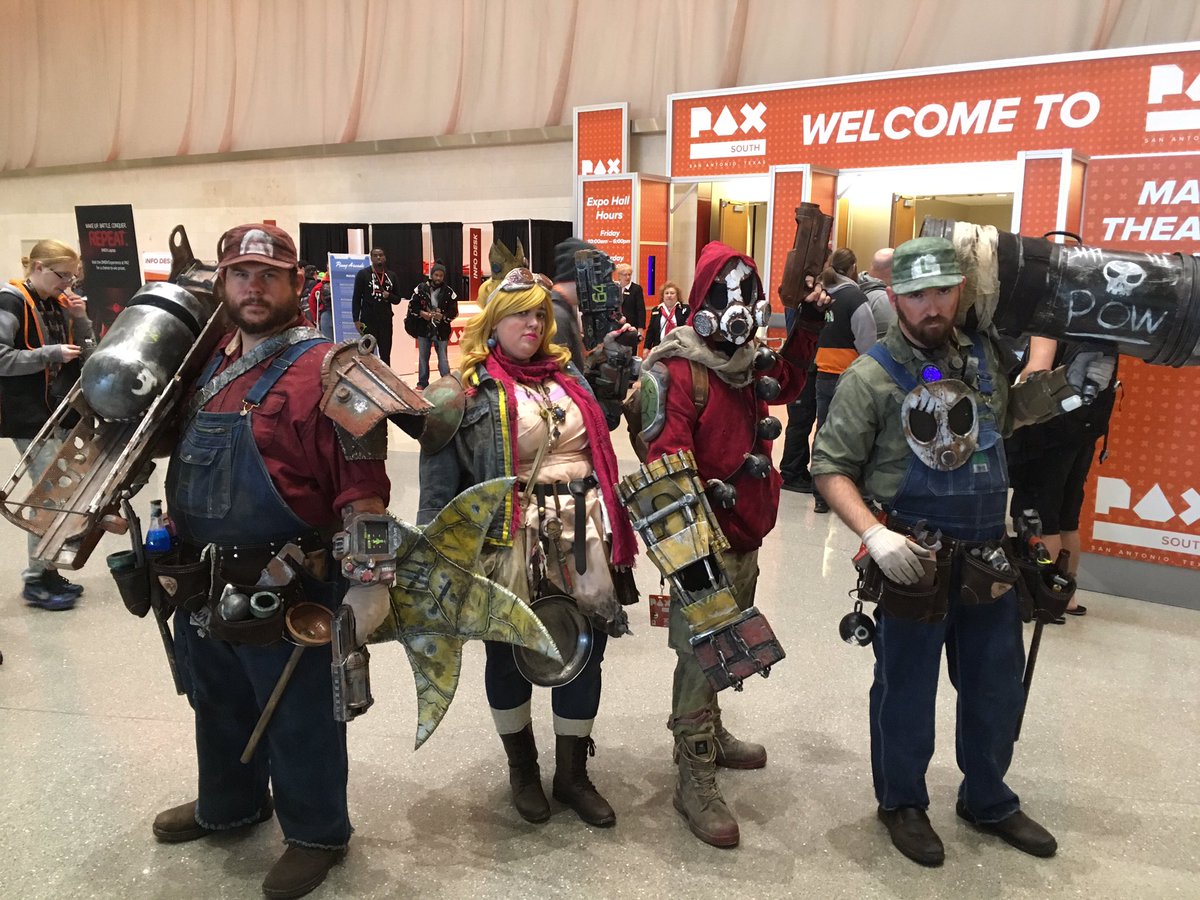 https://twitter.com/jameslovesnews/s...
I got a reasonable shot of Dr. Robotnik
And the GWJ Flag is on the floor with Robo. If you want to join up, just look for this banner:
Friday; 6pm
--------------------
I think a bunch of the gang are in Tabletop now, but there's a lot more to in store tonight:
Tonight's concert lineup is (drumroll, please) SuperMES, Urizen, and Descendants of Erdrick. It's in the Main Theater and also on the main Twitch channel at 8pm. I totally didn't know that geeky mariachi is a thing, but now I'm powering through SuperMES's Youtube lineup. If anyone asks you why you're listening to it, just look them in the eye and say, "I fail to see how you fail to see that this is AWESOME!"
If old-school explosions are your thing, I'd suggest you head to Console Tourney for their Bomberman Live tournament. It runs from 9-11pm.
Friday; 3 pm
-------------------------
If you're not here, you can still get a good idea of the action on Twitch.
For Patrick Rothfuss fans, head out to the Main Theater at 4pm for An Afternoon with Pat Rothfuss. You can also watch him live at https://www.twitch.tv/pax
There's also a second stream for the content in Falcon Theater, and tonight they've got Angry Joe live at 6:30 pm and the AppJunkies are right behind him at 8pm.
If Esports are a thing for you, PAX South is hosting the Overwatch Winter Premiere. The semi-finals are running now and up until 5pm at https://www.twitch.tv/paxarena
For a complete list of the planned streams, see https://www.twitch.tv/event/pax
Friday; 1:00 pm
-------------------------
I need to reiterate, between last year and this the convention center got a huge Voltron-scale remodel, and everything has moved around. Get the Guidebook app or get a convention schedule to see where things are at.
I went out looking for things to photograph, but if Cleo had eight legs she would have been a nope-topus.
I did see some awesome cosplay in the halls though, and this young lady was all the way on point with her Five Nights At Freddy's cosplay
Grumpicus took this amazing photo of the Main Theater and posted it on Twitter, and I just had to share it with you: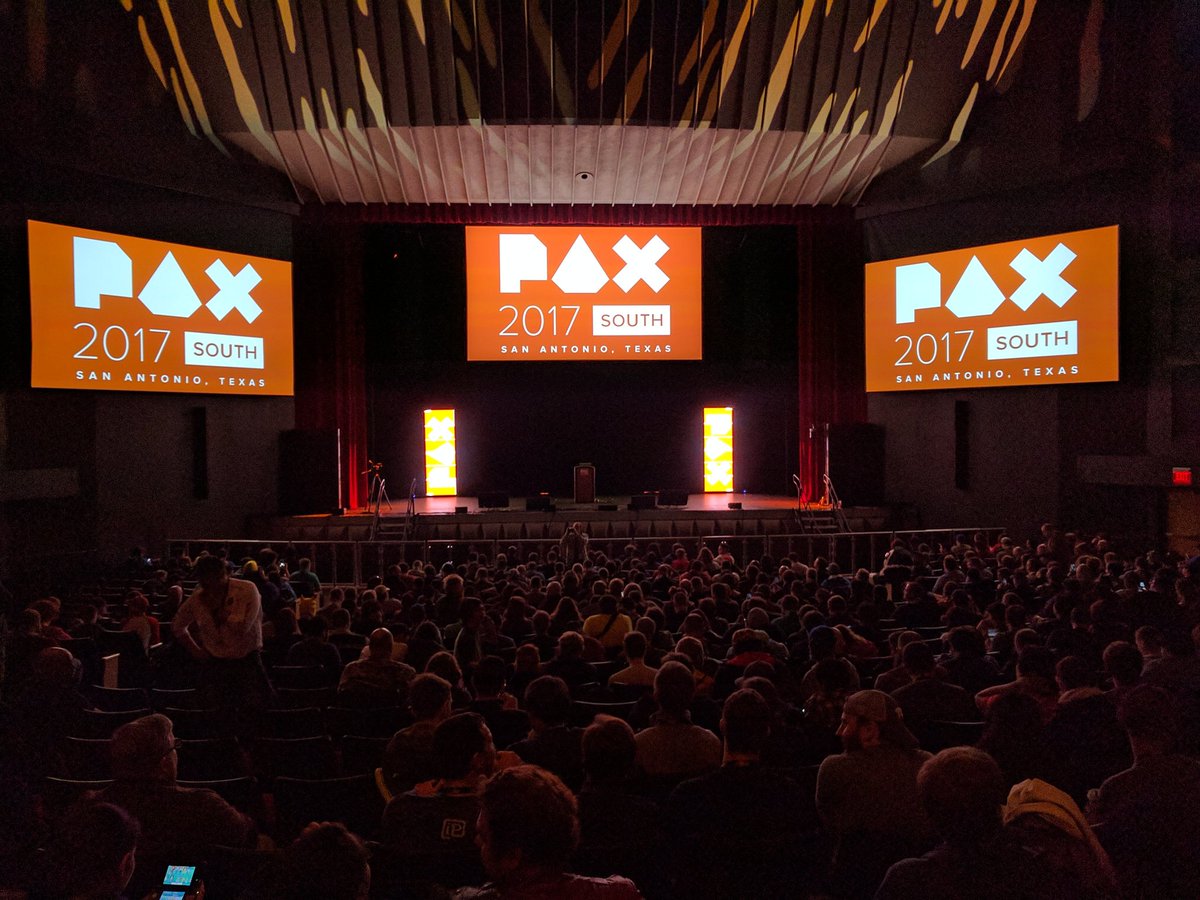 https://twitter.com/Grumpicus/status...
Friday; 11:45am
-------------------------
Well, I told you there was something interesting coming up. They just announced PAX Unplugged, a separate PAX dedicated to tabletop gaming in Philadelphia on November 17-19, 2017. For more details as they come out, watch http://unplugged.paxsite.com.
Friday; 11am
-------------------------
To kick things off, Chris Perkins (Principal Story Designer for Wizards of the Coast and the DM of Acquisitions told some great tales at Main Theater Storytime. Here's a few more things coming up:
Mike and Jerry's Q&A #1 is at 11:30am today in the Main Theater. A little birdie told me there's going to be something kind of big there. If you're not on-site, watch it on the main Twitch feed at https://www.twitch.tv/pax
True Dungeon is a live D&D puzzle-room. You and 9 of your friends can challenge the dungeon with real props. There's a GWJ group in line, and I'm going to buttonhole them for the story when I see them later.
I'm going to head out to take some pictures and take Cleo to sniff around the shrubberies. See you soon.