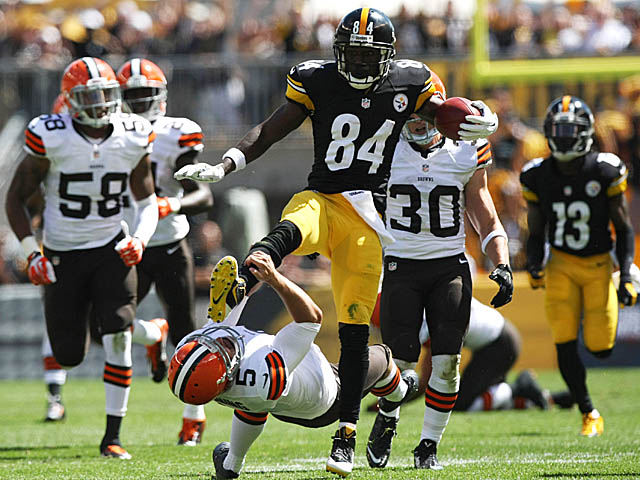 Screw all other inferior sports, NFL football is back!
Week 1 notes:
* Was there anything more embarrassing this week than AT&T Stadium being packed full of 49ers fans?
* Well, OK, there was this
* When an announcer says "he held onto that one" on a receiver's TD catch, that tells you something about the player (Greg Gumbel on Mike Wallace)
* 49ers have to be feeling good so far about the Kaepernick deal. PFF graded him out as 3rd best QB in week 1.
* Bengals feeling pretty good too with Dalton. 9th highest PFF QB grade of the week.
* Chiefs, well, not such a great return on their QB investment so far.
* No one is feeling as good as Russell Wilson's agent, who keeps watching his client's price go up and up.
* I feel like this is going to be Brian Hoyer every week. He's capable of being bad enough every week that he's on the precipice of giving the team the excuse to play the other guy. But he's also capable of being just good enough to remain the starter.
* JJ Watt is the defensive talk of the league after signing his $100 mil contract and then going out on the field and being disruptive as hell (including a PAT block, are you kidding?). But let's also give some recognition to Cameron Wake, who destroyed Sebastian Vollmer on his way to destroying Tom Brady and the entire Patriots offense.
* Obviously, if there's one thing we are chastising the NFL for this week, we know what that thing is. But if I can have another thing, I would like to complain about the slowness in which they posted the All-22 footage to NFL Game Rewind this week. As of Wednesday morning, there were almost no games posted. Some football writer types took to Twitter to complain about it. I had intended to watch some games on Tuesday for this writeup, but it was not to be.
Pick 'Ems
Dallas @ Tennessee: As bad as things went for Dallas in the opener, there were a couple of bright spots. That young, highly drafted offensive line is the powerful run-blocking force they were expected to be (the one weak spot being LG, where a couple of replacement level players are competing to be the guy that ultimately gets replaced in the 2015 draft). And Rolando McClain followed up his expectation-defying preseason with the same caliber of performance in week 1, giving Dallas perhaps the best scrap heap gem of the year so far. Tennessee, let's highlight the bad first, because they're the damn Titans and I must. Bishop Sankey was probably my least favorite draft pick in the NFL draft, and my most-avoided player in the fantasy drafts. So far, he has proven that out, following an unproductive preseason with an ineffective game against a depleted Chiefs defense that let Shonn Greene plod forward for 4.7 per carry. Unfortunately, that's about all the bad the Titans gave me in week 1. Jake Locker picked up right back at that "maybe he's turning the corner" level he was at before last year's injury. The receiving corps did a good job, and the defense (especially Jurrell Casey) was dominant. If Tony Romo is going to get back on track this week, he's going to have to earn it.
St. Louis @ Tampa Bay: This is either the game in which Tampa pounds on an inferior opponent and reestablishes their 2014 expectations, or this is a cripple fight. I can't wait to find out.
Miami @ Buffalo: So. Buffalo. That's not exactly what the wheels falling off is supposed to look like. You're supposed to lose. EJ Manuel is supposed to be the inept passer he was in preseason. You're supposed to get stomped by an offense as powerful as the Bears. Instead, you played well enough that someone finally bought you! OK, let's not act like it was a dominant performance. Your most productive offensive weapon is still a 45 year old running back (give or take a few years). But hey, a non-collapse is a win in its own right. But how about Miami, and how Ryan Tannehill threw the ball behind an offensive line that suddenly can protect him. Mike Wallace is still largely a big waste of money, but there is life in the Miami offense.
Atlanta @ Cincinnati: Atlanta follows up Hard Knocks with an extraordinary comeback against a serious Super Bowl contender. Matt Ryan was out of his mind good, but equally impressive is how the offensive line didn't collapse despite losing yet another offensive tackle (although Gabe Carimi was far from good as the replacement LT, just enough of an impediment). Cincinnati collapsed on defense against the Ravens, with Atkins and Burfict the lone exceptions to the poor level of play. The offense was good enough to overcome that, but that offense took a hit with the loss of Tyler Eifert, who finally was showing signs of life.
Philadelphia @ Indianapolis: Philly was dominated by the Jags for a half, and then flipped the script and did the dominating in the second half. The Jags did their best Seattle D impression, running that cover 3 look well for the first half, only for Kelly to find breakdowns in the defense and the Eagles to manufacture some big plays on some terribly blown coverages. I still need to watch that all-22 feed to see exactly what happened (thanks for the delay, NFL Game Rewind!). Indianapolis, in true Andrew Luck fashion, came alive in the 4th quarter and gave Denver a little scare, after underperforming for the early part of the game. Let's see which team can figure out how to deliver the goods in the first half this time around.
Week 1 results:
Stele: 5 - 0
S0LIDARITY: 5 - 0
Zaque: 5 - 0
jonfentyler: 5 - 0
Cobble: 4 - 1
iaintgotnopants: 4 - 1
Jowner: 4 - 1
oldmanscene24: 4 - 1
Jayhawker: 4 - 1
Leroyog: 4 - 1
billt721: 4 - 1
Dysplastic: 4 - 1
Gumbie: 4 - 1
Secret Asian Man: 4 - 1
TempestBlayze: 4 - 1
Minase: 4 - 1
Neozilla: 4 - 1
Kosars: 4 - 1
EvilDead: 4 - 1
Top_Shelf: 4 - 1
Oddsmakers: 4 - 1
onewild: 3 - 2
Jolly Bill: 3 - 2
garion333: 3 - 2
Certis: 3 - 2
Elliottx: 3 - 2
kaostheory: 3 - 2
MilkmanDanimal: 3 - 2
infyrnos: 3 - 2
Atras: 3 - 2
mudbunny: 3 - 2
karmajay: 3 - 2
Nomad: 3 - 2
Kush15: 3 - 2
McFinn: 3 - 2
Cube: 3 - 2
sr_malo: 3 - 2
TheGameGuru: 3 - 2
Xeknos: 2 - 3
tboon: 2 - 3
boogle: 2 - 3
Vector: 2 - 3
Bubs14: 2 - 3
LeapingGnome: 2 - 3
bighoppa: 2 - 3
thejustinbot: 2 - 3
FSeven: 1 - 4
Season to date:
Same totals, you dolt. It's only Week 1.