Crossing the halfway point of the season...
The illegal bat call against Miami was terrible. The defender was clearly trying to corral the loose ball. And, even failing that, a bat has to be intentional to be a penalty, and it's hard to see how anyone reads that action as intentionally batting the ball - to what end?
What a heads-up play by Matt Stafford, taking the snap and diving across the goal-line after he noticed the Cowboys defensive line just standing there waiting for the spike play.
Stafford has taken a lot of criticism over the past couple of years in Detroit, and a good chunk of it is unfounded. He has a reputation for throwing too many INTs, but this seems to be a perception problem based on the sheer volume of passes he throws (last season, he had the 10th lowest INT percentage, so far this season, the 8th lowest). In reality, he has not thrown a high rate of interceptions since his rookie year. Similarly, his sack percentage has dropped dramatically over the past two years (4th lowest last season, the lowest so far this year) as he has done a better job of keeping plays alive and getting the ball out of his hands.
Another number to consider: Stafford's age. 25. He's a baby. He's in his 5th season, but he is only 2 years older than many of the QBs that will be in next year's draft, including Tajh Boyd, Derek Carr, and AJ McCarron. His peak quarterbacking years are still ahead of him.
Bad yet fun idea: NFL scheduled grudge match postseason games, set during playoff weeks, played by non-playoff teams. Because when both the Buccaneers and Jaguars go 0-16 or 1-15 or whatever, there needs to be some mechanism in place to make the two teams play. NFL picks potential matchups, fans vote on NFL.com for which ones they want to see. Hey, more games that could be played in London.
Beanie Wells tore his Achilles while working out for the Ravens. How awkward is that? "Umm, I think we're going to pass... can you please hobble off our practice field?" What's the procedure in that situation? Do the Ravens take him into their training room, even though he's not on the team? Do they just help him limp to his car and send him on his way?
Tampa Bay should just shut Doug Martin down for the year. There's little to gain by bringing him back except an elevated risk of re-injury. Besides, they're not derelict at running back in his absence. Mike James is a nice surprise so far, and the team thought enough of him to trade up to get him (minutes after trading away LeGarrette Blount), and they cut loose Peyton Hillis after getting a look at James in camp.
4 days ago, @MilkmanDanimal: "I'm going to suggest Jarvis Jones has possibly not done enough to justify being in a national TV ad campaign, unless bad hair counts."
Yesterday: Tomlin benches first rounder Jarvis Jones
Watching Kellen Clemens trying to throw an end zone fade to Brian Quick to try and win the game was painful. 2 yards to go and two plays to get it, you don't get cute with players hardly capable of throwing and catching balls in the best of circumstances. Put it on your offensive line and your running back to get those two yards.
One reason why the Rams may have opted for the ill-advised goal line passing: Zac Stacy sprained his ankle earlier in the drive, hence why Daryl Richardson was in the game. Richardson ran well, and though he got stopped on 3rd-and-goal, I would take my chances with him again every time rather than trying to win on the Clemens/Quick hookup.
Speaking of Zac Stacy, he may not impress anyone with his 4.5 40 time, but he's got some hard-nosed Frank Gore running in him. Easy to see why he's climbed the ladder to the top of the Rams RB depth chart.

Pick 'Ems

Chargers @ Redskins: Vegas has this game as a PK. These two teams have had about as opposite of past 2 weeks as possible. Washington is coming of a pair of games in which they were strongly competitive for 7 out of 8 quarters, beating the Bears and then taking a lead into the 4th quarter against the Broncos (on the road, mind you) before they got Omaha-Omaha-Omaha'd. San Diego, meanwhile, has had the closest thing possible to a 2 week vacation: an uncontested victory against Jacksonville followed by a bye week, allowing them to rest their legs after all that scampering up and down the field. Can a well rested San Diego gear up quickly against a battle-hardened Redskins team?

Eagles @ Raiders: Fun fact: all 3 of Philadelphia's wins have been on the road. If they're going to make it 4, they'll need better play out of their quarterback... whomever that turns out to be. Vick is "likely" out, and Foles has been cleared to return to practice, but is not guaranteed to start, meaning we could see more Matt Barkley, whose 60.9% completion percentage jumps to 70% if you add in the interceptions. When Barkley throws the ball, somebody catches it. Oakland's QB position has its own issues, as Terrelle Pryor is coming off his worst outing as a passer, where he gained more yardage on his 1st quarter touchdown run (93) than he did all game passing (88).

Colts @ Texans: Matt Schaub is still Houston's "starting QB", and is active, yet Case Keenum will start against Indianapolis. You figure it out. If there's one thing Keenum has shown for certain, it's that he is better than T.J. Yates... so what was he doing still behind Yates on the depth chart? At any rate, while Keenum will take the snaps, it's uncertain who will line up behind him at RB, with both Arian Foster and Ben Tate struggling with injuries. It's apparently enough of a concern that the Texans signed 3 free agent running backs to their roster on Monday. On the Indy side, we'll get our first look at the Colts passing game without Reggie Wayne. The team opted not to make any trades at the deadline, so T.Y. Hilton will step into the team's starting split end spot.

Ravens @ Browns: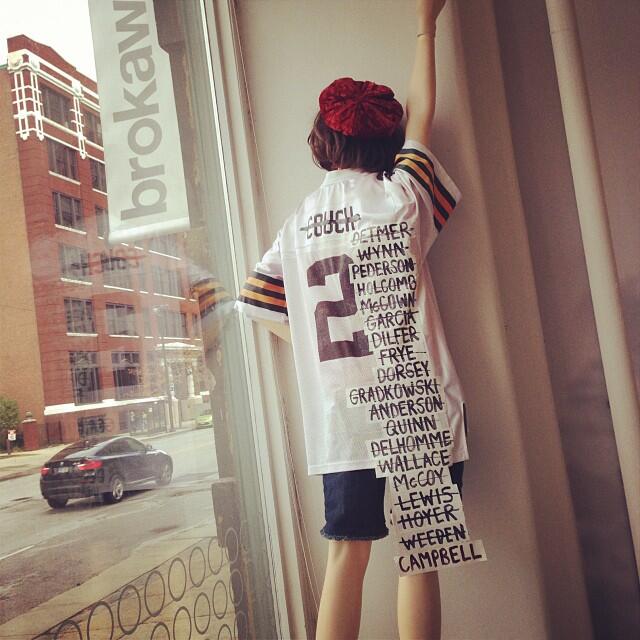 The list keeps on growin'. Jason Campbell provided enough of a spark in Cleveland to give the Chiefs a scare. The team appears to have fully given up on Brandon Weeden, making this Campbell's last best chance to claim an NFL starting job. He did his job for one week, at least. 22-of-36 for 293 yards, 2 TDs, and 0 INTs is about all one can ask for in Cleveland. If not for Davone Bess's inability to catch passes, the Browns may have pulled off an upset. Isn't it about time for Greg Little to step up? The Ravens took a 2 game losing streak into the bye, and need to get hot to keep pace in the AFC wildcard conversation. Denver or Kansas City seems destined to grab one of the two, whichever one doesn't win the AFC West, leaving one up for grabs for a whole mess of mediocre AFC teams hanging around .500.
Buccaneers @ Seahawks: Seattle proved to be vulnerable to teams that can rush the passer, and though Tampa has not been converting many of their pressures into sacks, they have some players who theoretically are capable of getting to the passer. Both of these teams sent WRs to IR this week, as Mike Williams and Sidney Rice both saw their seasons end. Seattle was awful against St. Louis, and while playing Tampa would seem to be a reprieve, Mike Glennon will at least prove to be more of an adversary than Kellen Clemens. For both the 49ers and Jaguars, though, I would really appreciate it if Tampa could win here.
Last Week's Results:
garion333: 5-0
Stele: 4-1
Elliottx: 4-1
Mudbunny: 4-1
tboon: 4-1
Zaque: 4-1
AnimeJ: 4-1
Bzzz: 4-1
Cobble: 4-1
S0LIDARITY: 4-1
psu_13: 4-1
jowner: 4-1
Kosars: 4-1
Thegameguru: 4-1
Oddsmakers: 4-1
Jolly Bill: 3-2
Infyrnos: 3-2
Leroyog: 3-2
Secret Asian Man: 3-2
onewild: 3-2
ZellbrigeN26: 3-2
Jasonofindy: 3-2
Blackanchor: 3-2
Jayhawker: 3-2
McFinn: 3-2
Kush15: 3-2
Top_Shelf: 3-2
TempestBlayze: 3-2
billt721: 3-2
thejustinbot: 3-2
iaintgotnopants: 3-2
LeapingGnome: 3-2
Thin_J: 2-3
Xeknos: 2-3
oldmanscene24: 2-3
TrashiDawa: 2-3
Nomad: 2-3
Grumpicus: 1-4
Season to Date
Oddsmakers: 29-11
tboon: 28-12
Cobble: 27-8
mudbunny: 27-13
psu_13: 27-13
Zaque: 27-13
TheGameGuru: 27-13
Mudbunny: 27-13
Thegameguru: 27-13
TheGameguru: 27-13
billt721: 26-14
Elliottx: 26-14
Stele: 26-14
Kosars: 25-10
McFinn: 25-15
s0lidarity: 25-15
thejustinbot: 25-15
Jasonofindy: 25-15
S0LIDARITY: 25-15
Kush15: 24-16
Jayhawker: 24-16
oldmanscene24: 24-16
Leroyog: 24-16
garion333: 23-17
Thin_J: 23-17
Xeknos: 23-17
iaintgotnopants: 23-17
Infyrnos: 23-17
Laarrs: 22-13
Bzzz: 22-18
LeapingGnome: 22-18
onewild: 22-18
Zellbrigen26: 22-13
ZellbrigeN26: 22-13
Jolly Bill: 21-9
MilkmanDanimal: 21-14
Grumpicus: 21-19
kaostheory: 20-15
karmajay: 20-15
Jowner: 19-11
Top_Shelf: 19-16
jowner: 19-11
Secret Asian Man: 18-17
TempestBlayze: 18-17
Blackanchor: 18-17
MudderFudder77: 16-9
Mudderfudder77: 16-9
AnimeJ: 13-12
FSeven: 12-13
TrashiDawa: 12-8
paleocon: 11-9
Atras: 10-15
Gumbie: 8-7
Nomad: 5-5
lostlobster: 4-6
Fedaykin98: 3-2
lostlobster: 3-2
zellbrigen 26: 3-2
Certis: 2-3
Tempest Blayze: 2-3