Inspired by this picture and the subsequent debate in the picture thread, I decided we should decide this in the true manner of internet forums: through bickering and illogical rantings. This will be done in bracket format, and I will count votes on each match to see who advances. So, without further ado:
In the first series of fights, the victors were as follows:
Batman defeated Hit Girl
Indiana Jones defeated Eowyn
Elektra defeated Rambo
Ripley defeated Bear Grylls
Black Widow defeated William Wallace
Maximus defeated Beatrix Kiddo
Xena defeated Eddard Stark
Alice defeated Hawkeye
Aragon defeated Lara Croft
Leonidas defeated Katniss Everdeen
Achilles defeated Conan
Miho defeated Sarah Connor
In the next series of battles, I'm going to group three at a time to speed to the semi finals. In addition, I'm going to try to pair off contenders in a more balanced fashion, i.e. guns vs. guns, sword vs. sword.
In the first round of the semifinals, Batman threw the beatdown on Elektra, Achilles barely squeaked out a victory against Aragorn, and Black Widow put two holes in Indiana Jones' fedora (and the head beneath).
Next trio of fights!

vs.


vs.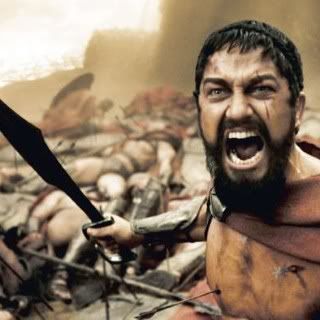 vs.