I was going to write an AAR but I don't feel up to it, plus I'm on this asus netbook. A few Googders have asked what happened and I didn't want to derail Lars's xcom aar thread. So briefly this is what happened.
Saturday the 10th of November it is the 3rd quarter of the Alabama and Texas A&M game. I think it is the 3rd quarter but I'm not positive cause I haven't been following it to closely. Partly because my wife is planning on having a party Sunday and the game is going badly. The score is 20 to 17 when I decide to go back to trying to clean the floor in our downstairs sitting room. We had pulled up the carpet and tile in there a while back leaving this nasty looking adhesive on the floor.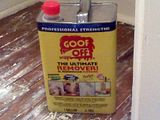 To fix that I bought a gallon of Goof Off. Knowing that I need to ventilate I turn on an fan that blows the air out of our enclosed patio. It is directly over the door that connects to the room I'm cleaning. It is a split level with a really open floor plan. I'd open the windows but they have an exterior cover that doesn't open.
My wife took the shot of the room on the stairs leading up to the kitchen. I started mopping from the stairs to the far corner where you can see the mop. The room is really long and narrow like I'd guess 50' x 12'? Everything was going great when I heard a noise. This where I'm not sure exactly what happened. Cause I heard the sound but I do recall seeing the flame appear. You can't see the spot but it is between the metal table and the doorway to our front door. I see this flame much like what you'd see on a lighter. The whole room is glistening in my over zealousness to finish the room as fast as possible. That little flame explodes outward in a growing sphere of "OH sh*t!" Screaming I turn to run but I have no where to go. I try climbing up on the pillows and chairs stacked in the corner. My legs are burning and one time as I go to grab something I see my hand is on fire. I open the window closest to me and I punch the outside pane and dive through head first.
I don't recall how I land but I'm up running around my house to grab our garden hose. I kick my way into our patio and bust the windows leading into the room that was on fire. In a flash most of the fire is gone. I spray the remaining areas that seem to still be burning. My wife yells at me to get out and let the firemen handle it. I do and as I wander around in our carport light I see my skin hanging off my legs and the gashes too. No loss of life human or pet. Everything is okay.
Some pictures of my wounds. I've spoilered them for the squeamish. Pretty much 2nd degree burns from knee to ankle on both legs and my right hand.
http://i96.photobucket.com/albums/l1...
http://i96.photobucket.com/albums/l1...
http://i96.photobucket.com/albums/l1...
http://i96.photobucket.com/albums/l1...
http://i96.photobucket.com/albums/l1...