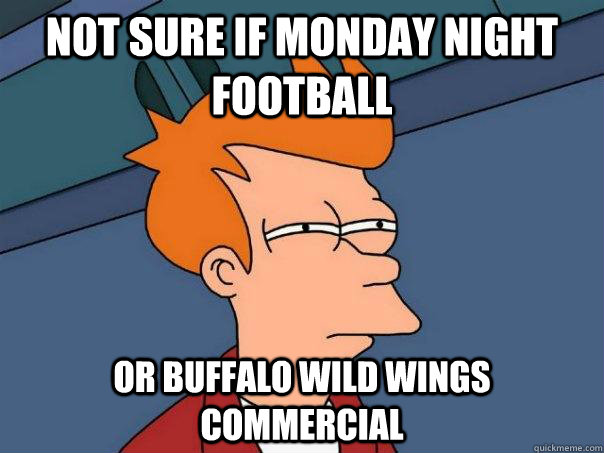 Football thoughts for the week:
Late breaking news: The NFL has agreed to a deal with the NFLRA and the officials will return to the field this week.
The week 1 performance of the replacement officials seems so far away now. Popular opinion is that their performance has deteriorated each week, and it's hard to argue against that. If anything, Monday night's performance has served to quiet discussion about just how bad the various crews were on Sunday.
I can't get over how badly Bryan Bulaga was destroyed on Monday night. He was an effective pass protector in 2011, but he has been off to a horrible start this season.
It's impossible to overstate how good J.J. Watt has been to start this season. Pro Football Focus has a higher grade on him than any other player in the league through 3 weeks, and second place isn't even all that close. 6 sacks through 3 weeks by a 3-4 DE. The last time I saw a DE in a 3-4 pass rush like that, his name was Smith. Bruce Smith, or at least Neil Smith.
It's really fair at this point to question whether Chris Johnson can play ball anymore. He's always been a one-trick pony with those devastating outside runs, but when he was effective, it was because he could run inside just well enough to keep a defense from cheating too much. Now, make no mistake, the Titan interior line has been awful, but Johnson is out there running without conviction.
Speaking of the Titan offensive line, Steve Hutchinson has been part of the problem, not part of the solution. Sorry Titans, not every guard can play deep into their 30s like Bruce Matthews.
Matt Ryan right now reminds me of Aaron Rodgers three years ago. (Too bad Aaron Rodgers isn't).
That was the Torrey Smith I was expecting this year. And I don't think it was just a bump from the emotional night. That guy has skills and I wish he were a Jaguar.
Every time Jacoby Jones makes a catch, I swear I can hear the fans in Houston yelling "seriously?" from all the way out here in Austin. (I also hear them yell "there it is" when he bobbles a ball).
Cardinals D'Anthony Batiste has been a disaster at left tackle. Given the health issues of Kolb and Skelton, it's almost a certainty we'll see Ryan Lindley on the field at some point.
I think the injury to Revis will really illuminate who on the Jets defense can play, and who was protected by the scheme that Revis allows them to run.
It's not quite Ronnie Lott's finger, but you have to like Matt Schaub's performance after losing a chunk of ear. He's suffered a lot of injury in his career, but I don't think I've ever heard his toughness seriously questioned, and that right there is why.
A year ago, I was higher than almost anyone (except the Vikings, apparently) on Christian Ponder at draft time, and against the 49ers, he showed what I was expecting from him. Too many teams dinged him for his senior tape, where he was throwing with a shoulder that wasn't at full strength. Now, he's showing the arm he had before the injury.
The NFL put weekly games on the NFL Network in a clear attempt to strongarm cable networks that refused to carry the channel. It worked. After a mere 2 weeks of missing Thursday night games, Time Warner Cable caved and picked up the network as well as the premium (and still inferior to the original) NFL RedZone channel. As someone who is stuck on Time Warner for this season, I am awfully happy to have the NFL Network now. The channel lit up in Austin about three days after the announcement.
Streaming NFL Sunday Ticket on the PS3 is still working out okay. The quality has improved marginally. The games run at 30fps, which is fine when you're watching it, but when I flip over to the cable box and see a game in 60fps glory, I feel a twinge of dissatisfaction. Usually it's drowned out by the dissatisfaction of being a Jaguars fan, but that aside, it does sting a tiny bit. It's good enough for now, but it definitely puts a hitch in any plans on permanent cord-cutting. I love 60fps.

Non-football thoughts:
I just finished watching all 5 seasons of The Wire (for the first time) over the past couple of weeks, and now I don't know what to do with myself. Time Warner finally allowed their users to access HBO GO on the Xbox, so I've been catching up on all the wonderful HBO shows I've missed over the past 10 years.
I have been jonesing for Unreal Tournament. The original, Classic, "UT99". I wonder if anyone still plays. In general, I've been feeling like I wish there were still players for older online shooters. The crop of the last few years has been, in my view, below par. I managed to jump into a game of Battlefield 2142 a few weeks back and it was everything Battlefield 3 fails to be. Big, open, not at all COD-like gun action. The only current shooter that reminds me of that late '90s/early 2000s shooter heyday is Tribes: Ascend. I'd love to get some classic UT going.
I've been very happy with Ubuntu after switching back from Arch Linux. Arch was fun, but too much maintenance at this point in my computing life. Ubuntu, however, has stirred up a bit of controversy over their inclusion of Amazon search results in their UI's search function in the upcoming Ubuntu 12.10 release.
I bought FTL but I have not yet played it.
iOS 6 Maps is the hipster version of replacement refs.
Google Docs (now Google Drive) has gotten pretty good.
My wife and her friends are obsessed with HeyTell, the iPhone/Android app that puts push-to-talk style communication on your smartphone. When you're in the app, communication plays instantly. If you're outside the app and someone talks to you, you get a notification and it sits and waits like an instant message, playing as soon as you open the app.

Golden Asterisk Performer of the Week:
It had been a bit of a slow start to the season for Jamaal Charles, but holy crap did it speed up in a hurry. Charles racked up 233 yards on the ground, and then added another 55 yards on 6 receptions. Despite that performance, the Chiefs still needed overtime to put away the floundering New Orleans Saints.

A Name You Should Know:
Philip Wheeler, OLB, Oakland Raiders. Wheeler is another one of those Colts linebackers (like Mike Peterson) where you have no idea how good they really are until they're no longer in that Indy Cover 2. Free from the shackle of keep-it-in-front-of-you cushy responsibilities, Wheeler is flying all over the field. He can run down the field with any of today's basketball-player-turned-tight-ends. He is a bullet on the blitz. He looks like a completely different player after only 3 games on his new team.

Stat of the Week:
New Orleans is 0-3. The three teams that have beaten them are a combined 0-6 against the rest of their schedules. Their defense has yielded 102 points, second only to the Titans. By most measures, one would have to call New Orleans the worst performing team in the NFL right now. Can all of that be pinned on not having Sean Payton on the sidelines?

Pick 'Ems:
FINAL WARNING: If you do not bold the names of the teams in your pick 'em post, they will not count starting this week. fangblackbone, this means you.
We got our first 5-0 pick 'em this week in ZellbrigeN26, whose faith in the Jaguars rewarded him nicely.
A number of 4-1 teams missed a perfect score based on their lack of similar faith.
Let's get to this week's picks:
Props to Gumbie for bailing me out when I made picks from the 2011 schedule. My normal page with the oddsmaker lines failed me. (Now I owe that asshole, dammit.)
The proper picks for this week:
Chargers at Chiefs: The Chargers hold a not-particularly-convincing lead on the rest of the AFC West, which they must now defend in Arrowhead in a critical divisional matchup. Jamaal Charles woke up this past week and went into full-on beast mode, looking for the first time like a healthy player again. Kansas City's defense, however, has not yet come around, yielding 99 points in 3 games. I'm taking the Chiefs at home, but if San Diego is going to make a move to really establish control of the division, this is the week to do it.
Seahawks at Rams: Seattle will take that win on Monday Night, but when you get down to it, they really only scored 7 legitimate points last week. At 2-1, they're keeping pace with the 49ers and a stride behind the undefeated (seriously?) Arizona Cardinals. St. Louis, meanwhile, is the bottom dweller of that division, despite a suddenly-hot passing connection from Bradford to Danny Amendola. (Remember when he was just a squirrely little white boy receiver on Hard Knocks?). Seattle's defense has been shockingly effective so far, but I'm not yet convinced that it's not just an early season fluke. I'm giving this one to the Rams at home, but if Seattle's defense continues to play like this, people are going to have to pay attention.
Redskins at Buccaneers: Much like Cam Newton last year, RG3 has been off to a fast start, but it has not translated into wins for the team. A defense that has yielded 101 points might have a little to do with that. Tampa has had a hard time getting the offense going, and they're having some issues with their line, particularly at right tackle where they flip-flop between Jeremy Trueblood and Demar Dotson. Still, I have to think Tampa is better than they've shown. But I'm not sure that they get that offense going enough this week to exploit the Redskins' problems. Redskins
49ers at Jets: After looking like the cream of the NFL for the first couple of weeks, the 49ers were shown up on the road at the Metrodome against the Vikings. Obviously, this would not happen if Colin Kaepernick were quarterback. Alex Smith completed most of what he threw, but the dink and dunk lacked any explosion, while Frank Gore and the ground game couldn't spark much themselves. The Jets, meanwhile, scored a W in an OT squeaker on the road in Miami. Sanchez had a field day targeting Santonio Holmes last week, who reeled in 9 catches for 147 yards. Also, Tim Tebow. Just. Got. A. First. Down. On. A. Fake. Punt. How can anyone stop that? Maybe if Alex Smith struggles some more, the glorious Colin Kaepernick era can begin. But I'm not that lucky. 49ers.
And the die roll is a 6, which means the game with the largest point spread:
Titans at Texans: Sorry Gumbie, no good deed goes unpunished. After two weeks with little to show on offense, the Titans won a shootout against the Lions at home, with Jake Locker lighting it up for 378 yards and two touchdowns. The offensive explosion was all Locker, as Chris Johnson remains completely useless (Locker was the team's leading rusher with 35 yards on 4 carries). Houston's win in Denver was not altogether convincing, but that would be about the only unconvincing mark on the Texan record so far, and one can hardly fault an out-of-division team for not being their best at Mile High. I'd like to think that the Titans offense could carry that spark over and give the Texans defense a challenge worthy of their performance, but that's a lot to ask at this point. Texans
Last week's results:
ZellbrigeN26: 5-0
Elliottx: 4-1
garion333: 4-1
Jasonofindy: 4-1
Jayhawker: 4-1
LeapingGnome: 4-1
Minase: 4-1
oldmanscene24: 4-1
sheared: 4-1
VEGAS LINE: 4-1
*Legion*: 3-2
AnimeJ: 3-2
Certis: 3-2
bighoppa: 3-2
billt721: 3-2
Enix: 3-2
FSeven: 3-2
iaintgotnopants: 3-2
Jolly Bill: 3-2
kaostheory: 3-2
karmajay: 3-2
Kush15: 3-2
lostlobster: 3-2
McFinn: 3-2
MilkmanDanimal: 3-2
muraii: 3-2
Paleocon: 3-2
peedmyself: 3-2
Secret Asian Man: 3-2
tboon: 3-2
TheGameguru: 3-2
thejustinbot: 3-2
Xeknos: 3-2
Zaque: 3-2
cyberdian: 3-2
boogle: 2-3
fangblackbone: 2-3
Gumbie: 2-3
Stele: 2-3
Fedaykin98: 1-4
Atras: 0-5
Grumpicus: 0-5
josh.barker: 0-5
jowner: 0-5
mudbunny: 0-5
sr_malo: 0-5
TempestBlayze: 0-5
willhouse4078: 0-5
Season results:
Certis: 9-5
LeapingGnome: 9-5
VEGAS LINE: 9-5
AnimeJ: 8-6
Elliottx: 8-6
Jayhawker: 8-6
Jolly Bill: 8-6
Stele: 8-6
TheGameguru: 8-6
Zaque: 8-6
bighoppa: 7-7
Enix: 7-7
karmajay: 7-7
MilkmanDanimal: 7-7
oldmanscene24: 7-7
tboon: 7-7
ZellbrigeN26: 7-7
*Legion*: 6-8
garion333: 6-8
iaintgotnopants: 6-8
Jasonofindy: 6-8
kaostheory: 6-8
Kush15: 6-8
McFinn: 6-8
Minase: 6-8
sheared: 6-8
Xeknos: 6-8
boogle: 5-9
fangblackbone: 5-9
Paleocon: 5-9
Secret Asian Man: 5-9
thejustinbot: 5-9
willhouse4078: 5-9
billt721: 4-10
FSeven: 4-10
Gumbie: 4-10
josh.barker: 4-10
lostlobster: 4-10
cyberdian: 3-11
jowner: 3-11
mudbunny: 3-11
muraii: 3-11
peedmyself: 3-11
TempestBlayze: 3-11
Fedaykin98: 2-12
Atras: 1-13
sr_malo: 1-13
Grumpicus: 0-14