From these comments, in a PC thread:
par wrote:
Yonder, I take massive exception to your picture. That cat, in NO way, knows how to tie a tie!
Do I need to call you out in a separate thread buddy?
Now I grudgingly submit that my feline did not have a proper knot on his tie, because, I must point out, the following picture was taken on casual Friday:

However the garish and ridiculous picture that par posted in return was an assault on my gentlemanly sensibilities:

While I submit that it is indeed fastened in an impeccable double windsor, I simply cannot say anything favorable about the uncouth coloring and pattern. I respond with what I am sure will be the final image of the matter, a feline of peerless elegance and style.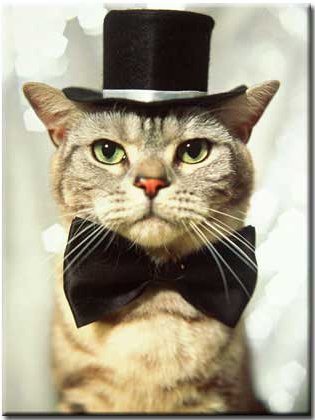 If you believe you can produce a likeness of a Felis Catus with a superior grasp of fashion then you may, *ahem*, "Go Nuts".
[size=6]*Apologies to Malor and LarryC, it's all in good fun! I mean, pleasurable enjoyment![/size]