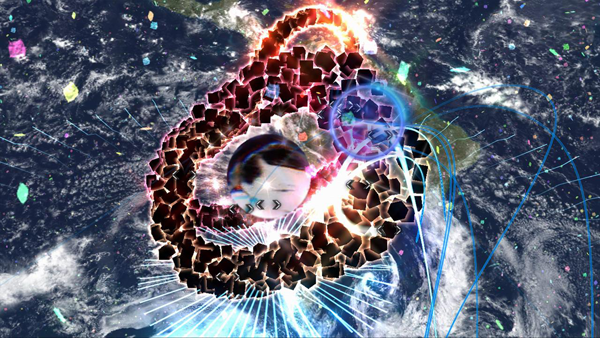 Tetsuya Mizuguchi's spiritual successor to Rez is finally here!
For anyone who hasn't played Rez, it's sort of a shooter rhythm game that gives your brain an orgasm. Both games can be considered experiments in synesthesia with their combination of color, music, vibration and sound. And it looks like Child of Eden may be the first illmatic Kinect game.
It is also one of the most remarkable video games I've ever played. Not only does it represent the most complete realization of what the Kinect has to offer, it possesses the (perhaps childish) distinction of being, for lack of a better term, a "crying game." It will almost certainly conjure tears from its hardest players -- not because it is particularly sad or melancholic, but because it is stirring.
- Griffin McElroy, Joystiq
http://www.joystiq.com/2011/06/14/child-of-eden-review/
As you surf through Earth's collated memories, including images contributed to Mizuguchi by fans, there's a sense of poignancy that much of our communication these days is virtual, the yearning for that physical connection oddly exemplified by the Kinect controls. It's a rare game that can make you think quite so deeply about the human condition and it speaks volumes for how affecting this genuinely transcendental game can be if you surrender to its otherworldly brilliance.
- Chris Schilling, http://www.guardian.co.uk/technology/2011/jun/14/child-of-eden-game-review
Man, I just picked this up at lunch and can't wait to go home and play it!