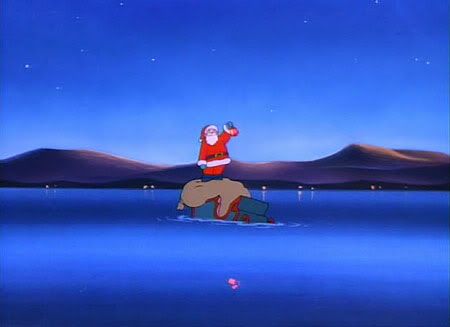 It's lurking into October in a couple of days, so it's about time to remind everybody how fast the calendar starts to collapse into 2011. In doing so, it's also time for the Unofficial GWJ Secret Santa 4.0 Call for Santas 2010!
The rules are the same as before: The floor for gifts is set at $20, but there is no ceiling, but don't feel obligated to go through it. The floor, however, is set, so please don't drop under it. Also, we've got diverse locations, from North America to the United Kingdom to the European Union. So, I'm going to have to gather some information from everybody.
PM me if your interested with:
A- Preferred Salutation
B- Location
3- International Shipping / Domestic Shipping
D- A Christmas list, or an idea of who you are and what the hell you would like. You can also say "Surprise me!" if you don't care what you get.
7- Mailing addresses could be PMd or emailed to: [email protected])
I do not sell or give out addresses to 3rd parties who are not Santas, and they will get your address for free!

Cut off date will be sometime before Thanksgiving, and the drawing should be the Tuesday or Wednesday before Thanksgiving. *Remember, this is "Unofficial", so PMs should be directed at (so far) MaxShrek, the CEOs don't want to hear about problems, etc. MY Goodjergoogle fu isn't working that well, I'm still searching for the first 2010 thread that I had locked. Also remember, there's time, it's the end of September.
Santas:
AnimeJ
bennard
blackanchor
Bonus_Eruptus
boogle
demonbox
Dimmerswitch
DudleySmith
EdemaKNN
Edwin
Eezy_Bordone
farley3k
General Crespin
Gorilla.800.lbs
haakon7
Jayhawker
jonman
Kiri
Lester_King
Maq
mateo
mudbunny
MyNameIsHunter
Mystic Violet
oilypenguin
Paleocon
PandaEskimo
Rainsmercy
Rallick
RedJen
Renji
robear
Rob_Anybody
SallyNasty
skeletonframes
Stylez
ThatGuy42
Tigerbill
Tkyl
trueheart78
Wizkid
Yoreel

Secret Santa 4.0: 2010. Last year I forgot to add myself, but this year I don't think I'll be able to participate in the gift exchanging. Everybody will get a Christmas eCard from me and Mrs. Claus this year though!