All I expected was edutainment.
That's what they call it, don't they? The type of software trying to make the link between what I enjoy doing (playing video games) and what people think I should be doing with my free time instead (learning something). Memories of Oregon Trail and Typing of the Dead wafted into the room while I sat through the almost-obligatory hard-drive installation that PS3 games are known for.
Hakuna Matata is the game most people know as Afrika, but was re-named for the Chinese territory, along with a much desired option to play the game in English. When I decided to import it, I planned for a fun distraction that would impart the tiniest amount of knowledge possible about the subject matter, similar to a tour at the local zoo. I was ready for it.
Before I knew it, I was holding on tight to the back of a dirty jeep carelessly careening across a plain that stretched far across the horizon. The sunlight bleeding over the lush vegetation was invigorating. The addition of an upbeat orchestral score perfected the feeling of being part of a real-life safari adventure.
I began my high-risk/high-reward balancing task, trying to get close enough to get good pictures but keep enough distance to not be noticed. The driver slowed down as we reached a small pond. He tried to suggest some advice, but I was too excited to pay attention to what he had to say. I climbed my way out of the jeep and slowly made the rest of the trip on foot. I saw a zebra hanging around the other side of the pond and realized that it might be my chance. A bottled water company was desperate for a good high quality picture, but in order to satisfy their request, I needed him to be up close and looking towards me.
This defiant creature walked in my general direction, at a slightly awkward angle, and sharply turned around when he was almost in view. Then he repeated this pattern another two times. I started to feel like he was fully aware of what I was trying to do, and he was mocking me. At the time, I didn't even consider that he might have been following an A.I. routine. He was real to me.
The zebra turned its head to look at me, but before my flash had a chance to go off, he quickly galloped to the other side of the pond to graze. I would continue to wait, the ambience disturbed by the sound of my teeth grinding.
Success in this game requires patience, waiting cautiously for that perfect moment to come around. Conversely, it meant I would be constantly on edge, knowing that perfect moment might come out of the blue. One false move and I could make my target aware of my presence, but sticking to one spot might provoke an aggressive species to defend its territory, putting me in immediate danger. A title like Tom Clancy's Afrika would be a closer fit for the tension it delivered.
When I first received it, the task sounded significantly easier than it actually turned out to be. Time would prove that there was more to this mission then a couple button presses. Some of my initial shots came out too blurry, over focused or I was far away from the source. I already took shots of the zebra, but the camera I started out with didn't zoom in very closely. I would constantly have the desire to move in closer, but I couldn't risk the potential of scaring him away. I nearly dismissed this mission as impossible in its current state, assuming that I needed to buy a better camera before I could complete it. I would later realize that it was my own ignorance of the opportunities such a setting could provide that truly hindered my progress.
The sun slowly began to disappear and I worried that I might not get my shot in before the end of the day. This wasn't just an animal; this was my prey, my ultimate goal. I needed to know as much information about this elusive zebra as possible. I stopped and checked the in-game database, which automatically filled with information whenever I discovered a new beast during my excursions. It's an expected feature for this type of game, to be sure, but one that works much more fluidly than just as a tacked-on encyclopedia for me to ignore.
After hours of additional play, I would start to realize how much depth is really in this game:
How a wave of euphoria would flow over me when I caught two lion cubs playing in the water so aggressively that a nearby giraffe nearly toppled. I would be there with my camera to catch it -- a simple matter of being at the right place at the right time with my finger on the flash button.
How the amount of money I would earn from capturing these rare spontaneous moments would depend on my ability as a photographer, from framing to composition.
How that money garnered me new and better equipment, including the ability to record sound, which aided me in completing tasks more creative and complex than I could ever imagine possible.
How that online database I'd thought to be a great diversion turned out to also be intelligently integrated into the game. Not only would I learn real facts about an animal's eating habits, sleeping patterns and behaviours, but I would need to use those facts to effectively complete some of the missions.
But at that point in time, all I cared about was getting that zebra to look in my direction. I decided to be more tactical, crouching behind a nearby bush. I kept my focus on my target and followed his movements as fluidly as I could. Finally, as if he had grown tired of leading me on, he walked right up to the bush and stared intensely into my lens.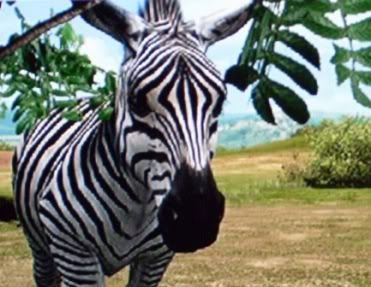 *click*
This wasn't at all what I was expecting. But, in that instant, the game snapped into focus -- and surpassed my expectations.