"Welcome to Gamestop where we buy and sell used games how may I "…"
"That's great, thanks, here's what I need." I say as quickly as I can before the cashier gets too deep into his mental cue card. I pull a worn receipt out of my wallet and flatten it out on the counter between us. "I need Tony Hawk Project 8 for the Xbox 360. I have it preordered and almost paid for here." I point. "Now I want to take the 5 dollar reservation for Gears of War, here," pointing, "and I want to put that towards Tony Hawk. Then I'll just pay the difference, ok?"
The cashier, I learn later, is on loan from the EB Games across town and just stares at me blankly for a few seconds. A smile creeps onto his face and he nods in acknowledgement. "Oh, sorry, for a second I thought you meant to take the Gears of War credit and put it on Tony Hawk. Sorry, it's been a long day, man."
I blink at him and shake my head. "No apologies needed, friend, you got it right the first time. I do want to take that preorder credit and apply it to Tony Hawk."
I get another blank stare, no smile this time. "You want to cancel your preorder for Gears of War?"
"Yes."
"Why?" He says flustered, then manages to collect himself before continuing. "Are you sure? We have your copy here for you. It's really a lot of fun. You did preorder it so we have Gears of War if you want it."
Now it's my turn to be confused. "So, are you saying you don't have Tony Hawk?"
"Oh no, we have it!" he says. "I just thought, you know, you might want Gears instead. I mean, it's just another Tony Hawk"…"
Imagine this for 10 more minutes. Imagine the layers of horrified looks and unbelieving laughter I have to deal with before finally leaving with my prize and all aspects of the transaction completed to my satisfaction.
Imagine the drive home and the thoughts that flicker through my consciousness: Did I make the right choice? Will anyone else from the site even want to play online like I hoped? What have I done? They were both full price. I could take it back now and swap it out.
I get home, sit down, turn on my 360, place the game in the tray, and start it up"…and it is freakin' awesome!
I've been a fan of professional skateboarding for about 9 years now. I had a skate board when I was a little kid but I never did more than scoot around my driveway, ever since I first played Tony Hawk Pro Skater 2 I've been completely intoxicated by the maneuvers these man-children can pull off. I bought the games. I watched skate movies. I bought a new skateboard, busted my ass until I put the board away in a closet, and I even started collecting Tech Decks. If you don't know what Tech Decks are I'm not going to explain it to you. If you do know what they are let me inform you that I can ollie and do kickflips with one.
I'm a big fat wannabe, and I have a long history of using the Tony Hawk games to fulfill a personal fantasy.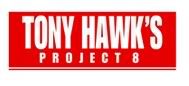 Time Played – 11+ hours.
Completed? – Not a chance.
How many other Tony Hawks have I played? – 4, no 5.
Excitement level before purchase – Wet my pants enthusiasm.
Totally Radical? – Bet your ass!
The last Tony Hawk I played was American Sk8tland for the DS. The last one on a big console was THPS 3. One thing I noticed different in Project 8 right off the bat is that I have a lot fewer options to customize my skater. For Project 8 you have to pick from a few different body types which only have a few different heads and can only wear certain clothes and so on, but the good news is that it's not hard to get a skater that doesn't look like an obnoxious jackass. Mine is basically me with no goatee and about 80 pounds lighter. In other words, he's dead sexy.
After my quick Right Said Fred montage of dress up in the character editing screen I am faced with the first area in the career mode. I say area instead of level because that is exactly what it is. As I play and start to quickly unlock new areas I realize that the game is devoid of any world loading. I can skate out of the front of Suburbia onto Main Street up to the Capital Building back down to the School back through Suburbia and into a skate park and it never pauses or loads or pops. The only indication that you are in another area is some text that pops up on the top of the screen to name where you just skated into.
After about 10 minutes the open world and goals on every corner create an audible snap in my brain. Like Neo seeing the Matrix for the first time, I step back and look at the world in front of me. There is a water tower, which I can get on top of, a mountain top that I can skate to, and in the distance I can see the dome of a capital building showing me where the middle of the world is.
It's all here! It's actually, all, here! I've stepped through the Twilight Zone door and entered Skate Town, USA. They should have sent a poet.
As I trick and explore I am born again in an X-Treme baptism. I feel my love for this odd phenomenon of a franchise rekindle and start to burn bright in my soul. The skating is better than ever, the "Nail the Trick" and "Focus" systems are letting me skate more cleanly and with a level of technical accuracy I could never dream of before, and for the first time in a long time a game is letting me have complete, no-strings-attached, fun.
It's the kind of fun that I sometimes fear is gone from my life forever: jumping in leaves fun, lighting firecrackers under G.I. Joe's fun, daring your friends to do something you would never do yourself fun. I know it's clichéd and barely applies to my 22 (almost 23) years but this game makes me feel like a kid again.
For me, a long time member of the First Congregation of Benihana, I am having more fun for longer stretches of gaming with this latest installment then ever before. At this point the only thing that I think could top this experience is if the Wii went all out and released special "Shoe-motes" for their next Tony Hawk game.
I made the right choice up at the game store. Even while listening to my roommate play Gears of War in his room while I am shredding the side of a park bench, I feel relief that I didn't trade this experience for yet another shooter, even an exceptional shooter. In the immortal words of one of the world's most famous skaters, Gears of War can "eat my shorts."