Throughout the year we get a lot of requests from people asking how they can donate some money to the site. While we always appreciate the offers we never want to be seen passing out the hat too often. Besides that, opening donations up for a set amount of time allows us to offer some cool raffle prizes so we can give a little something back! This year we have more than a little something to give back thanks to Game Guru. You'll have to read on for the details but let's just say it will rock your world if you like Personal Computers that play games.

For full details on where/how to donate, rules and all the cool stuff up for grabs read on! *UPDATE* Paypal.com now seems to be online and we've added three new games to the list thanks to Slambie. Tribes: Vengeance, Rome: Total War and Space Colony.
Please note that if you did not register on the site by October 10th you're eligible for all the prizes except the grand prize.
How To Donate
We offer two ways to donate, snail mail and PayPal. (Seems to be down for now)
Paypal Email: [email protected]
When you donate please include your forum name in the Â"notesÂ" section of the transaction so we know who you are. If you donÂ't, you may not be eligible for the prizes or your donation key!
Snail Mail:
Sean Sands (Gamers With Jobs)
PO Box 177
Savage, MN
55378
USA
When you send your check make sure on the Â"memoÂ" line you include your forum name. You can also email us to let us know something is coming.
Donations will be open until October 31st, after that we will no longer offer any way to donate until next time. This should give those of you who want to mail donations plenty of time to get them in for the draw!
The Prizes
Please note there are special rules for winning the grand prize. For the rest, no matter what you donate you get an entry! Everyone who donates will also get a forum key.
Grand Prize is a custom built, brand new, high powered gaming PC!
The Specs:

AMD 64bit 3200+ Socket 754
Gigabyte GA-K8VT800M Motherboard
2 512MB Mushkin PC 3200 DDR Ram
PNY GeForce 6800GT 256MB
Creative Audigy 2 ZS PCI
Western Digital 74gb Raptor SATA HD
Seagate 160gb 7200rpm SATA HD
Sony 4X Dual Format DVD Burner (+/-R/RW)
CoolerMaster Cavalier 3 Blue/Black Mid Tower Case
SilverStone Silent 400W Power Supply
Logitech MX1000 Mouse
Copy of Doom III
How to Win
Because this is such a huge prize we decided to offer multiple entries for those of you who donate a little more. Here is how it works.
Donations/Entries into the Draw (U.S. funds)
$10 - $24 = 1 entry
$25 - $49 = 2 entries
$50 - $74 = 3 entries
$75 and up = 4 entries
*Please note you can only win the system if you're in the US, Canada or Mexico. Shipping this monster overseas would be a huge pain. If you ARE overseas and still want a shot we can still enter you if you're willing to cover shipping and customs. Email me if you're interested*
We canÂ't begin to thank Game Guru enough for building this amazing machine and donating it to the drive. ItÂ's so far above and beyond what we could ever imagine itÂ's hard to put it all into words. Thank you and good luck to all of the donors!
Other Prizes
For the rest of our prizes you get one entry no matter what you donate. The tiered system for multiple entries will hold true for these drawings as well. For these prizes we will draw names out of a hat and the winners may choose their prize in the order theyÂ're drawn.
One World of Warcraft beta key!
Because we don't know how much longer the current beta will be we will draw the winner this Friday the 15th. If you want a shot, get your donations in soon. Your entry/s will still be on the list to win the grand prize as well, even if you win the beta key.
Rainbow Six 3 Gold (PC) – Donated by Jadawin

Rainbow Six 3 (Xbox) – Donated by Propagandalf
The Chronicles of Riddick (Xbox) - Donated by Propagandalf
Stronghold Crusader (PC)
Tropico 2 (PC)
Rome: Total War (PC) - Donated by Slambie
Space Colony (PC) - Donated by Slambie
Tribes: Vengeance (PC) - Donated by Slambie
Gish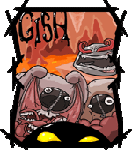 And maybe more in the coming days. Big thanks to the guys who sent along a few games!
Donation Forum Key
Everyone who donates gets a snazzy key underneath their forum name. If youÂ've donated before and already have a key we will have something new to show off your hard-core GWJ status. Stay tuned for that!
Aside from winning fabulous prizes, why donate? WhatÂ's it for?
All sorts of reasons! It keeps us ad free, covers any development costs and helps a long way towards getting us to E3 for the unique coverage we bring. All money donated towards GWJ goes right back into the site in one form or another.
Thanks for reading and good luck in the draw!
- Certis